2012 AFHL Playoffs Preview
By
2012 AFHL Playoffs Preview
March 12th, 2012
It went down to the last night of the regular season again to determine their identities, but we now know the 8 teams that will begin their march to the summit of Mount Stanley. For AFHL fans, there is no better time of year than when your team is one that has qualified for the postseason…
Heroes will emerge. Which goaltender out there will be this year's Roberto Luongo (it won't be Luongo; after last year's amazing playoff run with the Washington Power, he's on the outside looking in with the Comox Valley Hitmen).
Favourites will fall. Which top seeded team will be unable to fulfill its promise, like the North Bay Warriors last spring or the Buffalo Phantoms in the previous spring? It happens every year.
Underdogs will soar. Which team could be this year's Pittsburgh Heroes, who rattled off upsets of the Hitmen and the North Bay Warriors?
Hearts will be broken. That will be the case in North Bay if the Warriors, the best team in the regular season, don't finally fulfill the potential with which they've been teasing their fans for the last two seasons.
The chase for this year's AFHL Stanley Cup has begun and to help give fans all around the world a semblance of an actual preview, the AFHL Commissioner, Tony Furino, sat down with hockey analyst, Barry Melrose. They talked about a number of topics including the Mustangs' slim chance at winning a second Cup, the potential return of Sidney Crosby, and of course, hot goaltenders.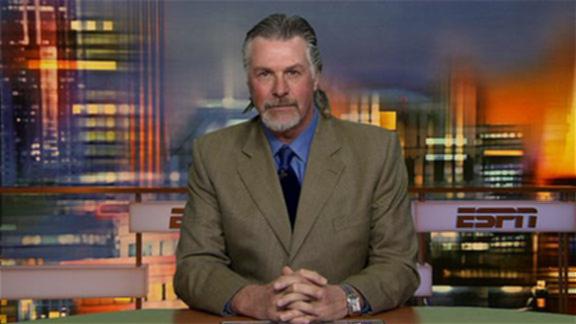 Tony Furino: It's good to see you, Barry. Thanks for being here.
Barry Melrose: Thanks for having me.
Tony: Let's start off with this question: What is… the AFHL Stanley Cup?
Barry: The AFHL Stanley Cup is one of the most coveted trophies in fantasy sports. It's also one of the hardest to win. Teams must endure three week-long matchups. The winner of the Cup shows true drive and determination.
Tony: I was going to ask if you thought the 8th seeded London Mustangs had any chance at upsetting the 1st seeded North Bay Warriors, but I see you picked against them…
Barry: Yeah, I picked against them only because they're playing North Bay. If you look at North Bay, what they've done all year long, they're one of the deepest teams at all positions. Up front they have arguably the best first line in the game in Ovechkin-Getzlaf-St. Louis. They score at will. They're great defensively and they have a great goaltender. London just hasn't been consistent all year long and they're playing against the best team in the Amazing Fantasy Hockey League right now.
Tony: The 7th seeded Victoria Vipers have qualified for the playoffs for the first time in franchise history. If they can get past the 2nd seeded Deer Park Chiefs, do you think they have a chance at winning the Stanley Cup?
Barry: Yeah, I think they have a chance but the Chiefs have the best goalie on the planet in Henrik Lundqvist and they're a very well-balanced team on offense. The Vipers need to play slick and quick in order to win. They have Phil Kessel and Patrick Kane who are obviously world-class players. If you look at their defense Green and Doughty are two of the most offensive defensemen in the league, and they've got good goaltending in Carey Price and Semyon Varlamov. They could be a cinderella team. There's so much parity in the playoffs this year, but defeating a top seeded team in the first round would be huge. They are a great 7-seed and I guarantee Deer Park isn't excited to be playing them.
Tony: What do you think is more important, to have a hot offense or a hot goaltender?
Barry: I'll take the goaltender. If you look at last year's playoffs, Washington had Roberto Luongo and Tim Thomas. Their offense was mediocre on some nights during their run. They beat the Mustangs and the Heroes in back-to-back rounds only because Luongo and Thomas stood on their heads. So, for me I'll take a hot goaltender any day of the week.
Tony: Let's talk about the Crosby-less Phantoms. They're going up against the Lakehead Thunderwolves in the first round. On paper, Lakehead has the best offense in the league. Do you think the Phantoms can get past Lakehead without Crosby?
Barry: Um, no. Buffalo needs him back desperately. First of all, I think if you've seen Buffalo play in the last third to quarter of the season, they haven't been the same team. With the waiting game of Sidney Crosby, if they don't get him back, I don't think they have enough skill to compete with an offensive powerhouse like the Thunderwolves.
Tony: Do you think he'll come back?
Barry: *sigh* Wow. Ya know, I thought he was going to return a month ago because the level he was practicing at so I'm very surprised he still hasn't returned. I think there's a lot of things behind the scenes that we don't know and the team is just being overly-cautious. I mean, you can't blame them. He's the face of the league and really the face of the Buffalo Phantoms for the next 15 years. I would be cautious too. The Phantoms need him to return this week to have a chance against Lakehead.
Tony: What do you think will be the biggest upset of the playoffs, if any?
Barry: I'm going to go with Toronto over Hamilton in the first round. It's a 6 versus 3 matchup and with Lupul and Perry sidelined with injuries, the Red Devils won't be playing their best hockey. Hamilton is playing great, great hockey with two top-5 goaltenders in the league in my estimate in Fleury and Thomas, so I'm going to go with Toronto over Hamilton in the first round.
Tony: Up until last night, folks were expecting to see Toronto/Lakehead in the first round. The rivalry between the Toronto and Lakehead is currently the biggest rivalry in the league. For the first time in AFHL history, two rival teams could go head-to-head in the playoffs. What are your thoughts on the possibility of these two teams meeting in the next round?
Barry: Of course, the recent bad blood exhibited this season between the two GMs would give the playoffs some extra drama. I would expect to see a very physical series. Lots of hits and lots of fights. Much more than any other series, aggressive forechecking and more hitting, it would be fun to watch.
Tony: Who do you think would win?
Barry: Both those teams are stacked on offense. A couple of weeks ago, Lakehead set an all-time record for most points on offense in a single matchup so I'd have to give them the edge in that department. But, the Red Devils counter with an all-star goaltending duo of Jonathan Quick and Pekka Rinne. I'd take Quick/Rinne over Niemi/Pavelec. The goaltending offsets the offense so whoever wins, I think they would win because of their play on special teams.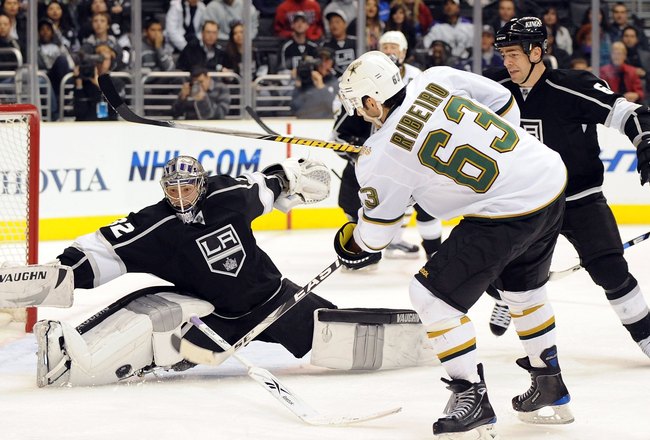 Tony: Who do you have playing for the Cup?
Barry: I'm going to go with the North Bay Warriors and the Hamilton Firestorm. I don't think London has enough firepower to get past the Warriors. Buffalo without Sidney Crosby, Toronto without Perry and Lupul, I don't see those teams advancing. North Bay and Hamilton have a lot of depth and they score an incredible amount of points every week. Both have top goalies in the league this year in Howard, Thomas, Fleury. Both have elite offensive defensemen who play finesse games. So I have North Bay and Hamilton in the Finals. But hey, ya never know, anything could happen.
Tony: Last question, if the Warriors and the Firestorm are eliminated in the first round, are you willing to take the blame?
Barry: WOW! No! Never take the blame. That's how I learned. It's always someone else's fault. If they don't make it they don't have anyone to blame but themselves. Those two teams should do it. Both have elite players up and down the lineup and to me they are the deepest teams. They would have only themselves to blame.
Leave a Reply
Warning
: Undefined variable $user_ID in
/misc/25/000/212/149/6/user/web/theafhl.com/wp-content/themes/FlexxProfessional/comments.php
on line
48
You must be logged in to post a comment.