TV: VERSUS (HD), NBC (HD), CBC (HD)
March 26th, 2012
BIG STORY — It's been an amazing AFHL playoff season that has flown by too fast. But that means we're down to the best time of year when the top two franchises face off for the 2012 Stanley Cup, and with Game 1 starting on Monday night, it all comes down to this…
Who will end the season on a win and lift the Cup in celebration: Hamilton or Buffalo?
"It's exciting, you might never get a chance to do this again, so you've got to have fun with it, just soak it all in as much as you can," Firestorm coach Gates Imbeau said. "We expect a lot from each other inside that dressing room. Outside, we really don't care what people think or say about us. We're focused on this series. We're focused on the Buffalo Phantoms."
"We're hungry, we're focused, we're ready to go," Phantoms coach Daryn Beckman said. "Started from day one at training camp, we worked hard all year long to prepare the team, to be in the right frame of mind. I think as staff we've done what we're supposed to do as far as getting the players feeling good about themselves, feeling good about one another. We're really confident that they can go out and get it done."
THE FANS — They partied in the streets after each win in the playoffs, swelling in numbers as the journey gets one step closer to the once unthinkable dream.
One win away from a first-ever Stanley Cup for their beloved hockey teams, fans in Hamilton and fans in Buffalo are displaying a feverish pitch of pride and passion.
"Most of it is about trust and whether or not we (the players) will trust the system, trust each other, trust what's going on," Firestorm forward Claude Giroux said. "I think that's a lot of what happened with the fans here, too. And with the players, what I see more than anything, is so much belief. And the belief comes from a lot of things. It comes from a consistent group of players and coaches going through the journey together and learning along the way. There's a great deal of confidence now in this city, and you see that every day. You can't walk three feet if you're somewhat known as a hockey personality without someone wanting to talk about the Firestorm. You see symbols and flags and people wearing jerseys. It's everywhere."
And it's the same in Buffalo.
"Wherever you go in this city, people identify with the Buffalo Phantoms," Phantoms forward Sidney Crosby said. "Me and Patrick Marleau, we went out for lunch yesterday and everyone was cheering when we left the restaurant. That was cool because the reality is we do it for our fans. We work hard to represent our fans. I mean, ever since franchise inception, there were steps that needed to be taken along the way. You have to crawl before you walk. You have to experience the lows and the disappointments before maybe the hockey gods let you experience the great highs. I think everybody in Buffalo right now really senses the opportunity."
SEASON MATCHUP — Little did they know that the Buffalo Phantoms 6-5 victory over the Hamilton Firestorm in Week 18 of the regular season would turn out to be a Stanley Cup finals preview.
But don't talk to the Buffalo Phantoms about it. To them, it was just one regular-season matchup out of 21. Sure, it was a big win. Craig Anderson had a shutout and Pominville-Marleau-Hossa each had a hat trick. It was a feel-good night, for sure. But that doesn't mean the Phantoms will take the league's No. 3 seed lightly this week. Hamilton, after all, fell just five points short of leading the league with 320 points.
"Obviously, they're very skilled, they're a great hockey team, deep and well coached, and it's going to be a tough series, we're aware of that," Phantoms captain Sidney Crosby said. "Any key to your team's success is how you play personally. I think we focus on what we do ourselves. Our coaching staff will give us their tendencies, and their coaching staff will give them our tendencies. It's who's going to want it more and who's going to play to their abilities the best."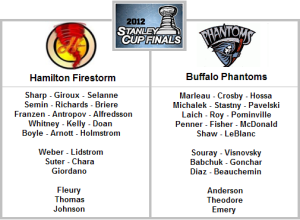 The Phantoms have many weapons on their team, most notably Sidney Crosby, Marian Hossa, and Patrick Marleau. In the first two rounds of the playoffs, the trio has combined for 24 points.
"You can't be over-aggressive, because once you do that, they spin off of you and that's what they want to try to accomplish, be one guy and then two on the next," Firestorm defenseman Shea Weber said. "They're really good at finding each other, with the give-and-gos, and the blind pass behind the back. So that's a real challenge for us, to be aggressive but not be stupid about it. So, we have to be smart in our defensive play."
The Firestorm counter with their own trio of elite forwards. Patrick Sharp, Claude Giroux, and Teemu Selanne combined for 17 through the first two rounds of the playoffs.
"They have a lot of skill and a lot of speed," Phantoms goaltender Jose Theodore said. "They also have a back end that has a lot of versatility, and they love to carry the puck up the ice a lot. So, they are a pretty potent team and obviously, they thrive on their power play. So, we are going to have to be a physical team. But we are also going to have to be a very disciplined team."
The goaltending could be the X-factor in this Finals matchup and a lot of people believe the Firestorm tandem of Fleury and Thomas is better than the Phantoms' tandem of Theodore and Anderson.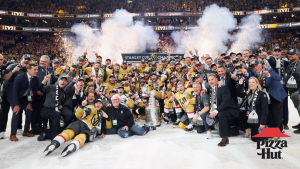 "The goal is not to think too much," Thomas said after today's morning skate. "And for the most part, you have to think to play, but you just want to keep it all focused on hockey. Be in the moment."
WHO'S HOT — For Hamilton, Chris Kelly has a five-game point streak, with three goals and four assists over that span. Zdeno Chara has scored goals in three of his last four games. Marc-Andre Fleury has stopped 64 of the last 67 shots he's faced. For Buffalo, Sidney Crosby has 13 points in the seven games he's played since returning from injury. Marcus Foligno, recently called up from the farm team, has six goals and four assists for 10 points in eight games played. Marian Hossa is riding a seven-game points streak with two goals and seven assists over that span. Jose Theodore has stopped 56 of 60 shots in his last two outings.
INJURY REPORT –Phantoms defenseman Raphael Diaz has been out for 11 games with a lower body injury. Hamilton is healthy heading into the Stanley Cup Finals.
TICKETS — Firestorm forward Patrick Sharp had some advice for family and friends looking for Stanley Cup tickets that are said to be trending toward the $1,000 mark in value for a pair of cities caught with the Cup fever.
"I just tell everyone, 'StubHub.com'. That's your best option [for tickets], don't come to me," Sharp said.