2018 AFHL Trade Deadline
By
 Live Coverage of the
2018 AFHL Trade Deadline
February 6th, 2017
It's a new year and a new trade deadline with a live-blog that will be your guide through this hectic and crazy day. What can you expect here? You can expect to find the latest news, rumors, breaking news and some analysis too.
It's going to be a good time, keep refreshing every hour or so, and enjoy the coverage by Pierre LeBrun, Barry Melrose, and Bob McKenzie who is at TSN's studios for Tradecentre.
9:00 am

Bob McKenzie: Happy Deadline Day everybody! Welcome to our AFHL Trade Deadline live chat extravaganza! 
9:15 am

Barry Melrose: And so it begins… wonder which teams will be the first to make some noise… We're ready.
9:29 am

Pierre LeBrun: The day of AFHL reckoning is upon us. Tonight at 9pm EST, teams will have made their final moves in either their run for a shot at Lord Stanley's Cup or in their admission that 2018 just won't be their year. 
9:35 am

Barry Melrose: No trades so far but rumors are flying.
9:40 am

Bob McKenzie: Quiet overnight in Cape Breton specific to captain, Johnny Gaudreau. Teams have called with interest, but Crunch GM Liam Goyetche says nothing in the works.
9:58 am

Pierre LeBrun: Heard there was a trade made late last night between Montreal and Washington. Yanni Gourde to the Wolfpack but it's still not official. Anyone know what the hold up is?
10:00 am

Barry Melrose: I thought maybe a problem with the paperwork but now I'm hearing it's under review.
10:20 am

Bob McKenzie: Fort Drum defenseman Jake Muzzin was just pulled off the ice during Killers morning skate. Wonder if he just got traded…
10:34 am

Bob McKenzie: Update – Muzzin was not traded. He took a puck to the foot. He's back on the ice.
10:40 am

Pierre LeBrun: There's been some rumblings that San Diego is looking to acquire Ryan Miller from Manhattan because John Gibson keeps getting hurt. But according to Pierre McGuire, it's quiet on that front right now.
10:51 am

Barry Melrose: Text from London GM Matt Plachta: "A lot of interest in Kale Clague and Nikolai Goldobin. They aren't on the block but there are some offers that are making us think."
10:52 am

Barry Melrose: Plachta adds: "Looking towards next year. Willing to take on injured players from playoffs teams that just want healthy guys in lineup."
10:59 am

Bob McKenzie: Goldobin is an interesting player. He started out in the AHL this year on a tear with 12 points in 10 games. He has shown flashes of offensive skill but he's still a young player learning to play the game.
11:02 am

Pierre LeBrun: There's a rumor out there saying Sidney Crosby wants to be traded. Since being drafted by the Buffalo Phantoms first overall in the AFHL Inaugural Draft eight years ago, he still has not won an AFHL Stanley Cup. Made it to the Finals several years ago but never won.
11:03 am

Pierre LeBrun: Spoke to Buffalo GM Daryn Beckman about that rumor this morning. He said he would have to be blown away by an offer for Crosby.
11:09 am

Barry Melrose: Beckman should really consider trading Crosby. He can get a nice haul for him.
11:13 am

Pierre LeBrun: I agree. A Crosby trade would improve that team tremendously.
11:18 am

Bob McKenzie: I'm hearing Atlantic City is in talks to acquire a superstar from the Canadian Conference. Nothing concrete yet but talks have intensified. 
11:20 am

Barry Melrose: A little after 11am and still no trades today. Who will be the first domino to fall?
11:23 am

Pierre LeBrun: Apparently a lot of GMs are holding onto their trade chips waiting to see if Toronto starts the rebuild. Lots of delicious players on that team including Nicklas Backstrom and Erik Karlsson.
11:34 am

Bob McKenzie: The Red Devils are the most interesting team. Will they blow it up? Will they deal Backstrom? Karlsson? Carter?
12:30 pm

Pierre LeBrun: First trade of the day. Hamilton trades Nick Foligno and Cal Clutterbuck to San Diego for JT Miller and Jean-Gabriel Pageau.
12:45 pm

Barry Melrose: Nick Foligno on TSN right now. Sounds half asleep. Says he's excited for a change of scenery.
12:53 pm

Bob McKenzie: Twitter rumor says Ryan Suter was just removed from Firestorm practice. 
12:59 pm

Barry Melrose: Speaking of practice. Business as usual at the Westbury Royals practice today. GM Stephen LeDrew had a brief media scrum and said there has been some mild interest in Patrik Berglund and Andrew Cogliano.
1:08 pm

Pierre LeBrun: Port Hope Panthers rebuild is underway. After trading away Carey Price and Artemi Panarin last week, he is now looking to trade Evander Kane, Justin Schultz, and Derrick Brassard.
1:10 pm

Bob McKenzie: Ryan Suter did in fact leave the Firestorm practice. The reason? A skate issue.
1:42 pm

Barry Melrose: Lots of trades are brewing right now.
1:43 pm

Bob McKenzie: Hearing Manhattan is working on not one, not two, but THREE blockbusters.
1:50 pm

Bob McKenzie: Deer Park GM Mike Nellany says he's still thinking "big picture" at the deadline.
1:57 pm

Bob McKenzie: Source telling me Manhattan GM Tony Furino can't pull the trigger on any of three blockbusters being discussed until he has commitments from all teams involved. Maybe too many moving parts to get it done.
2:01 pm

Pierre LeBrun: TSN reporting the Washington/Montreal trade was just approved. Yanni Gourde is on the move to the Wolfpack. 
2:04 pm

Barry Melrose: Pittsburgh GM Jason Henley said he's going to have Washington GM Rick Charron handle his negotiations from now on. "How'd he get Gourde for a sack of dongs like that anyway?"
2:25 pm

Bob McKenzie: Am told over 10 teams have inquired on Gaudreau in Cape Breton. 
2:32 pm

Pierre LeBrun: Laval Nomads are listening to offers for Panik, Devan Dubnyk, Kadri, Dadonov, and Frolik.
2:43 pm

Barry Melrose: Ondrej Pavelec to Montreal. Waiting for details…
2:47 pm

Barry Melrose: Westbury trades Ondrej Pavelec and a 2019 Third Round Pick to Montreal for 2018 Second Round Pick.
3:13 pm

Bob McKenzie: Text from Boston GM Mike Phelan: "It's slow right now."
3:15 

Pierre LeBrun: Yeah, over the years we have seen it get slow around this time mid-day and then it picks up around dinner time. 
4:24 pm

Barry Melrose: Moncton GM Alex Bork is annoyed by the low ball offers he keeps getting for Corey Crawford. He's not looking to trade Crawford.
4:30 pm

Bob McKenzie: I'm hearing a few trades were just made in the last several minutes that includes Johnny Gaudreau going to Atlantic City. 
4:32 pm

Bob McKenzie: Fort Drum has traded Jake Muzzin to Pittsburgh for a couple goaltending prospects.
4:34 pm

Bob McKenzie: Shea Weber is on his way to London along with Jason Spezza. Hamilton gets back Tomas Hertl, Nikolai Goldobin, Vitaly Abramov and a 2018 first rounder.
4:36 pm

Bob McKenzie: Montreal has traded their 2018 second round pick for Andrew Cogliano and Hamilton's 2018 second round pick.
4:45 pm 

Pierre LeBrun: Twitter is blowing up over a potential Gaudreau trade. 
5:10 pm

Barry Melrose: Gaudreau trade details: Cape Breton trades Johnny Gaudreau to Atlantic City for Anthony Duclair, Charles Hudon, Nick Bonino, 2018 First Round Pick, and 2020 Second Round Pick.
5:21 pm

Bob McKenzie: Everyone is up in arms about that one. I'm hearing it's currently under Trade Review.
5:38 pm

Barry Melrose: Now joining us live via phone call in the TSN studios is Port Hope GM Keith Cancilla. Thanks for joining us, Keith. I know you don't have much time but you are one of the current members of the AFHL Trade Review Committee. Very quickly, can you tell us what are your thoughts about this trade?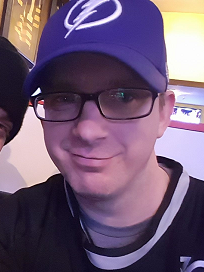 Voice of Port Hope Panthers GM Keith Cancilla
5:40 pm

Barry Melrose: Alright thank you, Keith. We'll know soon if this trade goes through.
6:30 pm 

Pierre LeBrun: The Gaudreau trade was vetoed.
7:15 pm 

Pierre LeBrun: Port Hope has just traded Brandon Dubinsky to Pittsburgh for a 2018 Second Round Pick.
7:49 pm

Bob McKenzie: It's the calm before the storm. Almost one hour til the deadline…
8:12 pm

Barry Melrose: Talks starting to pick up with less than one hour to go!!
8:33 pm 

Pierre LeBrun: Lots of chatter right now. You can feel the rush.
8:43 pm

Bob McKenzie: Just hung up with a GM who commented on how busy it is now. He said, "I'm talking to 7, 8, 9 GMs at once. Madness. Absolutely insanity."
8:44 pm

Barry Melrose: Port Hope sends Evander Kane to San Diego for Tuevo Teravainen and Adam Fox.
9:00 pm

Bob McKenzie: Flurry of deals to be announced in the final moments…
9:09 pm

Barry Melrose: Too many trades to announce too late at night. See Fantrax for the last minute deals. 
9:11 pm 

Pierre LeBrun: Busy day. Maybe not for fans expecting lots of trade action but chasing ghosts all day is hard work! Goodnight everybody!
Leave a Reply
You must be logged in to post a comment.