2014 Playoffs: Second Round Recap
March 31st, 2014
Red Devils heading to the Finals after beating Warriors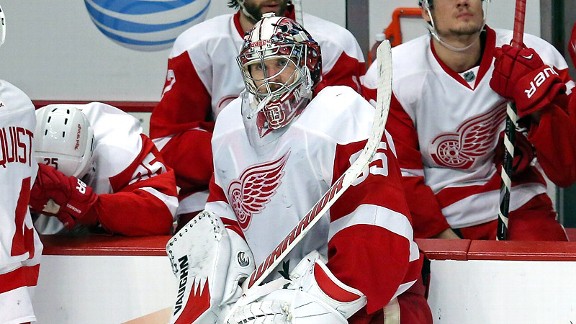 North Bay Warriors goalie Jimmy Howard slowly packed the last of his goalie equipment into his bag following another second round loss in the AFHL Playoffs. He let out a long exhale, then got a pat on the back from the Warriors' longtime head equipment manager.
Howard nodded toward his gear and turned to the equipment manager.
"Just drop them into Lake Michigan," Howard said.
It was settling in to Howard that he wouldn't need these pads for a while, that the Toronto Red Devils are the team that gets to keep playing while the Warriors go home haunted by knowing just how close they came to upsetting the AFHL's best team of the regular season. Close, but not good enough.
"I thought we did a lot of great things out there. I thought we did a great job. I'm really proud of the way this team carried itself this year," said Howard, who made 48 saves in the second round series against Toronto. "Especially when a lot of people counted us out halfway through the series. A lot of people didn't even expect this series to get to Sunday night. … It sort of stinks it's all over with."
It's harder because somewhere along the line these Warriors started to believe they might be part of something special. They won 10 straight matchups going into the playoffs and they knocked out the defending champions in the first round.
"We really believed this was finally the year," said Warriors coach Mike Brunetta. "Unfortunately, we got beat by a better team. Improvements will be made in the offseason."
Time to turn our gaze in a different direction and praise what is being done by a very good Red Devils team…
It was that calmness and resolve that helped the Red Devils hang on to the lead on Sunday. With the matchup suddenly 6-5, everybody thought the Warriors were about to pull off an incredible-come-from-behind victory. Everybody except, perhaps, those in the Red Devils dressing room.
"We asked ourselves a question: How bad do we want it?" Red Devils forward Steven Stamkos said. "You got your answer in the second half of Sunday's game. That's a heck of way to shut the door and win the series. We believed we could win."
That belief can only stem from the things the Red Devils accomplished all year long. Do you think the Warriors believed the same things when they were down 7-1 to the Red Devils on Thursday night? Hope is different from belief. Everyone has hope. The Red Devils believed.
"You want to be in control every step of the way throughout the series," Red Devils coach Jordan Carbone said. "To be pushed to the edge like that on Sunday, it really makes every guy check themselves."
A come-from-behind-win for the Warriors was all anyone in the building was thinking about, just as many were thinking the series was over days ago. But the Red Devils found a way and now they are in the Stanley Cup Finals.
"If not everyone was believing, they are now," Carbone said. "This is a special team."
Vipers ride their goalies, defeat Wolfpack for shot at the Cup
Carey Price grabbed the final shot in his big glove as the buzzer sounded on Sunday night, sealing the series victory over the Washington Wolfpack.
All Price, Lehtonen, and Varlamov needed was a little bit of offensive support from their Vipers teammates to get Victoria into the Stanley Cup Finals.
"You look at so many great efforts we had from guys," said Vipers coach Chris Hartley. "Guys were all over the ice on Sunday, doing whatever it took to preserve that lead."
Rick Nash's second goal on Sunday sparked a chant of "We want the Cup!" from the capacity crowd. At the end of the game, the Vipers were one step closer to their first title in franchise history.
The Wolfpack kept it close all series long but just could not gain control by the weekend.
"Listen, it's a good team we played. Guys should be proud and disappointed," Wolfpack coach Rick Charron said. "We had several chances to take control but we just didn't get it done."
The Wolfpack ended the regular season with the best record in the American Conference, and it looked like it might be one of those accomplishments a successful playoff team needs along the way to make a long run in the spring.
Instead, it was just a speed bump on Victoria's path to the Finals.
That the Wolfpack gave the Vipers all they could handle didn't make the finality feel any better.
"It's kind of a shock right now that it's all over," Wolfpack forward Patrice Bergeron said. "You're so emotionally invested in winning the Cup. One shot, and it all comes to a screeching halt."
It just doesn't feel great now. Losing never does, not to competitors such as the Vipers.
"It's something you never can get used to. You don't want to get used to. You want to have a chance [at] raising the Cup," Bergeron said. "It's just empty right now."
Leave a Reply
Warning
: Undefined variable $user_ID in
/misc/25/000/212/149/6/user/web/theafhl.com/wp-content/themes/FlexxProfessional/comments.php
on line
48
You must be logged in to post a comment.