Record-breaking crowds celebrate Vipers Stanley Cup win
April 14th, 2014
The city of Victoria celebrated the Vipers 2014 Stanley Cup win with a massive parade and rally Friday that may go down as the best-attended celebration in city history.  
The celebration began early, with fans filling trains and buses before sunrise. At one point, train routes became so crowded that the commuter train service began to fall behind schedule and started skipping stops because of capacity concerns.
Shortly after 8 am, it happened. Police struggled to keep barricades in place as fans streamed into the Vipers home ice arena parking lot. People, in a full sprint, rushed for spots near the double decker buses.
"It's craziness. That's all I can say, pandemonium, organized chaos," said fan Paul Gomez.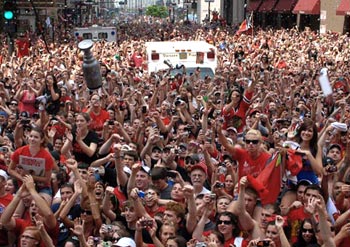 Among the first into the parking lot was long-time Vipers fan Danny Lawless, who had covered his naked torso in red body paint and donned a faux-Viper headdress purchased from a Party City store.
"Go all-out," Lawless said. "This is a once-in-a-lifetime thing."
With several hours to kill before the parade began, fans passed time tossing beach balls and trying to keep hydrated with the free bottled water being passed out. The sun — and, in some cases, an overindulgence in nonwater beverages — proved too much for some as the Victoria Fire Department began treating people for heat exhaustion.
Team Coach/GM Chris Hartley mingled with fans on his way out of the arena and onto the first double decker bus, shook hands and posed for pictures.
A short time later, the team emerged from the building to the cheers of onlookers. Most wore flip-flops and shorts with their Viper jerseys. And many had ditched or significantly trimmed their playoff beards for the occasion.
After driving through streets that quickly filled with confetti, the team arrived at a park to cheers of "Let's Go Vipers!"
Several took the microphone at the homecoming party.
"It's an unbelievable feeling to bring the Cup here," defenseman Drew Doughty said. "The city of Victoria did a great job. The fans and everybody coming out is awesome."
"Everybody's here," said forward Alex Ovechkin. "There's not a single person working today. Or they're watching this on television. Nobody's working today."
A clearly excited Semyon Varlamov, who won the Conn Smythe Trophy as the playoffs' most valuable player, gave a profanity-filled speech about how hard his teammates had worked to make this moment possible.
"No one will ever take this away from us," he said. "We're the fucking champs!"
Before exiting, the Vipers passed the Stanley Cup among one another, repeating a time-honored tradition they also performed last Sunday night. Each player took a turn holding hockey's holy grail, some raising it high above their heads and others planting a kiss on it.
Most took a moment to stop and look at the adoring masses. With the Victoria skyline in the background and confetti falling from on high, the crowd erupted into another chorus of "We Are the Champions".
The song and the scene seemed to offer a definitive answer to the question that GM Chris Hartley asked only a few minutes earlier:
"What do you say we get back and do it again next year?"
Leave a Reply
Warning
: Undefined variable $user_ID in
/misc/25/000/212/149/6/user/web/theafhl.com/wp-content/themes/FlexxProfessional/comments.php
on line
48
You must be logged in to post a comment.