Biggest upset in AFHL History; Firestorm eliminate Vikings
By
Firestorm cap off biggest upset in AFHL History;
Defeat Vikings to advance to Cup Finals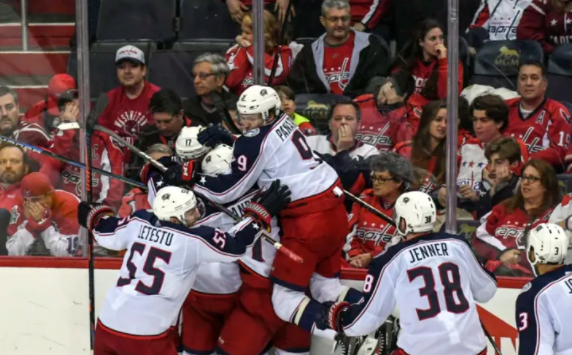 May 3rd, 2021
Let this be a lesson.
A lesson that anything is possible, no matter the odds. A lesson in never writing off a team, no matter the circumstances. And a lesson that, no matter how good a team is in the regular season, it doesn't make a damn bit of difference come playoff time.
Yes, the Hamilton Firestorm pulled off what many thought impossible, an upset for the ages after a 6-5 win against the Shawinigan Vikings on Sunday night in the second round of the AFHL Playoffs.
Bounced.
The first place Vikings certainly crashed and the fourth place Firestorm have advanced to the Stanley Cup Finals.
"It's quite possibly the greatest victory in the history of this franchise, without question," Firestorm owner Adam Zadorozny said, his voice hoarse. "I just want to say to all you Firestorm fans who have supported us throughout all these years, this trip back to the Finals is for you."
The formula for Shawinigan seemed simple enough. Do what you did all regular season: score at will, steal souls on the power play and suck the will out of teams with superb goaltending.
It's a recipe that cooked up a whopping 121 wins in a pandemic-shortened season. But when the Vikings checked the cupboards for ingredients in Round 2, the cupboard was bare.
Why you ask? The Firestorm implemented a near-perfect game plan from the drop of the puck in Game 1, onward. A relentless forecheck stifled the Vikings. A commitment to blocked shots took away scoring chances. Providing great screens in front of Andrei Vasilevskiy made a great goalie seem mediocre. And finding scoring from up and down the lineup, both on forward and defense, added a layer of guesswork that Phil Svoboda and his troops had no answer for.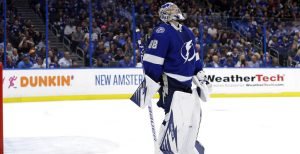 "I mean, look, they played well," Svoboda said. "They made some plays. We made some plays. In the end, they made a couple more than we did."
Vikings star forward Alex DeBrincat sat in his stall, looking stunned, fielding questions about the loss on Sunday night.
"This sucks, yeah. Not much to say," DeBrincat said. "It's the playoffs. There's no easy team. You have to give them credit. They fought hard. It wasn't our time, I guess."
Some are now beginning to wonder: The Vikings, despite all of their success in the regular season and being a statistical steamroller in so many ways, just might not know how to win in the playoffs.
"If you don't accomplish the goal of winning it all, it's a failure," Clayton Keller said. "We don't care about what happened in the regular season. We wanted to come in and play well. In that first round, we came out and we played well. But then in the second round we just couldn't gain any momentum against the Firestorm. We didn't defend well enough as a team, the entire series."
So one is left wondering how, then, the Vikings can learn to win in the postseason; to handle adversity; to transfer what they did best in the regular season to the postseason.
Maybe it just takes time, like it did for the Firestorm.
"I don't know," Svoboda said. "It's funny: We're expected to go to the Finals this year, and we go nowhere. It's hard to win in this league. It's tough not to be holding up the Stanley Cup at the end. We just have to keep knocking at the door."
Changes will come for the Vikings. They have to, after a disaster of this magnitude. But given the core, and given the ages of the core, the window remains wide open to win.
Perhaps one day, while hoisting the Cup, the Vikings will think back to how this defeat was a formative moment. Or, perhaps, they'll think back to what might have been, as one of the greatest regular-season teams in AFHL history saw its postseason last only two weeks.
Leave a Reply
Warning
: Undefined variable $user_ID in
/misc/25/000/212/149/6/user/web/theafhl.com/wp-content/themes/FlexxProfessional/comments.php
on line
48
You must be logged in to post a comment.