Buffalo Phantoms Proving Last Year Was No Fluke
By
First Place Buffalo Phantoms Silencing The Critics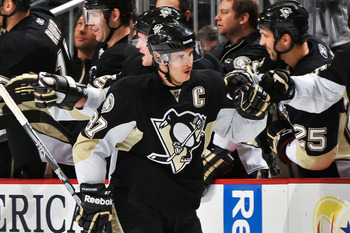 February 17th, 2013
Falling just short of hoisting the Stanley Cup last season has provided the motivation for the Buffalo Phantoms' strong start this year.
The Phantoms attempt to remain undefeated with the best record in the league this week when they try for fifth straight victory over a surprisingly 12th place North Bay Warriors team looking to snap its three week winless streak.
Buffalo (35-9-4) lost to Hamilton 6-5 in last season's Stanley Cup finals, but an otherwise memorable postseason run has fueled the Phantoms' attempt to finish the run and win it all in 2013.
"When we left last year, we were disappointed, but it left us with a great taste in our mouths, the great taste of success," said Buffalo GM Daryn Beckman after the Phantoms defeated the Knights 11-1 in last week's matchup. "Now we're jumping right back in and it's like we never left. It's a short season and we have to capitalize on our momentum."
While most teams are still struggling to find their identities and gel as a unit, the Phantoms, who kept their core group of guys together, really have picked up right where they left off, starting in net and ending in the offensive zone.
Phantoms captain Sidney Crosby scored a power play goal and two assists yesterday and now has seven goals and 17 assists, for 24 points — one off of Thomas Vanek's league-leading 25. After a slow start, Crosby now has five three-point efforts in his last nine contests.
"It's more about the trust in our dressing room amongst all of us that if we do our jobs and stick to the system, and if we get the kind of goaltending we've got then we have a chance to win every night," Crosby told TheAFHL.com.
Craig Anderson, the Phantoms' number one starting goaltender, has silenced his critics with a fantastic start to the season. He's currently among the league leaders with a GAA of 1.61, a SV% of .948 and two shutouts.
"You always have people that underestimate you and criticize you, but that's part of the fun of it, proving people wrong," said Anderson. "All that matters is what we believe in this room."
Credit is also due to Phantoms Coach and GM Daryn Beckman, who has put together a well-rounded, high-character group of players. In typical Backman fashion, he has made a few savvy moves in the past two seasons — trading a draft pick for defenseman Jay Bouvmeester (3 goals and 4 assists this season), and acquiring star forwards Patrick Marleau and Joe Pavelski – few moves that have paid dividends despite going almost completely unheralded.
Beckman, who can be equal parts cerebral, fiery and funny, may finally win the Jack Adams this season. His players and fellow GMs around the league both like him and respect him. His hockey acumen is obvious, his communication skills are one of his biggest strengths, and his ability to gauge the temperature of the team has gone far.
"He leads, in my mind, in a very good way," forward Marian Hossa said. "He can put his foot down when needed, but he can also have a good laugh with the boys."
Over his four years as a Coach and GM in the AFHL, each passing point that was earned, every obstacle that was cleared, Beckman's players began buying in. That was reinforced further with the success the the Phantoms has last year in getting to the Stanley Cup Finals. Now, the team can recognize when it's playing well and diagnose what's happening when it is not.
"You build up a belief system in what works and what doesn't for you, and that foundation is always there," Beckman said. "It's just a matter of tweaking it or getting back to certain things when you go off the rails or lose. You look for the symptoms why. It's much easier to reset when you have that foundation."
That said, Beckman still has a long road ahead before he gets his team back to the playoffs. With the tight race a compressed 48-game schedule has created, it's unlikely the Phantoms won't be knocked off the top of the heap at some point.
"The Phantoms are a team that doesn't beat itself," one former AFHL GM said.
That's because, regardless of however many high-profile players they have in their lineup, the Phantoms  have established something that has changed little with personnel: a winning culture bred by selflessness and strong team concept reinforced by success.
Leave a Reply
Warning
: Undefined variable $user_ID in
/misc/25/000/212/149/6/user/web/theafhl.com/wp-content/themes/FlexxProfessional/comments.php
on line
48
You must be logged in to post a comment.