Archive for afhl
The Pittsburgh Heroes Win
the 2019 AFHL Stanley Cup!!
April 8th, 2019
Across their 10 seasons, the Pittsburgh Heroes dabbled in hapless hockey and exquisite hockey, boring hockey and effective hockey, but never had they played winning hockey through three playoff rounds, all the way to a grueling, glorious end.
It took a team hardened by postseason failures but liberated from high expectations to complete a run as dazzling as it was cathartic, capping it on Sunday night by dispatching the Manhattan Supermen, 8-2, to win the first Stanley Cup in franchise history.
Victor Arvidsson scored the final goal of the game with 7 minutes 27 seconds remaining, another powerplay point and eventual game winning tally. The Heroes' bench erupted, and Arvidsson hopped away as if dancing.
The party started in earnest when the buzzer sounded and the Heroes' bench emptied and swarmed goalie Braden Holtby, who provided an iconic moment of the finals late in the series, when he lunged across the crease to stop an unstoppable puck and post the 4th win of the series for the Heroes. Despite being injured in the final game, Conor McDavid zipped onto the ice, his helmet off and his hands on his head, mind blown that he had just captured his first AFHL Stanley Cup.
McDavid, awarded the Conn Smythe Trophy as the playoffs' most valuable player, struggled to conjure words in an interview with NBC on the ice immediately after the win, and then again when surrounded by the news media. When McDavid hoisted the Cup, he released a primal scream.
"It's even better than I imagined," said McDavid, who joined 9 other greats as the only players to win a Conn Smythe. "It's just like a dream."
The Heroes outlasted Manhattan with the same elements that propelled them past Comox Valley and the defending Champion San Diego Gulls: stifling neutral-zone defense, superb goaltending by Holtby and waves of prolific talent headlined by McDavid, Nikita Kucherov and Mitch Marner. Unlike past Pittsburgh teams puffed with stars that collapsed in the playoffs, this group conveyed a certain resilience that infused their play, in games and throughout series.
As for the Manhattan Supermen, facing elimination on Sunday, they confronted their predicament with defiance. Opening their pregame festivities, a video implored fans not to give up — if the Boston Red Sox in 2004 and the Cleveland Cavaliers in 2016 and the New England Patriots in 2017 could overcome imposing deficits, then so, they hoped, could Manhattan.
"After you get past the losing here, you can look back and be pretty proud of the group in here and the run they made," said Manhattan defenseman Keith Yandle. "Halfway through the year, everyone had us pegged to not make the playoffs. To be standing here today, as bad as it feels, you've got to be proud of the group in here."
In contrast to these Supermen, when Pittsburgh GM Jason Henley took over the Heroes, the team compiled a record that is regarded as one of the worst seasons in league history as Henley began a total rebuild.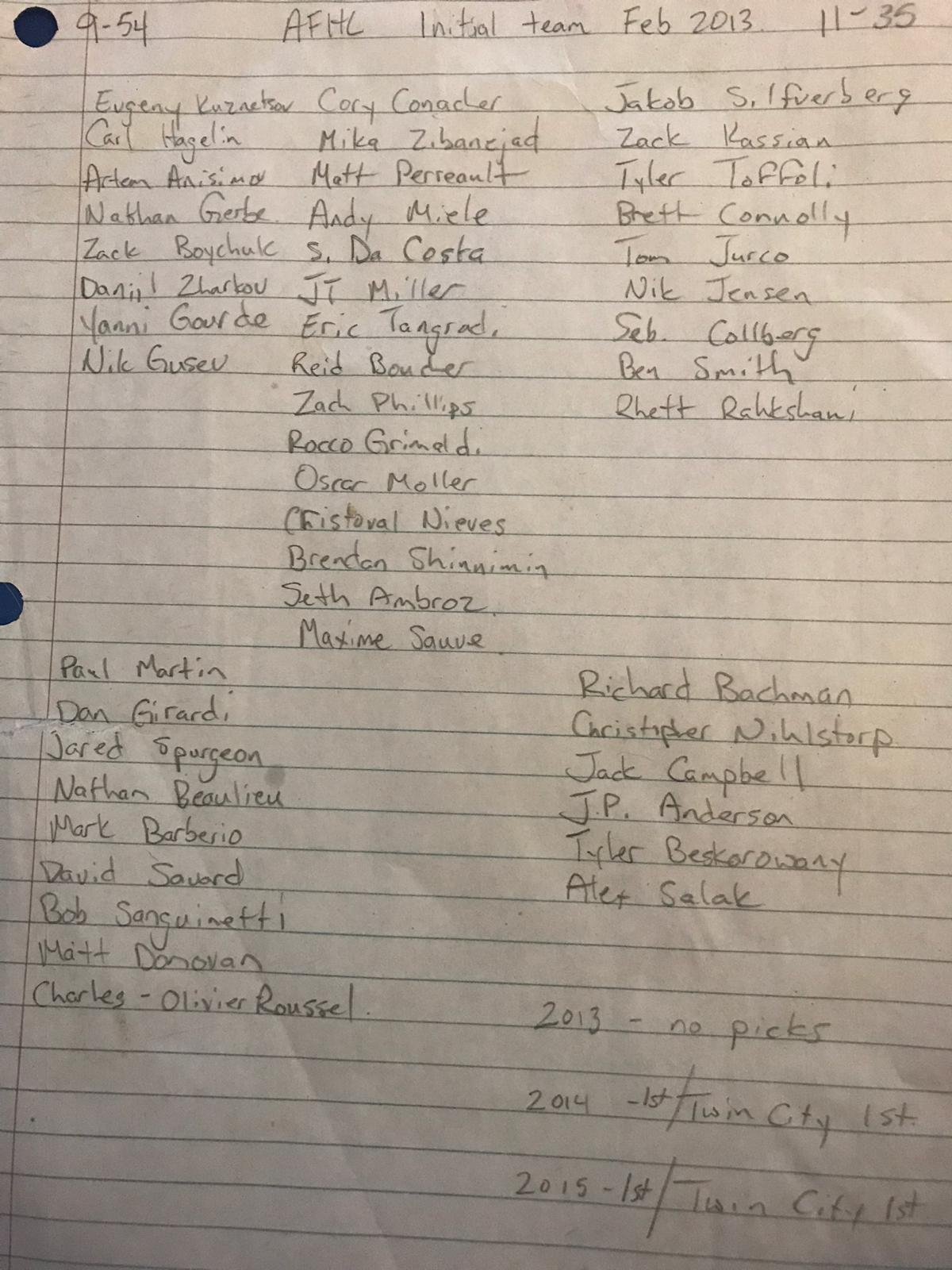 After several drafts and many trades, the franchise has matured and is now considered a perennial contender in the AFHL.
"These past couple seasons, it felt like we were like, 'We can win it all this year,'" Henley said. "This year, it was more so like, 'We're going to work this year, and we're going to outwork teams. We're going to play longer than they are.' And we did that. We did that throughout the whole playoffs."
Henley spoke in a stream of consciousness, at one point apologizing for rambling. When he finally found his family on the ice, he cradled his baby daughter and told her, "We won the trophy!"
All around him in the stands were thousands of Heroes fans, if not more, who assembled an hour before face-off, chanting, "Let's go, Heroes!" Clad in yellow, they soon filled in sections in the upper and lower bowls, forming a far larger presence than they had in either of the first two games here, and it seemed like the entire arena stood and screamed joyously after Arvidsson scored.
"It took years," said Henley. "Years of heartbreak. Years of breaking things down and trying again, breaking things down and trying again, and this group never gave up and we finally did it."
Henley has discussed the Heroes' postseason struggles openly, often comparing his teams to others that foundered before winning, like the Islanders dynasty of the early 1980s and the Detroit Red Wings of the mid-1990s.
"All of these experiences," Henley said recently, "help you find out how much you can take and how much you can give."
For years, the Heroes took and took and gave and gave, and now, with nothing more to take and nothing left to give, there is but one thing left for them to do: celebrate.
Because they, after 10 seasons, are finally champions.
*
Stanley Cup Parade Set for Next Monday @ 11am EST
Fans will have a chance to celebrate the Pittsburgh Heroes' 2019 Stanley Cup championship at the Heroes Parade, scheduled for next Monday at 11 a.m. in downtown Pittsburgh.
The route will begin on Grant Street at Liberty Avenue, travel along Grant Street to the Boulevard of the Allies, turn right onto the Boulevard of the Allies, turn right onto Commonwealth Place and end at the intersection of Penn Avenue and Commonwealth Place, at the entrance to Point State Park. A stage will be set up on the lawn (city side) of Point State Park, where Heroes players, coaches, broadcasters and other team officials will make celebratory remarks.
Heroes players and hockey operations staffers will ride in vehicles provided by RAM Trucks, the official truck of the Heroes.
Once at Point State Park, Heroes players and coaches will take part in the Championship Celebration presented by KeyBank.
To help fans enjoy the day, KeyBank is providing free parking at the following lots starting at 9 a.m. on a first-come, first-served basis:
15th Avenue and Smallman Lot, at 1501 Smallman St.
Green 22 Lot, at the intersection of Allegheny and Ridge
Gold Garage, next to Heinz Field
KeyBank also will be distributing water and premium items at the main stage and via mobile "pedicabs" riding along the route.
In addition, KeyBank will activate a mobile photo share experience where roaming photographers will walk the parade route to take photos of celebrating fans. The photos will be emailed to each fan, who can then follow a link to a branded retrieval page to download it or share it socially.