Current Top Performers of the 2013 Season
By
Current Top Performers of the 2013 Season
North Bay's Patrick Kane gets the nod for most valuable player, Buffalo's Craig Anderson for best goaltender and Montreal's Jonathan Huberdeau for best rookie, among others.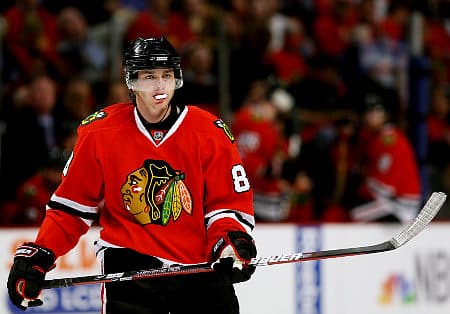 March 12th, 2013
GM of the year: Phil Svoboda, Twin City Vikings. Second place in the League Standings with a 45-23-16 record is no fluke. His activity level has been incredibly high and the extra work he put into shaping his roster in the offseason has really paid off. Honorable mention: Keith Cancilla, Montreal Xtreme. Nearing the end of a three year rebuild, the Xtreme are still in the race for the playoffs this year; Gates Imbeau, Hamilton Firestorm. He's doing an incredible job keeping his injury-ravaged team at the top of the standings while under intense scrutiny as the defending champion.
Most valuable player: Patrick Kane, North Bay Warriors. His scoring is timely and prolific (14 goals, 30 points in 26 games). Close runner-up: Sidney Crosby, Buffalo Phantoms. Dominant again with an AFHL-best 45 points in 26 games for Buffalo.
Honorable mention: Steven Stamkos, Toronto Red Devils. Second to Crosby with 37 points in 25 games played.
Best goaltender: Craig Anderson, Buffalo. He sprained his ankle Feb. 21 but is still tops in goals-against average (1.49) and save percentage (.952).
Runners-up: Corey Crawford, solid for Oshawa City; Manhattan rookie Viktor Fasth, who started 8-0-0 and is among the leaders with a 1.92 goals-against average and .929 save percentage; and Lakehead's Antti Niemi, a stalwart on a powerhouse team.
Rookie of the year: Jonathan Huberdeau, Montreal Xtreme. The dynamic center leads his class with 12 goals.
Runners-up: Pittsburgh Heroes center Cory Conacher, with a rookie-best 20 points, Philadelphia Crunch winger Brendan Gallagher and Montreal Xtreme winger Nail Yakupov.
Top defenseman: Toss-up between Kris Letang of the Lakehead IceHoles (26 points, +10 in 23 games) and bruiser Niklas Kronwall of the Boston Giants. Letang has more finesse and ice time (26:09 versus 24:05), but Kronwall has lifted his game in all areas since Nicklas Lidstrom retired. Kudos to Hamilton's Ryan Suter, who averages more than 27 minutes per game and is getting stronger.
Leave a Reply
Warning
: Undefined variable $user_ID in
/misc/25/000/212/149/6/user/web/theafhl.com/wp-content/themes/FlexxProfessional/comments.php
on line
48
You must be logged in to post a comment.