Marquee matchups and quick hits around the league
January 19th, 2013
After a Stanley Cup championship run that stunned everybody but the players in the Hamilton Firestorm locker room, they're ready to attempt the improbable again.
The Firestorm will launch the lockout shortened AFHL season today by handing out their rings and raising their first championship banner at their home ice arena prior to their matchup with the Ottawa Knights. Then they will embark on a new journey to become the first team to capture back-to-back titles in AFHL history, and they hope to do it with a roster that is almost fully intact from last year.
Some of the many star players remaining with the club include Marc-Andre Fleury, Claude Giroux, Patrick Sharp, Brad Richards, Teemu Selanne, Shea Weber and Ryan Suter. The belief within the Firestorm organization is that what this group of players did last spring was the start of something special.
Just ask general manager Gates Imbeau.
"There's no doubt in my mind about these players after what they did in the playoffs," Imbeau told a media scrum after a team practice yesterday. "It made me have a newfound appreciation for all of these guys. There's no doubt they're going to build on it. So much of this season is mental, and they've got the mental toughness to do it."
While their core roster hasn't changed, their reputation will never be the same – but the Firestorm are confident they can handle the scrutiny in an abbreviated season after many ups and downs last year.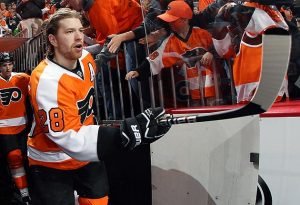 Claude Giroux will once again be the backbone of the Firestorm multifaceted attack.
"We know we have the experience and the leadership to handle the short amount of time," said Claude Giroux. "We know we're going to be targeted by every team that comes in here and in every building we go to on the road, but we're ready for that."
Team captain Shea Weber believes having the same coaching staff and the same philosophies will be an advantage for them.
"Winning starts with leadership," said Weber. "We're very fortunate to have Gates Imbeau at the helm. He's a smart man who knows how to win. He has all of us very excited to start this next chapter."
Here is the timetable for the festivities surrounding Hamilton's opener today at their home ice arena and their Stanley Cup banner raising ceremony:
11:00 AM: Pregame Fan Fest outside of the arena, featuring street hockey, face painting, a tattoo artist, merchandise sales, and giveaways from their mascot and Ice Girls.
12:15 PM: The Stanley Cup will be on display at center ice at a neighborhood rink in a small town near-by. Ice to open for skating at 11 AM.
12:30 PM: Firestorm coach Gates Imbeau and star forward Claude Giroux will sign autographs at the Toyota display outside of the home ice arena.
1:00 PM (approximately): Stanley Cup to be marched from neighborhood rink into home ice arena.
1:30 PM: Live pregame show broadcast.
2:00 PM: Firestorm request that fans with tickets be in their seats.
2:30 PM: On-ice ceremony to begin. The ceremony will be broadcast live, in its entirety, on NBC.
3:00 PM (approx.): Puck drop for the matchup with the Ottawa Knights, to be broadcast on NBC and aired on 1250 and the Firestorm radio network.
*
With the AFHL season set to begin, the questions and stories surrounding the abbreviated season are aplenty. Here are some of the things going on around the league.

The season debuts with the first of two heated rivalry matchups scheduled between the Toronto Red Devils and the Lakehead IceHoles.
"It's going to be awesome," said Lakehead forward Steven Stamkos. "The energy in the building is going to be through the roof. There's not a better team we'd like to play in the first game."
Toronto forward Bobby Ryan said it will feel "like the first game of the playoffs. There's extra motivation because of the rivalry. It didn't take me long to get a hatred for that team. I learned not to like them fast. And I think that goes for everybody who lives in Toronto and guys that put on a Red Devils jersey."
The Montreal Xtreme and No. 1 overall draft pick Nail Yakupov will open against the 2012 President Trophy winning North Bay Warriors.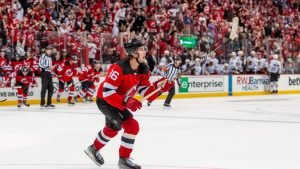 "It's been a long time and we're a day away," Xtreme coach Keith Cancilla said. "We've got some new faces and more talent in our lineup. Our organization is excited to take the next step in our rebuilding plan."
There are plenty of rookie-of-the-year candidates this season, including Alex Galchenyuk (Manhattan), Jakob Silfverberg (Pittsburgh), Dougie Hamilton (Oshawa City), Chris Kreider (Deer Park), Jonathan Huberdeau (Montreal) and Mikael Granlund (Twin City).
But expect Justin Schultz (San Diego) and Nail Yakupov (Montreal) to be in a season-long battle for the rookie scoring lead. By the way, Victoria rookie Damien Brunner is not eligible because at age 26 he's too old.
The headaches are gone for Sid the Kid, whose post-concussion symptoms have nagged one of the game's greatest stars for the last two years. Crosby, 25, is ready to help the Buffalo Phantoms return to the Stanley Cup Finals after falling short to Hamilton last Spring.
Like other teams in the league, the San Diego Gulls are also offering a few incentives to encourage fans to buy tickets and come out and cheer on the team. For the first two games of the season, food and merchandise at the game will be half-price and the 50/50 draw is guaranteed to be a whopping $100,000. On opening night, there will also be player introductions and a give-away of 75 autographed jerseys. The team will give more prizes away during the game and fans will be treated to an autographed game used stick giveaway at the end of the night.
San Diego GM Lucas Main says he's still rebuilding the Gulls after taking over the struggling only six months ago and it continues to be a long process, but he's enjoying the challenge.
"We had plenty of time to prepare for this rebuild and get ready for this season so we had a good plan and the players came in. My coaching staff and I have to give the players credit – they came into the shortened camp ready to play. They came in in great shape. We've had some great workouts. We look forward to the youth movement this year."
In Victoria, there is concern for Vipers goaltender Carey Price, who didn't practice after tweaking a groin injury in an intra-squad game on Thursday night. Coach Chris Hartley said his No. 1 goalie will play.
Mark Scheifele will be in the opening night lineup for the Fort Drum Killers. GM Stryska expects him to play second fiddle to Mikko Koivu for the entire season.
After finishing the past two regular seasons with the best overall record in the AFHL, the North Bay Warriors are chomping at the bit to win it all this year.
"This team has been built to win it all for the past two years," said GM Brunetta. "We've been waiting too long to start this season. It was weird to have a shortened camp and power through everything at top speed. But we know what's on the line. We know the energy in the arena is going to be crazy from the get go. Hockey's back and we couldn't be more ready to start winning."
AFHL teams had only six days of camp with no pre-season games to prepare, so injuries are expected aplenty. There are lots of concerns over groin pulls and other injuries to players who didn't keep in game shape by playing in Europe during the lockout.
There is also concern for how fans will react after a lockout that seemed to many like a needless squabble between millionaire players and billionaire owners. However, AFHL arenas are expected to be packed as usual for the openers.
As of late Friday night, tickets for the Firestorm sold-out opener were being offered for as high as $1,500 on StubHub for a seat in the lower section.