Gulls Stanley Cup Parade
By
Over 300,000 People Attend
San Diego Gulls Stanley Cup Parade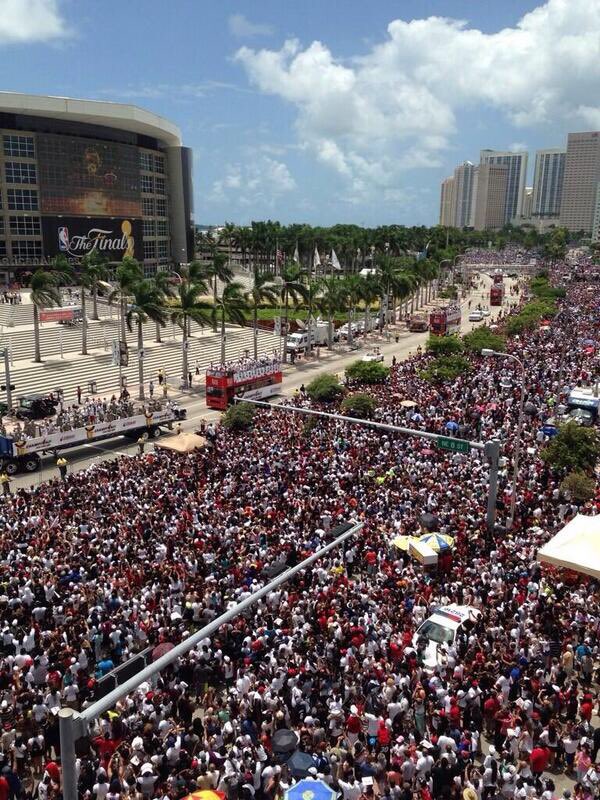 April 20th, 2017
Tens of thousands of blue-and-orange clad San Diego Gulls fans lined the streets of downtown San Diego this past Friday to cheer their team's first Stanley Cup win. The team won the AFHL championship last Sunday, defeating the Pittsburgh Heroes via tiebreaker in an overtime nailbiter.
Players shaved off their beards, boarded a double decker buses and hoisted the gleaming 35-pound Stanley Cup for the screaming and elated fans who lined the streets near their home ice arena to see them.
Blue and orange confetti rained on fans and the team as the Stanley Cup was held up by Gulls players. 
"It's huge," said Gulls fan Jennifer Rogers, 33, of San Diego, before the start of the parade. "We won the Stanley Cup! We've finally arrived on the sports scene."
San Diego Police Department officials declined to estimate the number of spectators but Jeff Moeller, a spokesman for the San Diego Gulls, said they estimated that as many as 300,000 people attended the parade and about 18,000 people attended the rally afterwards at their home ice arena.
Signs held up along the route displayed San Diego's passion and gratitude for the team. "Gutted X-Men. Killed Supermen. Heroes Fall," read one. Fans began to line the parade route hours before the start and cheered with all their might as their heroes passed. Some admitted to calling in sick or leaving work early to celebrate with their team.
"I'm on vacation to watch this," said Eduardo Renteria, 15, of Lincoln, Nebraska. "I was born in this city and I love this team."
Dave Carpenter, 40, of Santa Clarita, held his daughter on his shoulders as the parade got underway. He said he's been a fan since the late since Lucas Main took over the franchise, when it was a bottom five team in the league.
"I love everything about them — their resilience." Carpenter said of the team. "They have an ability to come back no matter what. … What they've accomplished in the last three years is simply amazing."
The parade was held along several streets in San Diego. A heavy police presence could be seen around their home ice arena.
Despite the intense mid-day heat, Pam Noonan, 50, of Bell Canyon was thrilled to attend the victory parade with a large group of family and friends.
Noonan said they had watched Sunday night's "very dramatic" game — the longest in the team's history — on television with "bated breath" until the perfect, winning goal by Drake Caggiula was scored.
"Hopefully, they'll do it again next year," Noonan said. "They've got a great coach, a great team. Couldn't ask for anything better but we'd love if they did more."
Noonan's nephew Chris Kuchinka, 19, of Moorpark, was standing next to her in the crowd cheering "Go Gulls Go!" at the top of his lungs.
Kuchinka, "a huge fan" of Gulls' goalie John Gibson who wore a T-shirt that bore the player's name, is a goalie himself for the Van Nuys-based California Condors, a special needs ice hockey team.
"This is an awesome experience," Kuchinka said.
Clean-shaven team members said this time's Stanley Cup win proved to be an uphill, yet satisfying challenge.
"It's emotional, it was an exhaustive ride for us to come on top," said Gulls forward Claude Giroux.
Goalie John Gibson had a brief answer for what he liked most about winning the Stanley Cup.
"Celebrating. The People," he said.
San Diego Police Department spokeswoman Rosario Herrera said no problems or arrests had been reported.
"The crowd was spirited, well-behaved," said Fire Department spokesman Brian Humphrey. "We're aware of no significant injuries or illnesses among the large crowd."
The celebrations concluded inside San Diego home ice arena with a rally for fans.
GM Lucas Main was among those riding on a bus with the Gulls players. His speech almost outshined the grand parade, when he dropped the "F" bomb.
"There are two rules in management," Main said gleefully, with a bottle of beer in his hand. "Never be pictured with a drink in your hand, and never swear but this is a big fucking day!!!"
Leave a Reply
You must be logged in to post a comment.