Heroes Stanley Cup Parade
By
Pittsburgh Heroes and 650,000 Fans
Celebrate Stanley Cup at Parade
April 22nd, 2019
Pittsburgh Heroes GM Jason Henley didn't have much of a voice left after a couple weeks of celebrating with the Stanley Cup. But he had a special quote he wanted to deliver to Heroes fans.
"I have four words for you," Henley said, looking out at the thousands of fans packed in before him outside the Heroes home ice arena. "I'm going to paraphrase from one of the greatest Americans of all time: 'We had a dream.'"
If it seems a bit absurd to hear Rev. Martin Luther King, Jr. quoted to celebrate a Stanley Cup championship—well, that's fair, but it was par for the course in a team celebration that's been so consistently giddy as to make everything seem a little absurd. For the first time in franchise history, the Heroes have won it all, and they've spent these past few weeks celebrating all over the city of Pittsburgh. With Tuesday's official victory parade, they kept the celebration going.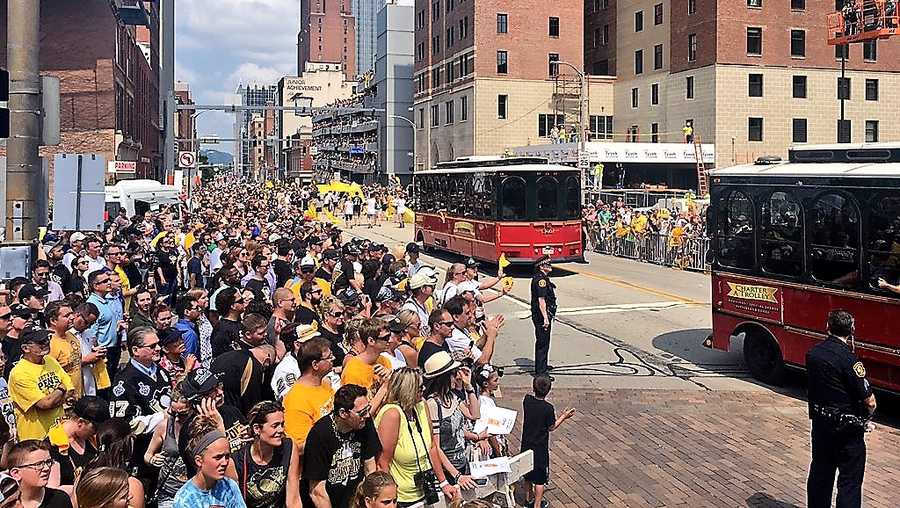 The players rode double-decker buses down a six-block stretch through a teeming crowd. When they reached their final destination—a stage constructed in front of the Heroes home ice arena, surrounded by still more fans—their names were called one by one, each player invited to step forward and take the spotlight to himself for a moment. An impressive range of behaviors followed. Connor McDavid, for example, chugged a beer. Nikita Kucherov chugged a beer while being lifted in the air by some teammates. Braden Holtby chugged a beer while displaying a custom wrestling-style championship belt. Wayne Simmonds pulled his jersey over his head in order to chug a beer through it.
The crowd had been waiting along the parade route for hours, with some who arrived even before the sun rose. One man said that he'd spent the night driving down from upstate New York to set up by 6 a.m. He was standing next to a local couple who'd gotten there even earlier—bringing along their eight-month-old daughter, who was somehow resting peacefully in her stroller despite the thousands of people cheering and screaming around her. But the wait was worth it, everyone agreed, no matter how long it had been. After all, in a different sense, many had been waiting for years. They held signs that read "We Lived to See It" and "Now I Can Die in Peace" and "Born in 2009 + Waited My Entire Lifetime." Now, at last, they had nothing left to wait for.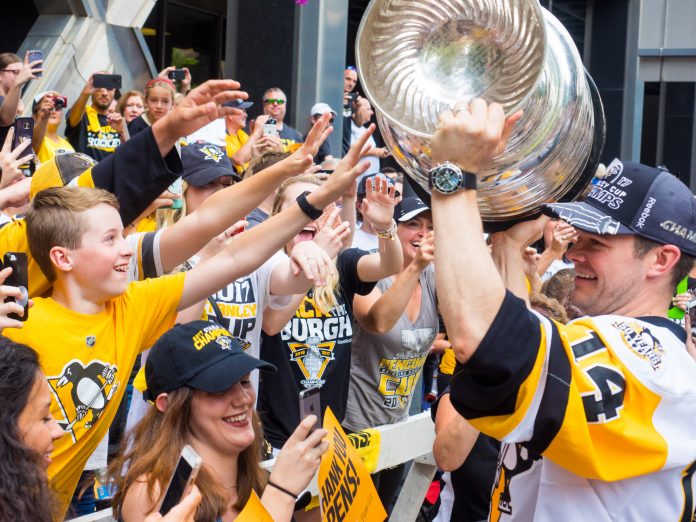 "There's been a lot of chants," Henley told the fans at one point. "There's been, 'Let's go Heroes.' There's been, 'We want the Cup.' We heard in the streets, 'We've got the Cup.' We got a new one for you tonight—today," he quickly corrected himself, though the crowd didn't seem to notice his mistake, much less care anything about what time of day it was. "Back-to-back!"
That chant created a roar that could be heard from miles away.
"I couldn't see the end of people from the stage," forward Brandon Dubinsky said. "This is home. This city has made us feel so welcome. It's unbelievable to give back the least we could and just celebrate with them."
Henley said the multinational makeup of the roster makes the Heroes the perfect team for Pittsburgh.
"We've got Americans, we've got Canadians, we've got Swedes," he said. "We got Russians, we got Czechs. We've got rookies. We got veterans. We got great people. It sounds just like Pittsburgh and the community of Pittsburgh."
Henley and the players repeatedly thanked Heroes fans, with some calling them the best in hockey.
"I just want to thank all of you guys," Connor McDavid said. "This is something we've dreamed of for quite some time, and to see you guys out there today celebrating with us, we're absolutely nothing without you guys. So thank you very much."
Defenseman Seth Jones said he's not worried about what offseason changes Henley might have to make in an attempt to repeat next year. He wants to enjoy this moment right now.
"We're just happy to be here celebrating with each other," he said. "It takes a lot, and that's what we're so proud of, is how much we had to give and how many times we got knocked down. We just did whatever it took and maybe won on a year that people said we didn't deserve it or we didn't have the talent on our team to do it. I think that makes it sweeter too."
Braden Holtby was the final speaker at the rally. He restarted the "back-to-back" chants, then gathered his teammates at the front of the stage to sing what's become the Heroes' new anthem, Queen's "We Are The Champions."
After the singing and one final celebration video, Holtby grabbed the microphone for a parting message:
"We're the Stanley Cup champions!!!!"
Leave a Reply
You must be logged in to post a comment.