Lakehead IceHoles GM Jason Briggs makes a deal with the Devil
By
Lakehead IceHoles GM Jason Briggs makes a deal with the Devil,
Trades Stamkos to Toronto and puts his team in position for run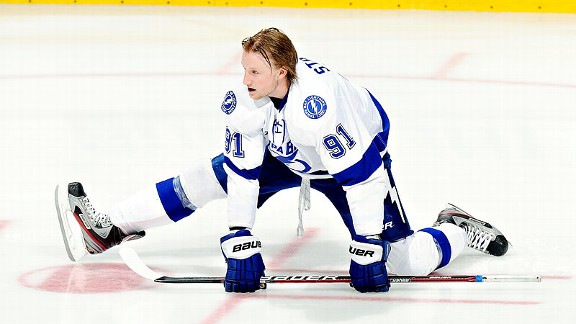 February 11th, 2013
By pulling off two big trades over the weekend, Lakehead IceHoles GM Jason Briggs sent a not-so-subtle message to the rest of the Amazing Fantasy Hockey League: He believes the time is now for his team to make a Stanley Cup run.
 On Saturday afternoon, the IceHoles sent former No. 1 overall pick Steven Stamkos, forward David Backes, prized prospect Morgan Rielly, goaltender Ondrej Pavelec, and a 2013 first-round pick (from Washington) to the Toronto Red Devils for star forwards Henrik Sedin, Corey Perry, Bobby Ryan and stud goaltender Jonathan Quick. Then on Monday morning, the IceHoles flipped Corey Perry to the Montreal Xtreme for Eric Staal.
 "I obviously was not expecting this," Stamkos told TheAFHL.com in a text at 2:40 p.m. EST on Saturday morning. "It is tough to leave Lakehead, where I made so many great friends on and off the ice and played for a first-class organization. I am thrilled to be joining the Red Devils organization that has a terrific young team that I can't wait to be a part of."
 Stamkos has 17 points in 11 games this season. Since the 2010-11 season, he has scored 112 goals and 205 points in 175 games played. He's quite possibly the best player in the league.
 "We felt at this stage of the franchise it was time to make a significant move for an impact player," Red Devils GM Jordan Carbone said in a statement. "Steven Stamkos is not only the best player in the league, he's also universally recognized as one of the finest leaders in the game and one of its elite competitors. Additionally, given that he's still so young and not even in his prime yet, he fits our plan now and for the long-term future."
 It's always difficult to question a GM who has the testicular fortitude to make such a big trade, but, did Carbone give up too much?
 "In the Western Conference, Pekka Rinne (who is now the bonafide starting goalie for the Red Devils) and Jonathan Quick always played on the same night and we can only start one goalie per night in the AFHL, so it didn't make sense to keep both goalies just to have one sit on the bench all the time," said Carbone. "We saw an opportunity to improve the team and we seized it."
For Lakehead, the team's most pressing need was goaltending and the acquisition of Jonathan Quick certainly fills that need. In 2010-11, Quick posted a 2.24 GAA and a .918 SV%. In 2011-12, he posted a 1.95 GAA and a .929 SV%.
"Jonathan is one of the top goalies in the league," Lakehead GM Jason Briggs told the media shortly after the deal was announced on Saturday. "We have had one of the best offenses in the league. Obviously it's tough to let go of Steven Stamkos but he doesn't play the most important position in the AFHL."
Briggs believes the trade was a no-brainer for his club. Asked if he felt Quick could be the final piece of the puzzle for the IceHoles, Briggs said, "One thing you learn from being in this league is you never really know. You have to make those pushes when you can. Bringing in Jonathan Quick brings us stability in goal."
While Briggs said he was excited about the additions, he also recognizes that it will be a balancing act in a shortened season as he attempts to integrate the new players and make sure that their presence doesn't upset the chemistry in a dressing room that's considered among the tightest in the league.
"As much as some guys aren't going to be playing so much anymore, the common goal will be the same," Briggs said. "I think they'll get along fine."
Briggs also said despite agreeing to a trade with his biggest foe, the Lakehead-Toronto rivalry is still alive and well.
"This already intense rivalry just got more insane," he said. "Making a deal with the Devil may come back to haunt me in the end, but it was a helluva lot of fun and as the Million Dollar Man – Ted Dibiase used to say 'Everyone has a price'."
*
QUICK HITS:
– Jonathan Toews is frustrated with his team in Ottawa. "I'm tired of losing," Toews said after the Knights were shut out by the Comox Valley Hitmen in Week 14. "Our GM needs to find a way to surround me with some more high end talent."
– The Philadelphia Crunch management made it very clear during their short training camp that even though their focus is on building for the future, they expect all of their players to step up and give their fans the best that they can give all season long.
"We're playing good," said Crunch GM Paul Kiely. "Despite the unexpected flurry of injuries, [James] Reimer has been stellar for us in goal and we're already getting solid contribution from the younger guys including Brendan Gallagher, Tommy Wingels, Zack Smith and Lee Stempniak. We have high expectations for all of our players. We want to make the playoffs this year and ultimately become one of the great, dominating franchises in the AFHL."
– After being acquired from Montreal on Sunday, Eric Staal is now united with his brother Jordan Staal in Lakehead. "I'm extremely pleased to be joining this team," said Eric Staal. "I'm looking forward to bringing a Cup to this great organization.
– The Oshawa City Leafs have been getting great goaltending Corey Crawford and Cam Ward. Going into this week's matchup with Manhattan, Crawford is undefeated this season with an overall record of 7-0-2. After benching a 45 save win by Cam Ward on Friday, Oshawa City Leafs GM Earl McNeill gave Crawford the nod on Sunday and Crawford returned the favor with a shutout. "Corey was tremendous last week and he's off to a great start this season," said McNeill. "We also got a good week from Hemsky and some under the radar production from the likes of Bickell, Brouwer and Ericsson."
– After being named the Assistant Captain for the Comox Valley Hitmen, David Clarkson has responded with true leadership and great performance. "He's been great," said Hitmen GM Pat McKenna. "The plumbers are getting it done… Mitchell, Pyatt, Lapierre. I'm proud of them. I began building this team based on youth and toughness. I'm proud of our goaltenders as well. Lindback and Garon have been steady."
– According to multiple sources from TSN, rumors are swirling that Lakehead is actively pursuing Marc Staal from the Boston Giants. 

Leave a Reply
Warning
: Undefined variable $user_ID in
/misc/25/000/212/149/6/user/web/theafhl.com/wp-content/themes/FlexxProfessional/comments.php
on line
48
You must be logged in to post a comment.