Lakehead wins season opener
By
Lakehead Ice Holes celebrate last season's title, win opener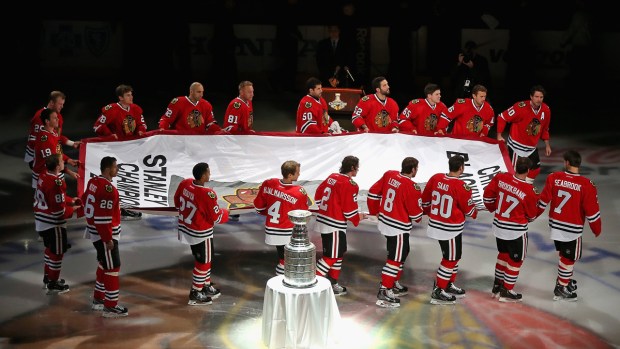 The defending Stanley Cup champion Lakehead Ice Holes opened their season with a 10-1 victory over the Manhattan Supermen in 2013 Finals rematch.
October 14th, 2013
The Ice Holes watched as their championship banner rose to the rafters at their home ice arena. They took another look at the Stanley Cup, and soaked in the applause from the sellout crowd.
Then Henrik Sedin and company went out and reminded the rest of the AFHL how they won that title.
Sedin, Martin St. Louis, and Teddy Purcell combined for 20 points in helping Lakehead kick off their title defense with a 10-1 victory over Henrik Zetterberg and the Manhattan Supermen in Week 1.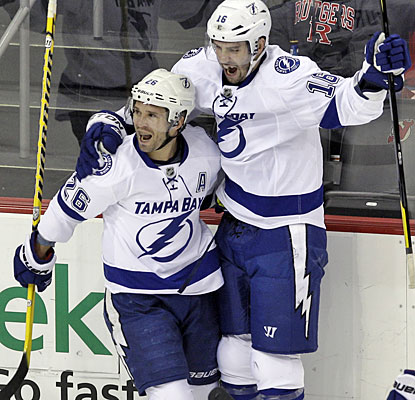 "We wanted a good start. I think we got that," Sedin said.
Jiri Hulder, P.A. Parenteau, and Dustin Byfuglien also put up big points for Lakehead in the dominating win. Jonathan Quick posted a .929 save percentage and made 79 saves, including a couple of huge stops when the Ice Holes killed off an early five-on-three power play.
Lakehead coach Jason Briggs made it clear in training camp that an opening surge is a priority.
"The guys have been in a good place since Day One of the season," Briggs said. "You've got to commend them on how they prepared themselves. If they consistently play like this all year then I think the Ice Holes will be the first team in AFHL history to win back-to-back Cups."
Quick Hits:
Thomas Hertl, the Philadelphia Crunch's 19-year-old rookie wunderkind, is currently the top goal scorer in the AFHL with seven goals in five games.
After winning his first ever Vezina Trophy in the AFHL, Washington Wolfpack goaltender Tuukka Rask is already on top of the goaltending leaderboard with three wins and a 1.00 GAA.
Buffalo Phantoms captain Sidney Crosby is currently leading the league in scoring with nine points in five contests and has recorded his longest point streak to begin campaign since his rookie season of 2005-06.
Ottawa GM Ryan Armstrong is very happy about the Knights getting off to a good start this year. "It's a good sign we're taking a big step forward this year," Armstrong said after Sunday's 6-4 win over the Hamilton Firestorm.
Rumor has it that Chiefs GM Mike Nellany could be in the market for another starting goaltender. "We expect to compete this year," Nellany told a reporter after practice on Monday. "I think we're just one goalie and player away from being a legit contender for the Cup."
"I've said it before and I'll say it again… Bernier is better than Quick," Red Devils GM Jordan Carbone told the media on Tuesday. "Bernier is already boasting a 1.74 GAA and .946 SV% this season. Feeling good about our team right now. We put up the most points in the first week of the season with 75 points… and that's without James Neal who is still injured."
Leave a Reply
Warning
: Undefined variable $user_ID in
/misc/25/000/212/149/6/user/web/theafhl.com/wp-content/themes/FlexxProfessional/comments.php
on line
48
You must be logged in to post a comment.