Minnesota hires new GM
By
Lucas Main announced as new GM of the Minnesota franchise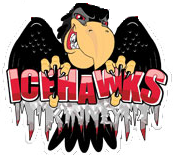 September 5th, 2012
The AFHL announced today that Lucas Main has been named the new GM/coach of the Minnesota Icehawks.
Main has served this past year as GM/coach of the Boston Barons in the IFHL. He led the team to the playoffs and a third place finish with an overall record of 182-100-33.
AFHL commissioner Anthony Furino met with Main for lunch over the weekend and Main said he gasped when Furino asked him if he was interested in the Icehawks head coaching job.
"I was a bit taken back," Main said in a news conference on Wednesday morning. "I wasn't speechless, because my first words were: 'Certainly, I'd like to do that.' But it was a bit shocking. After that I got my game face on and we discussed details."
Furino opted for Main over other candidates because of Main's accomplishments in the IFHL and a personal recommendation by Philadelphia GM Paul Kiely.
"I recommended Lucas as a replacement because he's extremely active and he knows how to play hockey," Kiely said. "He also has a good personality and most importantly, he has a great GM skillset. He's the kind of guy who won't be pushed over."
Although he's a little intimidated by the fact that he is the fifth GM in Minnesota's franchise history, Main believes he has inherited a well balanced team with the potential to get into the playoffs as soon as this year.
"A couple of changes need to be made but overall I think we have a young group of players and a good mix of veterans," said Main. "The focus right now will be making sure there is a good foundation in place and then moving into the right direction."
When asked about how he thinks he will get along with the other GMs in the AFHL, Main said he thinks he'll get along just fine.
"Commissioner gave me some good advice," Main said. "He told me to just be myself and not worry about what other guys think. So I'm just going to have fun and do my thing."
Leave a Reply
Warning
: Undefined variable $user_ID in
/misc/25/000/212/149/6/user/web/theafhl.com/wp-content/themes/FlexxProfessional/comments.php
on line
48
You must be logged in to post a comment.