Power can't wake up from coma, Wolves remain undefeated
By
Washington can't wake up from coma;
Lakehead ties Hamilton to remain undefeated
November 28th, 2011
Forget the Stanley Cup hangover. The Washington Power have invented the Stanley Cup coma.
After showing no signs of breaking out of the early season trench in their 9-2 loss to the lowly Manhattan Supermen in Week 7, the Power go into Week 8's Stanley Cup rematch vs. the Pittsburgh Heroes with just one win in their first seven matchups this season.
GM Rick Charron walked through the dressing room just before the players took the ice for practice on Monday morning and he didn't like the vibe. He tried to warn everyone.
"The frustration level is obviously very high and I basically told them they need wake up before it's too late," Charron told reporters.
Washington is now 25-45-15 and looking up at everybody in the AFHL except for the Twin City Vikings and the Montreal Xtreme.
"We talk about more than anything about moving forward," said Charron. "We want to wash away the awful start to this season, just turn the page, and focus on a good strong start in this rematch with the Heroes, and hopefully create some momentum."
The level of chatter about GM Charron making another deal to shake things up is certainly going to uptick in the next few days (one scout suggested they need a guy like Ray Whitney, a veteran who can help the younger guys get loose).
There's talk filtering out of Washington now of some issues in the Power dressing room with at least one player missing a players-only meeting and ticking off his teammates. Sounds like a couple of egos are out of check.
You wonder how much they miss a guy like Jason Arnott now after he was traded following Washington's Cup win. A guy like Arnott had the juice to pull somebody who wandered off the page aside and get him straightened out.
"We know (the talk) comes from not winning," said Power forward Joe Thornton of the club needing a shakeup. "If we win, there won't be that talk."
Thornton was asked if there was one thing the Power could fix to get themselves out of their rut.
He thought for a moment.
"There's a whole of things that come to mind," he said.
There was one shot of Charron behind the bench with his hand covering his eyes after a Power penalty Saturday night vs. Manhattan.
That image pretty much summed it up.
Now Charron is going to have to continue his long, hard look at what's going on with his club and maybe look outside the organization for an answer.
* * * * *
The Lakehead Thunderwolves got a late GWG goal from forward David Backes to tie the Hamilton Firestorm 5-5 on Sunday and remain the only unbeaten team in the AFHL.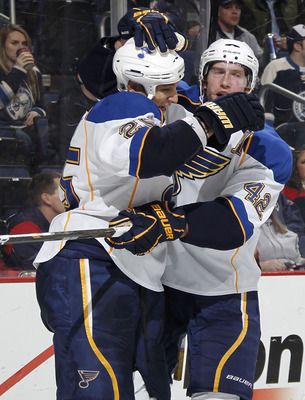 Steven Stamkos and Jamie Benn combined for 4 goals and 5 assists to help keep the T'wolves undefeated after seven matchups this season.
"It was a nice, gritty effort late in the matchup," Stamkos told reporters. "It's something that our team needs throughout the whole season."
"Every other aspect, we look pretty good as a team," he added. "What we need to find is that team toughness, and we found it against the Firestorm."
The first line of Stamkos, Benn, and James Neal has been one of the major reasons the T'wolves remain undefeated. The trio has already combined for a total of 70 points this season and is arguably the best first line in the league.
"We know we have some good chemistry," Neal said. "We're having a lot of fun playing together. I think we're definitely enjoying this. You enjoy it for a period of time when you can reflect after a game, saying, 'Boy we made some nice plays and scored some nice goals."'
In Week 8, the Thunderwolves will be playing against a young and energetic Toronto club. A club that is led by GM Jordan Carbone, a man who Lakehead GM Jason Briggs isn't too fond of.
"We exchanged some words a couple weeks back so I've been looking forward to this one," said GM Briggs. "Good rivalries are good for the game, but it would be pretty sweet to add him to the list losers vs. the T'wolves this year."
Briggs refers to a scrap with Carbone back on October 17th, after Carbone called him a vulgar name following a comment Briggs made about Carbone's trade ethic.
"We're fired up for this matchup," Toronto GM Jordan Carbone said. "It's time to show Jason who's boss."
Leave a Reply
Warning
: Undefined variable $user_ID in
/misc/25/000/212/149/6/user/web/theafhl.com/wp-content/themes/FlexxProfessional/comments.php
on line
48
You must be logged in to post a comment.