December 6th, 2011
The Lakehead Thunderwolves were trailing the Toronto Red Devils for most of their Week 8 matchup until they got goals from Jaromir Jagr, Luke Adam, and Logan Couture to end the matchup in a tie and remain the only undefeated team in the AFHL.
But it was what was said throughout the matchup between Toronto coach Jordan Carbone and Lakehead coach Jason Briggs that had everyone talking.
Before the matchup even began, emotions were running high as Carbone and Briggs got into a verbal confrontation earlier in the season. A couple of analysts believe the initial confrontation was all about Briggs passing a remark about Carbone's  trade ethic and Carbone firing back at him with some unpleasant profanity.
"There's animosity created after our verbal exchange, (and) I think that's going to be in place this week," Briggs said during a T'wolves team practice shortly before their Week 8 matchup began. "We're about to load the plane, head up to Toronto and they're sitting there waiting for us, probably licking their chops, looking to get a piece of us. The rivalry will continue and I wouldn't be surprised if his players come out trying to fight."
The rivalry did continue with a fight just after the opening faceoff between Red Devils defenseman Luca Sbisa and Thunderwolves forward David Backes. After landing the first four punches, Backes slipped on the ice and Sbisa began pummeling him on the back of his head.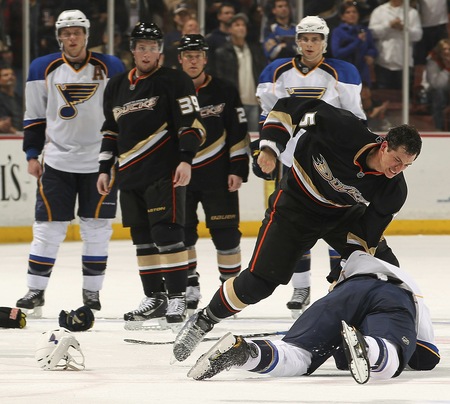 The Red Devils quickly got some points from Ryan Nugent-Hopkins and Loui Eriksson, and jumped out to an early lead with stellar goaltending from Jonathan Quick and Semyon Varlamov. After getting the lead, Toronto coach Jordan Carbone began trash talking on his bench loud enough for Leakhead coach Jason Briggs to hear it on his bench.
"My emotions and momentum took over at the beginning of the matchup," said Carbone after the first night of the matchup. "But I basically told him it was not going to be easy and I was going to deal him his first loss of the season."
"He also called me 'Gayson' and he called my team the 'Lakehead C*cksuckers'," Briggs said. "He's been yapping a lot and so has his players."
During a scrum in front of the Red Devils net midway through the second night of the matchup, something bizarre happened. Lakehead star forward Steven Stamkos got his glove into the face of Toronto defenseman Michael Del Zotto and then pulled his bare hand out.
"I guess I got close to him and he bit me," said Stamkos, who wore a splint on the middle finger of his left hand. "I felt pain, I saw blood and then got stitched up and went back out."
Stamkos scored two goals and an assist after the incident, and said Del Zotto didn't talk to him.
"I had my finger in his mouth, so I don't think he could," Stamkos said.
Del Zotto's version of the story was different.
"If he's cut, good. But I didn't bite him," Del Zotto said. "I didn't think anything of it until someone mentioned it to me. He went like that [face wash] right across my face.
"He got his glove on my tooth, almost pulled it out. It's all sore."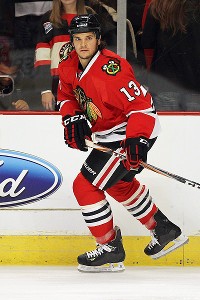 Carbone announced the signing of enforcer Dan Carcillo on Thursday night and Carcillo made his debut in the rivalry on Friday. The intensity of the matchup escalated in Carcillo's debut, as Carcillo was doing a lot of on-ice jawing and agitating. Not that it was any surprise.
Midway through Friday's games, David Backes drilled Carcillo into the boards and Carcillo was upset that a penalty was not called. He decided to let his rage out on Lakehead forward James Neal. Carcillo was pushing and shoving Neal in front of the Lakehead net and eventually knocked Neal down to the ice. Neal got up, threw off his gloves, and the two began trading haymakers.
A scuffle ensued between several players near center ice, mixed with several cheap shots and uncalled penalties, and ultimately led to a major-bench clearing brawl.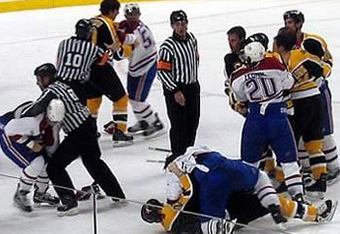 "There were five or six fights going at once, so it was definitely intense," said Lakehead forward Logan Couture. "The fans were getting into it and we could hear their chants on the bench. The Toronto coach was shouting, our coach was shouting. It was crazy."
Briggs finally retaliated to Carbone's verbal abuse by calling Carbone a "typical teenage boy" and a "rookie b*tch". Carbone responded by calling Briggs an "amateur" and telling him to "learn his place". The players continued to fight on the ice as the coaches yell at each other from their benches.
"You work hard for five nights to take the lead and get ahead of the other team, and then you have to deal with the opposing coach shouting at you and sending out tough guys to hurt your best players," Briggs said. "Those aren't things I like to see but that's part of the emotion, part of the rivalry. I'm going to try to protect my players and my bench, and he's going to do the same thing with his bench."
Carbone said Briggs and his players got what they deserved and he shouldn't be at fault for anything.
"All I know is that somehow he seemed to be accusing me of sending someone to do something but it's certainly not my style, I've never done it in my life," Carbone said. "I brought in Carcillo because he can contribute some offense. Neal speared and elbowed two of our guys earlier, so Carcillo got him to drop the gloves. I know Neal's not a fighter, but I didn't stand up on the bench and accuse Briggs of sending Neal to hurt my guys so I think it's just a matter of, 'Take care of your own business, and we'll take care of our own."
Carcillo went to the dressing room amid a cheer from the sellout crowd of 21,273 when he was summoned from the penalty box after he was given 21 minutes in penalties for roughing, high-sticking, and instigating a fight with Neal.
It took the linesmen approximately 15 minutes to restore order and after the dust settled, these teams were whistled for 82 penalties and 17 were for fighting.
"I've never seen anything like that," Toronto forward Ryan Nugent-Hopkins said after the matchup. "It was pretty exciting for both teams. This was a matchup everyone was pumped up for so it really did live up to the rivalry. "
In the end, the Red Devils set the tone with their aggressive style, but couldn't match the Thunderwolves' scoring and had to settle with a tie.
"We should have won but we came up short on offense," Nugent-Hopkins said. "It's real easy to get up for these games, it should be an exciting matchup every time we play. It's a battle and I think it's something everyone enjoys."