January 2nd, 2012
From top to bottom, every team in the Amazing Fantasy Hockey League has some important decisions to make in the coming months. Some may say that all teams are looking for the same things: a Sidney Crosby-sized forward with an indestructible head, a 25 year old Nicklas Lidstrom and the next coming of Patrick Roy. But since those are more difficult to come by than gold, here are some of the more realistic new year's resolutions for 2012…
Gabriel Landeskog, F, Goldsboro: I resolve to take my place among the best up-and-coming young forwards in the game.
Joffrey Lupul, F, Toronto: Continue being the AFHL's most underrated player.
Tony Furino, GM, Manhattan: Take my free-falling team on a trip to Oz to get some courage.
Matt Dwyer, GM, Goldsboro: I resolve to take the Rebels to the next level that includes making the playoffs for the first time in franchise history.
Mike Phelan, GM, Boston: Express the unique personality that I have and show that I want to stay in the league by acknowledging the AFHL's rule on participation.
Ryan Armstrong, GM, Ottawa: See above.
Ryan Malone, F, Detroit: Get a new cyborg body.
Scott Hartnell, F, Deer Park: I resolve to waiting until my opponent is looking before I throw the first punch.
Nicklas Lidstrom, D, Hamilton: Keep on playing like a Norris Trophy candidate until the day I finally hang 'em up.
Marian Hossa, F, Buffalo: I will never again show up drunk to practice.
Pat McKenna, GM, Comox Valley: I resolve to continue building from within and icing a club that excites and entertains our fans.
Henrik Zetterberg, F, Hamilton: Try to shoot the puck more often.
Kyle Kebert, GM, Pittsburgh: Give up on the Steve Mason experiment before he ruins the season for the Heroes.
Steven Stamkos, F, Lakehead: I resolve to thank the Lord every day that Martin St. Louis is my linemate.
Mike Nellany, GM, Deer Park: Lead the Chiefs to the Stanley Cup Finals while being the super pest of the league and a thorn in my opponent's side.
Daryn Beckman, GM, Buffalo: See if Dr. Frankenstein can build a goalie for my team by spring time.
Valtteri Filppula, F, Fort Drum: I resolve to keep playing great hockey for the Killers even if I don't get the credit I deserve.
Phil Kessel, F, Victoria: Continue to be the AFHL's most improved player.
Rick DiPietro, G, Manhattan: Retire.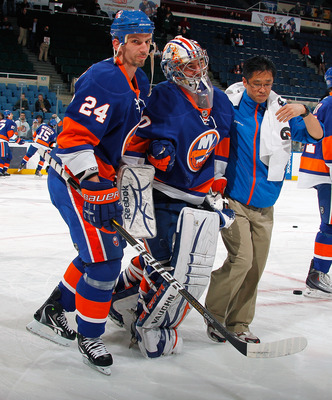 Mike Brunetta, GM, North Bay: I resolve to get my struggling superstars, such as Alex Ovechkin, Eric Staal, and Ryan Getzlaf, motivated and back to playing their game.
Evgeni Malkin, F, Boston: Keep piling up the points and win the Art Ross trophy!
Zach Parise, F, Oshawa City: Start laughing when I hear a funny joke instead of saying the letters "LOL".
Devin Setoguchi, F, Deer Park: I resolve to breaking out and living up to my potential as a star forward.
Chris Hartley, GM, Victoria: Acquire some leadership for my otherwise Stanley Cup-contending team.
Evgeni Nabokov, G, Manhattan: Stop breaking sticks over the crossbar when I give up a goal because it's not my fault that my team blows!
Jason Briggs, GM, Lakehead: I resolve to find that missing piece so the T'wolves can be contenders to win the Stanley Cup.
Steve Downie, F, Oshawa City: Fight less, score more.
Tyler Kennedy, Comox Valley: I will stop boring my coach with the same old excuses and I will think of some new excuses instead.
Anze Kopitar, F, Victoria: I resolve to playing like I'm proud to be one of the faces of the Vipers franchise.
Ryan Nugent-Hopkins, F, Toronto: Continue to silence the naysayers.
Steven Stryska, GM, Fort Drum: Not talk on my cell phone while in the bathroom unleashing the chocolate terrorist.
Phil Svoboda, GM, Twin City: I resolve to continue churning out some really talented youngsters and draft smart in the offseason.
Matt Plachta, GM, London: Get my team to play hungry and disciplined hockey so we can make a run at another Cup!
Keith Cancilla, GM, Montreal: I resolve to FAIL FOR NAIL!
Earl McNeill, GM, Oshawa City: Make some good trades at the trade deadline for the sake of the franchise's future.
Gates Imbeau, GM, Hamilton: Get my name engraved on the AFHL Stanley Cup.
Ilya Kovalchuk, F, Toronto: Stop watching cute and cuddly kitten videos on Youtube.
Jordan Carbone, GM, Toronto: I resolve to win the Jack Adams trophy as GM of the Year.
Ryan Miller, G, Pittsburgh: Re-establish myself as the most reliable stopper in hockey.
Patrick Kane, F, Victoria: Never again take a sleeping pill and a laxative on the same night.
Tony Furino, AFHL Commissioner: I resolve to continue stockpiling ideas for the AFHL to remain the Roman Empire of the fantasy hockey world.
Kyle Turris, F, Montreal: Work as hard as possible during practices.
Martin Brodeur, G, London: Help kids stay safe by not texting on my cell phone while eating Taco Bell and speeding on a highway with a frost covered windshield.