Warriors defeat Mustangs in a controversial first round series
The Mustangs believe they should be in the second round.
A long and thrilling series ended too quickly for the London Mustangs and the North Bay Warriors walked off into the second round of the playoffs under a cloud of controversy.
The series was tied 5-5 after the last night of action and the victory was awarded to North Bay via tie-breaker rule.
"It's not official until the final score is official," Mustangs GM Matt Plachta told a reporter shortly after the final whistle. "The league still needs to review statistics and check for any stat corrections. There could be a change in the final score. They have to review it. All I want is a review. I want a review."
Even in street clothes, London still clung to the faint hope that it's misfortune could be reversed by a stat correction that could be made in their favor.
The Mustangs locked themselves in their locker room for 20 minutes, refusing to come out as they reviewed video tape. A replay showed Mustangs forward Radim Vrbata on the ice during a Mustangs goal and a statistic of plus-one not recorded in his favor on the scoresheet. If that statistic was initially recorded, then the Mustangs would have been awarded the series victory because they won the plus/minus stat category (rather than tied).
Similar to a blown call in overtime, Mustangs goaltender Ilya Bryzgalov said he didn't realize the controversial nature of the officials' failure to record Vrbata's plus-one statistic until he looked at the plus/minus category for the matchup; then he wanted to put his jersey back on and return to the ice.
"Pandemonium sets in, they can't go back and review it," said Plachta shortly after the stat correction was announced. "All I want is a review. I want a review."
On Monday morning, a stat correction was made of a plus-one for Mustangs forward Radim Vrbata which means that the Mustangs should have been awarded the series victory because they won (not tied) the plus/minus stat category.
The AFHL director of officiating said the final score of a the Warriors-Mustangs playoff series was made official before the Vrbata plus-one stat correction was announced. Due to the playoff bracket system, the final score cannot be changed after it is made official.
"That's your worst nightmare right there. We're going to protest it, of course," Plachta said on Monday afternoon. "It's such a shame. I don't know what the video judge was doing when Vrbata was clearly seen on the ice for that goal."
The controversy at the end overshadowed a thrilling series between an underdog and a powerhouse.
"Craziest series I've ever been a part of," Warriors forward Ryan Getzlaf said. "By far."
If the Warriors had any nervousness about becoming the first 1-seed team in AFHL history to lose in the first round to an 8-seed team, it showed early on in the first when goaltender Dustin Tokarski gave up three goals on the first 10 shots of the game. But to make up for the blown goaltending categories, the Warriors offense dominated puck possession for much of the series, were strong in their own zone and scored on every chance they got.
"We've got to give them credit," Plachta said of the Warriors. "They're a good team. It was an entertaining series, it was fast, it was hard for any team to lead the other one. It was just one of those series. It was good."
One of the three stars of the series was Warriors forward Alex Ovechkin, who scored 3 goals in the matchup.
"We obviously believe in him immensely," Warriors coach Mike Brunetta said of Ovechkin, who had been under fire for his lack of scoring. "For him to end up with the three goals in the first round is special — for our team and for him. I think the monkey will be off his back, and he'll be even that much better in the next series."
THREE STARS OF THE SERIES:
1st Star * Eric Staal – 2 goals, 3 assists, 5 points, 2 PP points
2nd Star * Ilya Bryzgalov – 3 wins, 1.44 GAA, .950 SV%
3rd Star * Alex Ovchkin – 3 goals, 3 points
The North Bay Warriors vs. the Buffalo Phantoms in the second round is an interesting matchup. In 2009, the Phantoms were eliminated in the second round of the playoffs. In 2010, the Warriors were eliminated in the second round of the playoffs.
"Obviously last year we came right from a physical series against Manhattan. (We) weren't ready for the Heroes and we were banged up on the injury front," Brunetta said after Monday's practice. "But you can wipe last year right out the window. This year is new. It's a new series with different players. I think we are well prepared and healthy going into this series. So we're excited about this opportunity. We know we're playing a real good team. It should be fun."
It's not a coincidence that in many ways, these teams are mirrors of each other — after all, the favorite man-to-man matchup to watch is Ovechkin of the Warriors versus Crosby of the Phantoms.
"We have similar teams," Ovechkin said. "We play similar ways in terms of structure. They're always good battles. We've played these guys so many times. You know everyone, you know what to do, you know what you don't want them to do. It's going to be a great battle. It always is."
* * *
ROUND ONE RECAP: Lakehead Thunderwolves (4) vs. Buffalo Phantoms (5)
Crosby returns to help Phantoms outperform T'Wolves on offense
The Buffalo Phantoms had to borrow a page out of their opponent's playbook to advance into the the second round of the playoffs.
Onward they go.
The Phantoms won all of the offensive stat catgeories in this series thanks to contributions from pretty much every player on the team including their star captain, Sidney Crosby. After a bad start for Ray Emery, Jose Theodore and his defenders went into a defensive mode to lock down a 7-3 victory over Lakehead, which is usually the team that wins all of the offensive stat categories.
"I was a little bit nervous because my first game back was against the best offensive team in the league," said Sidney Crosby. "But we didn't give them anything. That's how we need to play as a team and when we do that we're successful."
Crosby's return after three months of inactivity didn't hurt the chemistry of the Phantoms one bit as they defeated the Thunderwolves to move on to the next round. It's been a smooth transition with the Phantom's captain stepping back into the lineup.
"We're a team and you're happy to see your team mates do well," Crosby said. "We've played good hockey. When I wasn't in for the previous games I was just as happy to see guys do well. There is a good feeling when you are rewarded for your efforts and guys have stuck to that."
A good team becomes a very dangerous squad with Crosby back.
"It's a powerful feeling," said Marian Hossa, who scored four points in the series. "It's invigorating to see the depth of our team and our organization. Some guys who played well for us all year now have to sit out. That's unfortunate, but that's the strength of our group."
Buffalo defeated Lakehead in part because of it's efficiency on the powerplay. The Phantoms registered 13 points on the powerplay. Lakehead managed only three points on the powerplay.
"The whole series was pretty disturbing because according to our sources and what we track, we were out-chancing them and we were still losing all of the offensive stat categories," Lakehead coach Jason Briggs said. "We have the number one ranked offense in this league. That's a hard pill to swallow."
The Thunderwolves had a number of really good scoring chances throughout the first couple of games in the series, but Buffalo went into full clamp mode over the weekend and held Lakehead to just five points on offense in the final two games.
"We took it to them rather than sitting back," Patrick Marleau said. "That was the theme going into the final games. We didn't want to sit back and hope — we wanted to take it to them, get shots on net, throw everything we had at them, empty the tanks."
Lakehead couldn't generate much in the way of scoring chances over the weekend.
"They were working harder and it's just tough that it's over now with all the hard work we put in," said Lakehead forward Steven Stamkos, who will be a candidate for this year's Hart Trophy. "We really wanted to continue playing. We were having a good time. We just wanted to keep competing."
Instead it's the Phantoms moving on to face the first place North Bay Warriors in the second round.
THREE STARS OF THE SERIES:
1st Star * Martin Erat – 2 goals, 5 assists, 7 points, 2 PP points
2nd Star * Mike Fisher – 3 goals, 1 assist, 4 points, 1 PP point, 1 GWG
3rd Star * Sidney Crosby – 3 assists, 1 PP point
"We don't pay much attention to that (first place talk), to be honest," Buffalo coach Daryn Beckman said of the Phantoms' second round matchup with the first place North Bay Warriors. "We feel good about ourselves. Aside from a few minor mistakes we made in the series vs. Lakehead, I feel everybody's doing a good job. We try to just focus on ourselves, knowing where we're at and how we're preparing. Not worry about the outside stuff."
Phantoms' captain Sidney Crosby believes the team needs to play fast, be on their toes, and create plays to defeat the Warriors in the second round. He downplayed his rivalry with Alex Ovechkin.
"They roll three huge lines on offense and I'll be playing against Ovechkin on that first line," said Crosby. "Anytime you play against a guy like Ovechkin, I think you have to be physical on him. I think he's a very good player but I don't think the game plan changes — take his time and space away and be physical on him."
While the big guns helped the Phantoms to hold off the Thunderwolves in the first round, their third line was also a big story in the series. Stastny, Laich, and Shaw have given the team depth beyond the likes of Marleau, Crosby, and Hossa. Hossa got off to a slow start against Lakehead but played much better near the end of the series.
"I'll give you the same response I gave you before the playoffs even started," Phantoms coach Daryn Beckman said. "We're not in this to just win one round, and we're not in this to just win two rounds."
* * *
ROUND ONE RECAP: Hamilton Firestorm (3) vs. Toronto Red Devils (6)
Firestorm advance after breaking hearts of Red Devils fans

All the hype, all the drama, all the venom (from at least one side's fans). All that aside, the questions were: could Hamilton handle Toronto's physical play?; could Toronto handle Hamilton's speed?; and which goaltender would blink first? The Firestorm gave it as well as they took it and the Red Devils counter-attacked as well as could be hoped.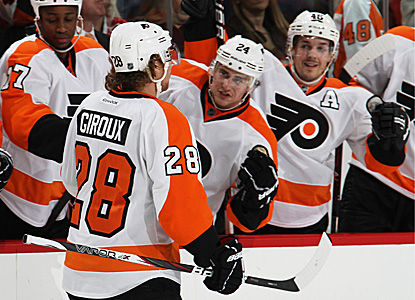 "I think we showed a lot of character," said Claude Giroux, who scored a goal and three assists in the series. "We had to put ourselves in a little bubble, and don't think about the pressure and what [the Red Devils] were saying on the ice. I think we did a great job with that. We stayed resilient every game and all series — and found a way."
The Red Devils used a classic playoff formula to compete in this series – superb goaltending, committed team defense, timely scoring and some good fortune. The Firestorm executed their game plan close to perfection, with the obvious exception of starting goaltender Marty Turco in the opening game. They dominated zone time, shots on goal, scoring chances and forced numerous turnovers with an aggressive forecheck to ultimately defeat the Red Devils 6-4.
"Battles every game and up and down," Brad Richards told a reporter shortly after the Firestorm clinched the series win. "It was a roller coaster, but a lot of fun at the same time."
Toronto certainly did not make victory easy in this series.
"We got off to a great start and got superb goaltending from Jonathan Quick and Pekka Rinne," said Toronto coach Jordan Carbone after his team was eliminated on Sunday night. "We took it to them each and every shift."
Yes, the Red Devils had a big lead early in the series, but they could not hold it. Hamilton took the lead in dramatic fashion after getting a seven-point effort from their offense on Friday night which included two goals scored by the newly acquired Patrick Sharp.
"Sharpie has been great," said Danny Briere. "Couldn't have asked for a better trade deadline acquisition. Kudos to our GM."
Sharp's second goal on Friday night seemed to tilt the ice heavily in favor of the Firestorm. The Red Devils took it to Hamilton early and often in the final games, and forced Thomas and Fleury to make several difficult saves.
"We did have the momentum at the beginning of the series," Carbone said. "It was pretty clear.  We were chipping pucks in and we were getting opportunities but you know like I said, just opportunities at this point. You hate to look back at the games and talk about certain situations in the games.  Obviously we had opportunities to win it and so did they and in the end they capitalized."
"That being said, we're proud of the effort the guys put forward in this game, and, like I said, we got a lot of guys, this is their first playoff series and they gained a lot of experience playing in this game.  So we got a lot of positives things to look forward to. Obviously we wanted to continue in the playoffs, but it's not going to happen this year."
THREE STARS OF THE SERIES:
1st Star * Teemu Selanne – 2 goals, 2 assists, 4 points, 2 PP points, 1 GWG
2nd Star * Brad Richards – 2 goals, 3 assists, 5 points, 1 GWG
3rd Star * Patrick Sharp – 2 goals, 2 assists, 4 points, 1 PP point, 1 GWG
The age and goaltending have been targets of criticism, but once again they have held strong as the Firestorm displayed exactly why they are a legitimate Cup contender. A first round victory over the Toronto Red Devils wasn't much of a surprise, but the way they handled themselves through a difficult – both physically and mentally – week long series against a deceivingly low-seeded Red Devils squad should give the Victoria Vipers the shakes.
"We're excited for this next series against the Vipers," said Hamilton coach Gates Imbeau. "They've got a young, star-laden lineup and it matches up pretty nicely with ours."
The Victoria Vipers renaissance is widely documented. But despite their core of youthful talent and underappreciated armor, the Vipers were the popular choice to lose in the first round as a low seed going up against a high seed. However, Victoria played big in knocking off the American Conference's first place team in exciting fashion. No longer can the Vipers be considered underdogs; this team is healthy and hungry for a Stanley Cup.
"They beat us in the regular season so there's a chance we can catch them off guard," Briere said. "As a team, we have that confidence that no matter what happens, we play well when we empty the tanks by the end of every night. Playing against the Vipers should bring out the best of this team. Especially after losing to them in the regular season, we know they are not a team that you can take a period off (against) because they will make you pay. They are a team that forces you to always be on your toes."
* * *
ROUND ONE RECAP: Deer Park Chiefs (2) vs. Victoria Vipers (7)
Vipers stun Chiefs in First Round
Following the Victoria Vipers 10-1 victory over the Deer Park Chiefs in their first round series, coach Chris Hartley sat at a podium and discussed all of the players who contributed to the win.
He had praise for Jordan Eberle, who scored two goals and three assists including one game winner. He spoke highly of the goaltending combo of Price-Verlamov-Dubynk who combined for a 1.54 GAA and a .956 SV%.
"Everybody is battling hard," said Hartley. "I'm proud of the players in our locker room. Every player stepped up and contributed."
Experience wasn't on the side of the Vipers  entering this first round series. The Chiefs entered the series as the team with more familiarity playing in playoffs, but Hartley and many of the Viper players stood fast to the idea that by getting off to a good start and playing consistent hockey as a team that is finally close to being healthy, they were plenty prepared for the intensity and pressure of a first round series.
They were right.
"We had to learn fast," Hartley said. "We have a lot of guys with no experience in the playoffs, more than half our team. We're playing an experienced team that knows how to win the battles very hard that has a terrific goaltender that has solid, offensive structured play. We knew it was going to be extremely hard."
"And our young guys were nervous to start. Basically, they learned to execute under pressure. As the series went on, they got stronger and stronger in terms of confidence. They were less nervous in our zone. Any time we got scored on, we found our team had gotten a lot better, a lot stronger mentally."
The Vipers were able to settle down in large part to the play of their goaltending combination of Carey Price, Semyon Varlamov, and Devan Dubnyk.
"Our goalies were the three stars of this series," Phil Kessel said. "They were clutch when we needed them. The numbers they put up were ridiculous. Price, Varly, and Dubie outplaying Henrik Lundqvist is ultimately what won us this series. Words can't express how much those goalies meant to us in this series."
"We talked after every performance, but I need to get some new words," Hartley said when asked if there's anything left he can say about his goaltenders' play in the series. "They played terrific for us."
"Obviously our offense wasn't there," coach Mike Nellany said after the Chiefs were eliminited. "We got a lot of shots, battled hard but it wasn't our series. We had a lot of chances (on the power play), it just wouldn't go in for us."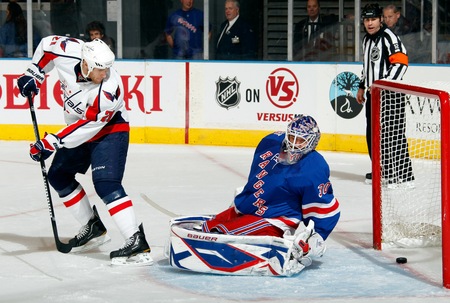 The Vipers were able to beat goaltender Henrik Lundqvist, who has been the best goalie in the league all season long, with several set plays they used to score against him in the regular season matchup.
One of the plays included Eberle carrying the puck behind the net, forcing Lundqvist to guard the post to his right. Eberle spun and whipped a pass to Logan Couture at the opposite post for an easy shot into a half-empty net to score his third goal in the series.
Couture said afterward that was a play the Vipers felt would work against Lundqvist.
"That was something we knew that we could get them a few times," Couture said. "I'm not sure if it's going to be there against Hamilton, but it was something for this series. I think we had two very important goals that way."
"The entire team practices it," Hartley said. "Eberle and Couture are just better at it, I guess."
It's been a learning experience for many of their players. The key now is to continue growing and learning about what playoff hockey is all about.
"Until you experience the playoffs first-hand, you don't know what it's all about," said Rick Nash, who was instrumental in leading the London Mustangs to the Stanley Cup in 2009. "It's a little bit more than what most guys expect with level of play, physicality, pace, sacrifice, what you have to do to win. I think we all learned that pretty quickly."
THREE STARS OF THE SERIES:

1st Star * Semyon Varlamov – 2 wins, 1.48 GAA, .963 SV%
2nd Star * Devan Dubnyk – 1 win, 1.44 GAA, .951 SV%
3rd Star * Jordan Eberle – 2 goals, 3 assists, 5 points, 1 GWG
In the first round of the playoffs, the Vipers' biggest job was to beat Deer Park's Henrik Lundqvist, one of the most positionally sound goaltenders in the league and the front runner for this year's Vezina Trophy. In the second round against the Hamilton Firestorm, they'll be facing Marc-Andre Fleury and Tim Thomas, both of whom are elite goaltenders.
"Tim Thomas is a great goaltender, his style is a little bit unorthodox," Hartley said. "It's tough to watch video on him and try to see some of his tendencies, but we're going to do the same thing this series as we did against Lundqvist last series. We're going to try to get the puck to the net as much as possible and try to get tips and deflections. We're going to shoot to score, because at any point Thomas or Fleury can come flying across."
"Until that puck crosses the line, Thomas and Fleury are going to battle."
One of the weapons in the Vipers' arsenal for getting Thomas and Fleury off their games could be forward Cal Clutterbuck, who had a number of net-front battles with Lundqvist and likely will try to do the same thing against Thomas and Fleury.
"It seems like when Thomas and Fleury get into the game more, they play even better, so there's a fine line you have to walk," Clutterbuck said. "I'll go to the net hard, be around the net and stop right in his face any time I can. And I'll be there for rebounds and the hard goals. That's what I do."
* * *