April 8th, 2013
IceHoles advance by beating Leafs 10-1
The poise, confidence and talents that carried the Lakehead IceHoles to the top of the league standings in the regular season was on full display in their first round playoff series against the Oshawa City Leafs.
"Throughout the whole week they were the better team in pretty much every single stat category and that's the way it is right now," said Leafs forward Zach Parise, who was held to just two assists in the series after being one of the top scorers in the league during the regular season. "It's hard to swallow right now, but at least we gave it our all."
If there was a moment that captured the attitude of the IceHoles during this series, it came on Wednesday night when IceHoles goalie Antti Niemi was trying to get back to the front of the net and Leafs forward Troy Brouwer was in the way. Niemi grabbed Brouwer and heaved him out of the crease, in a move goalies all over the league surely applauded.
This was the IceHoles' ice, and Lakehead wasn't giving any of it away without a fight.
"You never want to give an inch, an extra step for them," Niemi said. "As a goaltender, you want to hold your ground."
And the Lakehead goaltenders did more than hold their grounds in this series. Niemi finished the series with two wins and a 2.00 GAA. Newly acquired Ben Bishop registered a workmanlike 45 save shutout.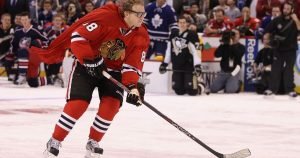 "Of course the guys in between the pipes, they were unbelievable," IceHoles forward Jarome Iginla said. "If we keep playing this type of hockey, I think we're going to go all the way."
They showed in this series they certainly have the ingredients to do so. Contributions on offense came from almost everybody in the lineup with Henrik Sedin leading the series with 5 points. Oliver Ekman-Larsson and Keith Yandle will get most of the credit for shutting down the Tavares line, and deservedly so.
"They were the better team," Tavares said.
The IceHoles were the better team. They had the better goaltending and the better offense. And they have a GM in Jason Briggs who made all the right moves throughout the year to put his team in position to be one win shy of a Stanley Cup Finals appearance.
"This is exciting," Briggs told the media on Sunday night. "We're thrilled to be moving on. It's been a dream to play in the AFHL Stanley Cup Finals and to try and win the Cup. We're almost there."
Don't think Briggs is resting on his laurels; he's aware that the victory means the IceHoles will face the Toronto Red Devils in the second round.
The Lakehead/Toronto rivalry has been one of the biggest rivalries in AFHL history and their second round playoff series will be the first playoff series in AFHL history that features two rival teams.
"The rivalry has cooled down a bit ever since the two sides agreed on their first trade this year," said AFHL Commissioner Anthony Furino. "But the rivalry is still there so it should be a wild series."
Supermen eliminate Vikings with 9-1 win
The incredible, improbable story of the 2013 Manhattan Supermen added another chapter Sunday as they defeated the Twin City Vikings 9-1 to win a playoff series for the first time in Manhattan's franchise history.
"It obviously means a lot to get into the second round," said Manhattan GM Tony Furino. "We've been playing with a lot of desperation for quite some time, trying to play for the season. We give 110% night in and night out. We've got guys putting their bodies on the line to block shots. Our goalies are coming up with big saves. It's how we have been playing all year and we have to continue to do that."
Twin City GM Phil Svoboda said the Vikings had high expectations this year and thought they could make a deep run in the playoffs. But they ran into a team that played hard and did all the right things to win.
"It is hard to swallow, tough to accept right now," Svoboda told a reporter shortly after the series concluded on Sunday night. "I think obviously it's going to take us a couple of days to sink this one in. We obviously weren't ready for being done right now."
The Vikings now have lots of time off to think. A season that began with such high hopes after offseason trades netted superstars such as Kari Lehtonen, Phil Kessel, Alex Semin to make them a Cup favorite. But things never really got off the ground.
"We did not plan on being the seventh seed, we did not plan on losing in the first round," said Vikings forward Jamie Benn. "So it's a huge disappointment to say the least."
Hunched over at the buzzer Sunday night in obvious disappointment, defenseman Brent Burns couldn't hide his level of anguish.
"Hats off to Manhattan, they played great," said Burns. "But it's not a good feeling right now."
Burns was easily their best player in the series, laying it all on the line every night but finding too many passengers unable to match his effort.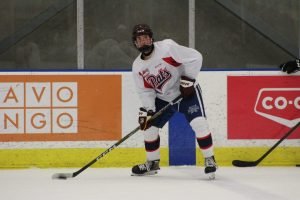 "You don't have to be a very in-depth fan to see the type of series that he had," said Svoboda. "He was by far one of our leaders, both vocally and on the ice. He brought it every night. His work in this series speaks for itself."
Despite the early playoff exit, Svoboda says he considers this season a success.
"We made the playoffs for the first time in franchise history," he said. "We're still in the middle of the process of the Twin City Vikings becoming one of the elite teams. We have a young team here. So getting a taste of the playoffs was a tremendous experience for us. We're going to be better next year."
The Manhattan Supermen will meet the Victoria Vipers in the next round with a trip to the Stanley Cup Final at stake.
"I think we'll be a tough opponent for the Vipers," said Furino. "We play the right way, we play to win. And everybody is on that same page, and almost afraid to get off it. We're a very unique team. We obviously don't have as many superstars as the Vipers, but a lot of these guys have grown up together, they're having fun together, and now they're winning together."
Vipers outlast Warriors to advance to Second Round
For all their money and big-team profile and the swagger that is the North Bay Warriors, this ending was all too familiar: netminder Jimmy Howard standing in disbelief outside his crease, his teammates hunched over, some on one knee, while opponents celebrated a few feet away.
"Nobody envisioned this," a sullen GM Mike Brunetta said. "We came here on Day 1 with a plan and a lot of hard work ahead of us. We wanted to take the steps one at a time this year. Unfortunately, this first step we weren't good enough."
It's the third straight year the North Bay Warriors made the playoffs and failed to reach the Finals.
"If you give the Vipers too much room, they will burn you and score goals," Warriors forward Patrick Kane said. "We didn't score enough. Their goaltenders were stellar and their defenders played tight defense. They outscored us to win."
There was stunned silence and disbelief in the North Bay dressing room shortly after the final buzzer of the series. Defenseman Dan Boyle tried to explain how he lost the puck at his own blueline, setting up one of Victoria's late goals. Like they always do, win or lose, Rick Nash and Ryan Getzlaf answered every question asked of them. Patrick Kane sat with his head in his hands, then quietly left.
"I built a team full of talent," North Bay GM Mike Brunetta said. "I'm not worried about this loss at all. I really like what we have here. I don't think it'll be the same next year, there's always changes, but we just need to find the right combination for chemistry."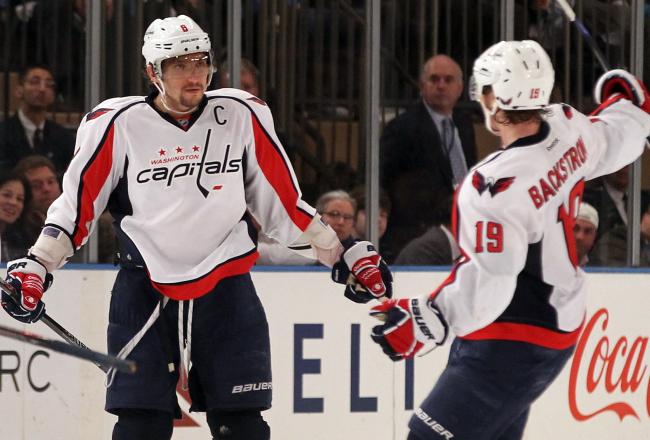 The Victoria Vipers deserved to win this series. They showed more speed and more aggression. Their forecheck created turnovers. Forwards Alex Ovechkin and Nicklas Backstrom stepped up their game, scoring a combined 18 points in the series. Vipers goaltender Devan Dubnyk stymied North Bay with a .945 SV% and a 1.50 GAA.
Victoria also exposed North Bay's soft side. When the Vipers shoved, there was little pushback from the Warriors. No one really challenged Ovechkin after his questionable hit on Rick Nash. Instead, the pesky Mike Richards wanted to fight Jordan Eberle who rarely engages in physical actitivity.
"We have a lot of leaders on our team," Vipers forward Jeff Skinner said. "We never give up and that's the type of style we have played all season. We never give up and we keep working hard. I think it's a tribute to everyone in here and our coaching staff and the way they have coached us all season. It is definitely a big, big deal, and we're excited to be going to the next round."
Red Devils complete 11-0 shutout win over Firestorm
The fourth-seeded Toronto Red Devils knocked out the defending champs in a tight-checking, grind-it-out affair that typified the difference between the two teams.
"I don't know what to say right now," Hamilton Firestorm forward Claude Giroux said. "We worked so hard. Coach [Gates Imbeau] keeps saying to keep working, we'll get another one, more will go in eventually. And not enough of them did. We didn't get the bounces that we needed to win this series. Lack of opportunities. It's as simple as that."
For the Red Devils, they reaped the rewards Sunday night of an entire season committed to a demanding, singular philosophy in doing things the right way.
In dispatching the defending champions in the first round, the Red Devils reaffirmed their devotion to the blue-collar identity on which they branded their game and have consistently yielded success.
Now they are in the second round of the playoffs for the first time in their franchise history, slated to face the Lakehead IceHoles in what promises to be an epic rivalry showdown.
"Coach Carbone has everybody on this team dialed in like never before, especially emotionally," said Red Devils goaltender Pekka Rinne. "Coaches around the AFHL constantly talk about the 'buy-in' factor. All of the players on this team have emptied their pockets buying in here under Carbone."
Rinne, Bernier and Pavelec were sensational again this week, posting a combined .931 SV% with 131 saves against Hamilton.
"You need great goaltending to win in the playoffs," Hamilton GM Gates Imbeau said.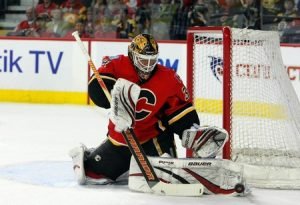 Great? Carbone has elevated Rinne to another category.
"He's the same as [Dominik] Hasek, same as [Ed] Belfour, never quits on a puck," the Red Devils coach said. "It's a very unique skill. It's not common. He never stops looking for a puck."
Rinne isn't a spotlight seeker. Talking about himself is like we're asking him to pull out his own teeth. He'd rather other teammates got the praise. He just wants to win.
"It's the time of the year when you have to enjoy hockey," the Vezina Trophy nominee said. "It's the time of the year when you don't know if you are going to have another matchup, so you just try to enjoy every day and try to enjoy the game as much as you can."
There were a lot of smiles around that dressing room Sunday night. And the buzz in the rink was unreal. The Red Devils are in the second round for the first time in their playoff history.
Red Devils forward Taylor Hall sat back in his stall Sunday and smiled: "I'm pretty excited right now but it's one of those things where you wake up tomorrow and realize you're just one win away from where we want to go."
The Red Devils will turn their focus to the Lakehead IceHoles, a team they have openly admitted they despise, for what should be a slugfest.
"We are salivating at the thought of this rivalry series," Taylor Hall said. "We faced them twice this year so we know what to expect. It's going to be a real good series."