October 6th, 2010
Shortly before taking on the Victoria Vipers in Thursday night's season opener, the London Mustangs will watch a Stanley Cup championship banner make its way to the rafters of their home ice arena.
"When that happens you realize everything you accomplished last year is over with," Rick Nash said of the banner-raising ceremony.
"When you s so excited about (Thursday) and being part of that."
"I can only imagine what it might be like for this ceremony," said defenseman Tyler Myers, who played an integral role in the Mustangs incredible Stanley Cup run.
"It will be loud."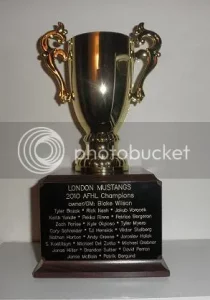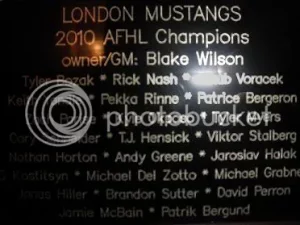 When the applause and video highlights are done, the team will attempt to get back to playing championship-caliber hockey. But they will have to do so without their top right winger [Kyle Okposo] who will be sidelined for the next three months due to shoulder surgery.
"Nathan Horton will most likely take Kyle's place on the first line," said Mustangs GM Blake Wilson. "He will skate with Getzlaf and Nash against Victoria's top line of probably Kessel, Duchene, and Foligno. Obviously the loss of Kyle is not a good thing for us, but we will do everything it takes to step up and fill that void so we can get off to a good start."
Thursday night's celebration, which begins at 6:45 — fans are encouraged to arrive early — could help that process.
"We can use that as a springboard. It's kind of like turning the page and starting a new chapter," said center Patrice Bergeron.
"We've been talking about it. There's a lot of new faces on this year's team and it may take some time to mesh them into the lineup, but we have to be focused on executing, and what this team has to do to be successful."
There are several reasons for the Mustangs to be optimistic about their immediate future.
First, they added more skilled, young players to their starting lineup. During the offseason, Wilson made several trades to bring in new forwards such as Ryan Getzlaf, Jamie Benn, Bryan Little and goaltender Jonathan Bernier.
Benn skated on the second line with Patrice Bergeron and Jakub Voracek, during practice Tuesday. Bernier will be ready and waiting to get his opportunity in goal for the Mustangs. As of right now, he's slotted behind Jaroslav Halak and Jonas Hiller on London's goaltending depth chart. Corey Schneider will also be there waiting in the wings.
Wilson is searching to find combinations on the third forward line that will generate more pressure and help offset the loss of Okposo on right wing.
"We have to find the right match and the right mix; get every player on this team making a contribution," Wilson said. "We'd like to give our guys four or five games to really try to get a feel for one another, (and) where they expect one another to be. It's easier said than done in some situations."
Many people believe the Mustangs offense has improved from last year, and there are several players on the rise that haven't even reached their potential yet.
"We're expecting guys like David Perron, Patrik Berglund, and Brandon Sutter to really breakout this year," said left winger Rick Nash. "They played great in our pre-season games. Perron looked fantastic in the pre-season, he scored five really nice goals."
Fans without tickets to tonight's Mustangs/Vipers matchup, will be able to watch the ceremony and the game on a big screen in front of Gate 7.
The brand new big screen will start operating during the pregame, showing playoff game highlights and the Mustangs Stanley Cup celebration.