Ben Rauscher and Daryn Beckman announced their starting lineups Wednesday for the midseason classic, and the star players that were chosen truly are amazing.
Alexander Ovechkin, the AFHL's leading point-getter, was one of three Oshawa City Leafs chosen to represent the Canadian Conference at the All-Star Game next week. He was chosen along with teammates Zdeno Chara and goaltender Evgeni Nabokov.
Joining Ovechkin on offense are Joe Thornton and Henrik Sedin, giving the Canadian Conference three of the top four point-getters in the league this season.
"This is an unbelievable honor," said Thornton, who was given an All-Star jersey Wednesday at the Outlaws' morning skate in Hamilton, Ontario. "It's going to be a great experience to play in the first ever AFHL All-Star Game and it will be a lot of fun."
The American Conference starting lineup, announced late last night, consists of forwards Sidney Crosby and Marian Hossa of the Phantoms, and goalie Martin Brodeur, defensemen Chris Pronger and Sergei Gonchar, and forward Marian Gaborik of the Giants.
"Next week, the world's greatest players will go to Detroit, one of the world's great hockey cities, to help celebrate the first ever AFHL All-Star Game," Phantoms coach Daryn Beckman said in announcing the American Conference lineup. "I had the pleasure of choosing 16 players to represent our conference and I can tell you it was an absolute honor. I look forward to watching the stars of today."
Here's a look at the rest of the starting lineups for both teams:
American Conference All-Star Team Starting Lineup
FORWARDS:
Ilya Kovalchuk – Sidney Crosby – Marian Gaborik
Loui Eriksson – Evgeni Malkin – Corey Perry
Bobby Ryan – Niklas Backstrom – Marian Hossa
DEFENSEMEN:
Nicklas Lidstrom – Chris Pronger
Sergei Gonchar – Scott Niedermayer
GOALTENDERS:
Martin Brodeur
Henrik Lundqvist
UTILITY:
Jarome Iginla
RESERVES (5):
Teemu Selanne (RW), Tobias Enstrom (D), Paul Stastny (C),
Phil Kessel (RW), Patrik Elias (LW)
Canadian Conference All-Star Team Starting Lineup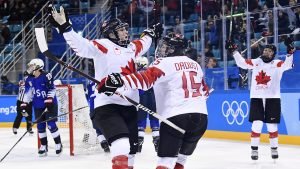 FORWARDS:
Alex Ovechkin – Joe Thornton – Patrick Kane
Zach Parise – Henrik Sedin – Alexander Semin
Daniel Sedin – Pavel Datsyuk – Dustin Brown
DEFENSEMEN:
Dan Boyle – Andrei Markov
Tomas Kaberle – Zdeno Chara
GOALTENDERS:
Ryan Miller
Evgeni Nabokov
UTILITY
Dany Heatley
RESERVES (5):
Ryan Getzlaf (C), Patrick Marleau (C), Anze Kopitar (C),
Antti Miettinen (RW), Drew Doughty (D)