April 15th, 2013
Prior to the start of Game 1 tonight, the media will be flooding the main concourse in Lakehead's home ice arena throughout the afternoon to talk to members of the Lakehead IceHoles and Manhattan Supermen. If you're a fan and have ever walked around an arena during intermission, it will be just like that during the day, only replace fans with media, concession vendors with pro athletes, and beer and food with questions and answers.
The IceHoles are in the middle of their practice right now and will have their media blitz at 3 p.m.
Basically, the way it works is, every member of each team will sit at a designated area for about 20-30 minutes and field questions from every reporter that has descended upon the Stanley Cup Finals. It's always fun to see lesser-known guys get the swarm of media when they're not used to it. It's like being a nerd in high school, going to prom by yourself, then having every girl in the place come up to you to talk to you.
The Supermen will meet with the media at 4 p.m. after their 3 p.m. practice here.
That's the scene right now. We will keep this updated with interesting tidbits and whatnot, so check back throughout the day.
*
IceHoles Media Frenzy Underway
The first wave of IceHoles have taken to the concourse here at the arena. Coach/GM Jason Briggs has by far the biggest swell of reporters around him. Some of the IceHoles in the first group are Jordan Staal, P.A. Parenteau, and Jonathan Quick. We've yet to hear anyone say anything controversial or downright hilarious, but everyone is dressed very nice in the reporters pool.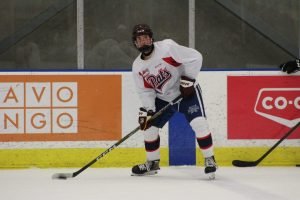 Jonathan Quick just sat down, so we're going to head over there to see if he says anything good.
Jordan Staal states what he thinks the IceHoles need to do to beat the Supermen: "Our forecheck is probably the key to our game. To follow that up is getting through the neutral zone successfully against them is probably a key. If we can get through there, we can get on the forecheck. Again, our forecheck has probably been the reason we've been so successful. We need to play like we have been the first two rounds. Top to bottom, we've had contributions from everyone."
Parenteau says the IceHoles have to screen the net to beat Nabokov.
Keith Yandle: "It's great to be in the Finals. It took a lot of hard work. There is still a lot of work left to do."
Max Pacioretty is talking about coach Briggs is very calm when he talks to the team. "He's very calm when he talks to us. Rarely screams."
The Stanley Cup Final is a pressure-packed week, with both teams scratching and clawing for every inch of space in order to achieve their ultimate goal. The same can be said for the media. During the end of Henrik Sedin's media session, a newspaper scribe and television guy began shoving each other in order to get their recorder and microphone, respectively, and it resulted in Sedin having a microphone hit him in the face. Being the focused athlete that he is, Sedin powered through the spat and shot to the face to answer a question about Ben Bishop.
The Supermen are coming out next. Stay tuned.
*
Supermen Media Blitz
Right now, Henrik Zetterberg is being crushed with questions. Same can be said for Loui Eriksson, Mark Streit and Tony Furino, but sometimes role players don't get the same love… Alex Ponikarovsky and Barret Jackman were sitting alone at a table with Vern Fiddler trying to Instagram Cory Schneider during his scrum.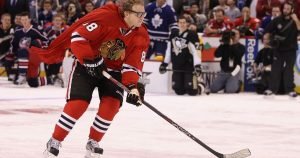 Martin Brodeur when asked if he thought the Supermen would be here at the beginning of the season:
"I mean, you always think that you've got a good enough team. But it was hard for us just because our top prospects were stuck on the farm team. But once those guys started coming up, it really gave our team a lot of depth. I think the way we played against Twin City near the end of the season really, really made everyone believe that we had a chance."
Some players are saying Manhattan forward Alex Chiasson is the Conn Smythe right now, although Manhattan goalie Evgeni Nabokov has a more realistic shot.
The question players have gotten the most on their run to the Cup Finals is the feeling of getting there, which, you won't believe it, is really great.
That's all for now.