The Pittsburgh Heroes Win
the 2019 AFHL Stanley Cup!!
April 8th, 2019
Across their 10 seasons, the Pittsburgh Heroes dabbled in hapless hockey and exquisite hockey, boring hockey and effective hockey, but never had they played winning hockey through three playoff rounds, all the way to a grueling, glorious end.
It took a team hardened by postseason failures but liberated from high expectations to complete a run as dazzling as it was cathartic, capping it on Sunday night by dispatching the Manhattan Supermen, 8-2, to win the first Stanley Cup in franchise history.
Victor Arvidsson scored the final goal of the game with 7 minutes 27 seconds remaining, another powerplay point and eventual game winning tally. The Heroes' bench erupted, and Arvidsson hopped away as if dancing.
The party started in earnest when the buzzer sounded and the Heroes' bench emptied and swarmed goalie Braden Holtby, who provided an iconic moment of the finals late in the series, when he lunged across the crease to stop an unstoppable puck and post the 4th win of the series for the Heroes. Despite being injured in the final game, Conor McDavid zipped onto the ice, his helmet off and his hands on his head, mind blown that he had just captured his first AFHL Stanley Cup.
McDavid, awarded the Conn Smythe Trophy as the playoffs' most valuable player, struggled to conjure words in an interview with NBC on the ice immediately after the win, and then again when surrounded by the news media. When McDavid hoisted the Cup, he released a primal scream.
"It's even better than I imagined," said McDavid, who joined 9 other greats as the only players to win a Conn Smythe. "It's just like a dream."
The Heroes outlasted Manhattan with the same elements that propelled them past Comox Valley and the defending Champion San Diego Gulls: stifling neutral-zone defense, superb goaltending by Holtby and waves of prolific talent headlined by McDavid, Nikita Kucherov and Mitch Marner. Unlike past Pittsburgh teams puffed with stars that collapsed in the playoffs, this group conveyed a certain resilience that infused their play, in games and throughout series.
As for the Manhattan Supermen, facing elimination on Sunday, they confronted their predicament with defiance. Opening their pregame festivities, a video implored fans not to give up — if the Boston Red Sox in 2004 and the Cleveland Cavaliers in 2016 and the New England Patriots in 2017 could overcome imposing deficits, then so, they hoped, could Manhattan.
"After you get past the losing here, you can look back and be pretty proud of the group in here and the run they made," said Manhattan defenseman Keith Yandle. "Halfway through the year, everyone had us pegged to not make the playoffs. To be standing here today, as bad as it feels, you've got to be proud of the group in here."
In contrast to these Supermen, when Pittsburgh GM Jason Henley took over the Heroes, the team compiled a record that is regarded as one of the worst seasons in league history as Henley began a total rebuild.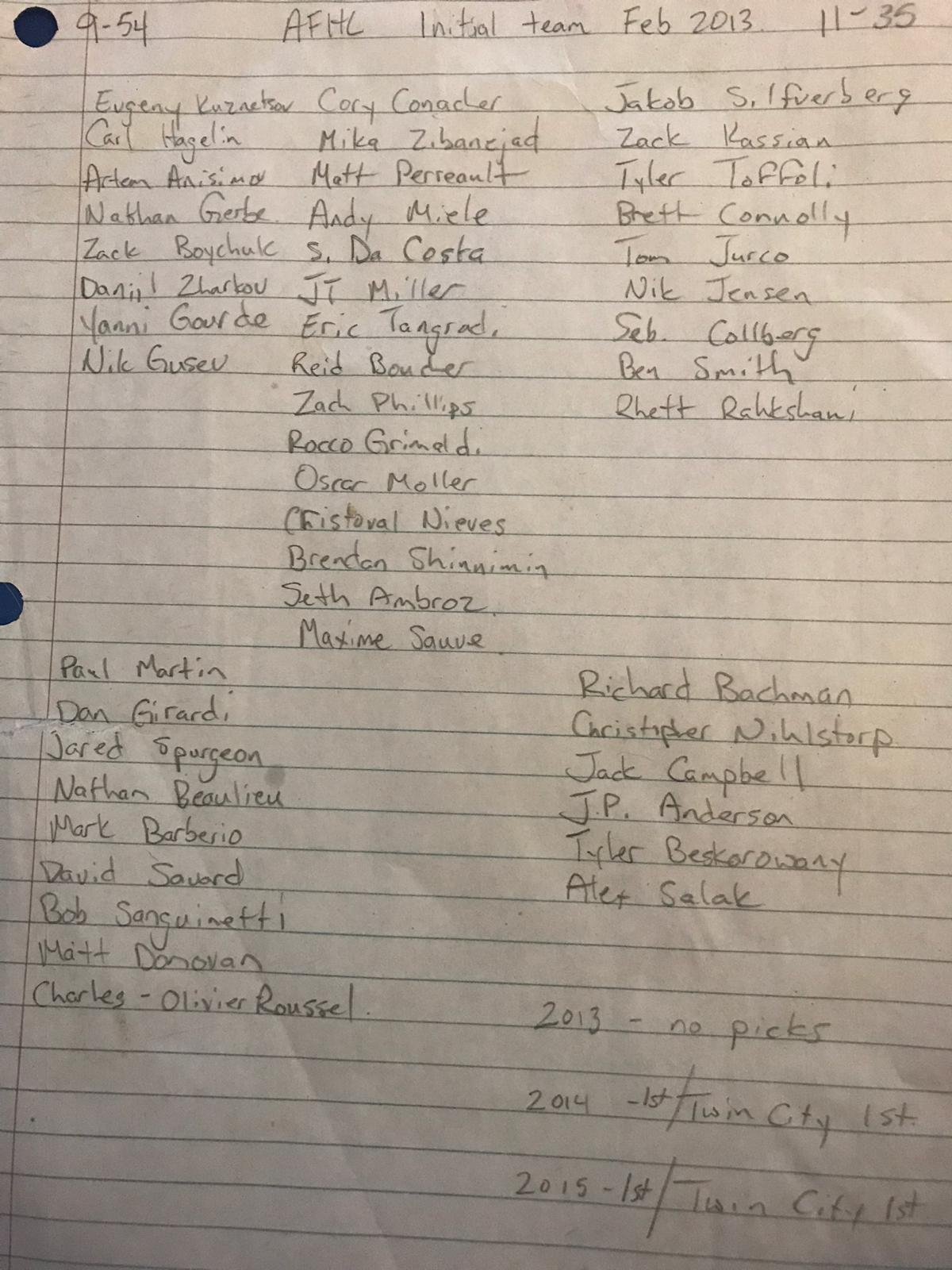 After several drafts and many trades, the franchise has matured and is now considered a perennial contender in the AFHL.
"These past couple seasons, it felt like we were like, 'We can win it all this year,'" Henley said. "This year, it was more so like, 'We're going to work this year, and we're going to outwork teams. We're going to play longer than they are.' And we did that. We did that throughout the whole playoffs."
Henley spoke in a stream of consciousness, at one point apologizing for rambling. When he finally found his family on the ice, he cradled his baby daughter and told her, "We won the trophy!"
All around him in the stands were thousands of Heroes fans, if not more, who assembled an hour before face-off, chanting, "Let's go, Heroes!" Clad in yellow, they soon filled in sections in the upper and lower bowls, forming a far larger presence than they had in either of the first two games here, and it seemed like the entire arena stood and screamed joyously after Arvidsson scored.
"It took years," said Henley. "Years of heartbreak. Years of breaking things down and trying again, breaking things down and trying again, and this group never gave up and we finally did it."
Henley has discussed the Heroes' postseason struggles openly, often comparing his teams to others that foundered before winning, like the Islanders dynasty of the early 1980s and the Detroit Red Wings of the mid-1990s.
"All of these experiences," Henley said recently, "help you find out how much you can take and how much you can give."
For years, the Heroes took and took and gave and gave, and now, with nothing more to take and nothing left to give, there is but one thing left for them to do: celebrate.
Because they, after 10 seasons, are finally champions.
*
Stanley Cup Parade Set for Next Monday @ 11am EST
Fans will have a chance to celebrate the Pittsburgh Heroes' 2019 Stanley Cup championship at the Heroes Parade, scheduled for next Monday at 11 a.m. in downtown Pittsburgh.
The route will begin on Grant Street at Liberty Avenue, travel along Grant Street to the Boulevard of the Allies, turn right onto the Boulevard of the Allies, turn right onto Commonwealth Place and end at the intersection of Penn Avenue and Commonwealth Place, at the entrance to Point State Park. A stage will be set up on the lawn (city side) of Point State Park, where Heroes players, coaches, broadcasters and other team officials will make celebratory remarks.
Heroes players and hockey operations staffers will ride in vehicles provided by RAM Trucks, the official truck of the Heroes.
Once at Point State Park, Heroes players and coaches will take part in the Championship Celebration presented by KeyBank.
To help fans enjoy the day, KeyBank is providing free parking at the following lots starting at 9 a.m. on a first-come, first-served basis:
15th Avenue and Smallman Lot, at 1501 Smallman St.
Green 22 Lot, at the intersection of Allegheny and Ridge
Gold Garage, next to Heinz Field
KeyBank also will be distributing water and premium items at the main stage and via mobile "pedicabs" riding along the route.
In addition, KeyBank will activate a mobile photo share experience where roaming photographers will walk the parade route to take photos of celebrating fans. The photos will be emailed to each fan, who can then follow a link to a branded retrieval page to download it or share it socially.
Post a Comment
You must be logged in to post a comment.
2019 AFHL Stanley Cup Finals Media Day
Players speak fondly of Cup;
Game 1 ticket prices are surging
March 25th, 2019
There will be a new team name on the Stanley Cup when the 2019 Stanley Cup Final is finished.
Will it be the Manhattan Supermen, who have waited 10 long seasons and were defeated the one time they made it to the Finals in 2013?
"We worked so hard to get back here," said Manhattan Coach Tony Furino, who has led this team since inception 10 years ago. "So, it's a great feeling, especially the way we did it, the way we played against the Sharks and the #1 seeded Vikings. It was outstanding from everybody."
Or will it be the American Conference winning Pittsburgh Heroes who lost in the Finals during overtime in Game 7 to the Gulls in 2017?
Pittsburgh has been dominant all year, defeated the X-Men in Round 1 and the defending champs in Round 2.
"[Manhattan has] bought in," Pittsburgh forward Sean Monahan said. "They're playing as a team. They're willing to do anything to win. They're physical. They can score goals. They have skill. We played a very similar team in Comox Valley. That being said, we're going to have to be hard on their top guys."
But it was the AFHL Stanley Cup that stole the spotlight at Media Day on Monday.
For a few hours, in four groups, players and coaches on the Pittsburgh Heroes and those of the Manhattan Supermen answered hundreds of questions during 2019 Stanley Cup Final Media Day at the Heroes home ice arena.
And yet the players would scarcely even glance at the Cup, much less study it. There are customs in hockey that are to be obeyed, and this was one: feel free to look quickly, only in passing, but do not touch until you've won.
Both teams have been here once before but neither team has actually won the Holy Grail.
If the players were politely ignoring the Stanley Cup, they were happy to pay it reverence with their thoughts, considering aloud what they find most beautiful about it.
"Just the history of it, seeing all the names on it, what it represents," said Heroes goaltender Braden Holtby. "When you look at it, (you think of) what it's gone through. If it could speak, the stories it could tell …
"Even people who don't necessarily know what it is, when they see it, it commands that attention. That's pretty special. And just what guys have gone through and played through to get it, the experiences with it after, everything that comes along with it, the joy that comes along with winning, all those things combined," Holtby said of the Cup's magic.
David Perron, one of Manhattan's key trade deadline acquisitions, was seated Monday just a few stick-lengths from the Cup he's played for once but not won.
"It's great looking. It's the best trophy in sports to me," said Perron. "The playoffs are so long. It's a grind, essentially three seven-game series, and it takes a toll on your body."
Heroes forward Nikita Kucherov, who won the Cup before with the San Diego Gulls, spoke to the trophy's history.
"If you ever get a chance to win it," he said, "you know you're always going to be on it, or in the Hall of Fame (vault)."
Heroes captain Conor McDavid, too, is dazzled by the Cup because it is both perfect and imperfect.
"The sheer history of it is the coolest thing," McDavid said. "So many legends have held that Cup from players like Evgeni Malkin and Nicklas Lidstrom to coaches like Chris Hartley and Lucas Main."
*
Ticket Prices Go Through the Roof
"We have not locked in on tickets yet," a Manhattan Supermen fan said on Monday morning. "They're pretty expensive — way more than the entire trip to Pittsburgh. So there's a chance we just go out there to be around the experience and not get in the game."
Manhattan area sports fans went to bed in a delirious, blissful state that many hadn't experienced in a generation. Anyone waking up Monday hoping for an up-close view of the Pittsburgh series opener against Supermen was met with a stern, pricey reality.
The cheapest seats available Monday morning on Ticketmaster — the AFHL's official partner — cost $914 apiece. On StubHub, they were $983. Vivid Seats had one for $828, but the rest were at least $920. SeatGeek listed tickets for as low as $908, a price that jumped to more than $1,100 with fees.
To take a family of four to tonight's Game 1, you would have to fork over a minimum of $3,632. And that's to sit in the cheap seats. Add in parking, drinks, and food at the arena and your three-hour outing will be pushing $5,000.
It was sobering news for Supermen fans who were excited about a Pittsburgh trip.
The high prices have forced others to get creative — even if it's only in jest.
"Anyone need a kidney? I need money for Supermen finals tickets!! DM for real inquiries" — Michael Spriggs on Twitter (@MSpriggs3) March 25, 2019
As of Monday morning, Michael Spriggs — who had offered up his kidney to raise funds for tickets — said no one had taken him up on his offer, but he wasn't yet pulling the offer from the table.
"I honestly have no idea what the going rate for a kidney would be," he said.
And yet others were ready to pay whatever it will take to get inside Pittsburgh's Home Ice Arena for Game 1 of the Finals. Another fan and his friends are torn between two choices: going to Pittsburgh for Games 1 and 2, or waiting until Game 5. Not attending any of those games? That's not an option.
"I've been waiting my whole life for this, obviously," the fan said Monday morning. "I don't know if I'll ever get this chance again. I mean, this is my life, basically. I've always wanted this."
Many fans are already expecting tickets to start running four figures by mid-day. Of course, the secondary market for tickets could always drop. The tickets for Games 3 and 4 in Manhattan are similarly priced, which means many Supermen fans — at least non-season-ticket-holders or those who haven't been saving their money since the team's last visit to the Finals seven years ago — could be priced out.
Post a Comment
You must be logged in to post a comment.
2019 AFHL Playoffs Preview
Gulls Take Aim at Three-Peat
+ Fun Festivities Around the League
March 11th, 2019
When Lucas Main dares to dream, it often turns into reality.
The San Diego Gulls GM has won the Stanley Cup two years in a row. Now he is looking to make it three. This year however, he said, is different. This year, the immediate goal ahead seems surreal.
No matter. In Lucas' mind, as always, it's achievable.
If Lucas and the Gulls can grind their way through three rounds of playoff hockey in the next month, they would set yet another record as the only team to have won three consecutive Stanley Cups. They already hold the record as the only team to win twice. The significance of the feat is not lost on the Gulls leader.
"It would be incredible," he said. "I mean …"
The usually chatty Lucas paused. He was at a loss for words.
He nodded in the direction of the banners recognizing the 2017 and 2018 Cup championships on the wall of the Gulls dressing room.
"When someone asks me about three, I couldn't imagine what three would feel like," he said.
"I know what two feels like. You're pinching yourself because you know it's so hard and you don't know how you are going to do it. That group found a way. I think we used more than 30 players to win that second one last year.
"To know that feeling and to know how difficult it was to achieve that, [three] would be an unbelievable feeling."
One he strives to experience.
"I'd love to have another parade back home," Lucas said. "I think it's mandatory for those parades to be on the hottest day of the year but it's worth it. We have a long way to go before that happens."
The road to a three-peat will run through the Laval Nomads to start. San Diego and Laval will play in the First Round, the first ever playoff series between the two teams. San Diego hosts Game 1 tonight (7 p.m. ET; NBCSN, CBC, TVAS, AFHL.TV).
***
Ticket sales and fun festivities have begun around the league in the AFHL. Here are some of the cool things happening around this year's playoff teams…
SHARKS PENALTY BOX AT RENAISSANCE PLAZA
-Sharks fans can show off their excitement today for the Atlantic City Sharks' playoff run by stopping by the Renaissance Plaza Mall and taking a picture in the Sharks' Penalty Box.
-Fans are encouraged to show off their picture with #GoSharksGo on Twitter or Instagram and they might just win a Sharks' signed items, "Go Sharks Go" merchandise, or even playoff tickets!
TATTOOS AND FACE PAINTING AT LA PLAZA DE LA MAURICE
-Starting at 4:30pm, Plaza De La Maurice will feature multiple events right outside the mall including barbers shaving the Vikings logos on fans heads, tattoo artists tattooing free Vikings logos (up to a certain size), and face and hair painters.
-Shooting cage opens at 6pm
-Vikings Ice Girls will be there to pose for pictures with fans
SUPERMEN ICE CREAM TRUCK AT MORGENSTERN'S
-From 10am to 8pm, fans can stop by Morgenstern's in Manhattan to celebrate the Supermen being back in the playoffs with one-of-a-kind Supermen ice cream and lots of free giveaways.
MONDAY SEND-OFF IN COMOX VALLEY
-The Comox Valley X-Men are inviting fans to line outside their home ice arena to wish the team good luck when they travel to Pittsburgh for Game 1.
-Fans are asked to bring posters and signs and should be lined up by 10:45am.
DEER PARK FAN FAIR
-The Chiefs are doing a lot of fun stuff right outside their arena leading up to game time tonight.
-Fans will get a chance to play interactive hockey games, enjoy live music and special appearances by current and former players.
-Anyone who purchased a ticket to tonight's game will receive a battle towel at their seat presented by Toyota.
TICKETS
-Tickets are nearly sold out for Games 1-4 in the First Round Matchups. Best luck at getting last minute tickets could be found on StubHub.com
Post a Comment
You must be logged in to post a comment.