Home
Vikings draw more than 500,000 for Stanley Cup celebration
John Tavares throws up during championship parade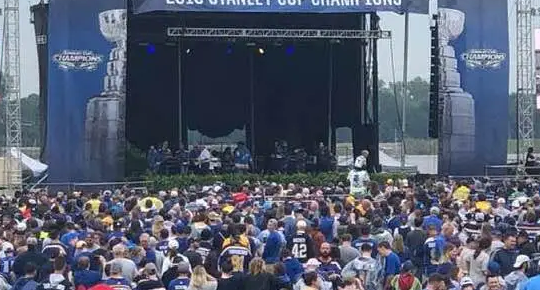 June 6th, 2022
Andrei Vasilevskiy had the Stanley Cup in his hands, the Vikings goaltender ending the parade but continuing the celebration of their first AFHL championship in their franchise history.
"It's been amazing, let me tell you," Vasilevskiy said to the crowd that gathered for a post-parade rally at La Mauricie National Park. "This is unbelievable. Unbelievable. We all know what it's about. It's about the fans, the family.
"I said in an interview at the end of the season: We're a bunch of messed-up individuals together. From the coaches all the way down, here we go. Look at this. This is amazing. Amazing."
What started as a cloudy and rainy day ended in sunshine, with an estimated 500,000 people watching the Vikings travel on boats and trolleys on their way to La Mauricie National Park.
"Beyond anything I could have imagined," Vikings owner Phil Svoboda said. "I thought there'd be a lot of people, but it's a block or two deep at some points. Wow.
"… What a jolt of energy for a city, and that's the best thing that sports can do, is bring people together, bring positive energy to the home city."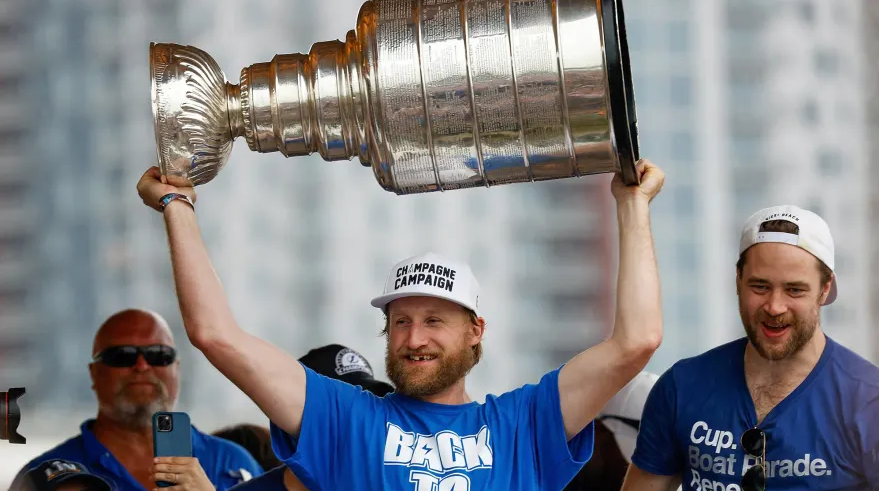 Players took turns walking the route with the Cup, including team captain Mika Zibanajed, Filip Forsberg, and Mike Rielly. Backup goaltender Brian Elliot walked with his young son Owen, who later took to the stage and led a "Let's Go Vikings!" chant.
John Tavares made this victory parade one Shawinigan will never forget.
While celebrating his team's first-ever Stanley Cup championship, the 31-year-old forward was filmed throwing up in the trolley he was riding in. From the looks of the footage on Twitter, his driver caught some splash as well.
Despite the not-so Kodak moment currently making the rounds on social media, Tavares appears to be enjoying his victory lap, which included post-parade celebrations with his wife.
"I'm a Stanley Cup Champion, baby!" John Tavares said to the crowd. "Put your glasses up right now Shawinigan. We're Stanley Cup champs baby!"
Phil Svoboda, who took over as coach in June of 2011, exactly 11 years ago, and helped the Vikings rise from last place to first place in the AFHL standings, was greeted with chants of "Chief! Chief! Chief!"
"It's awesome. I've never seen anything like it in my life," Svoboda said. "What an incredible experience to be down here today, the parade and everything. It's unbelievable. I'm so happy for the city and the fans. They deserved it, but more than anything, I'm so happy for our players because of how hard they played, prepared, through leadership coming through and winning that Cup.
"They came together at some point. It all started to work out. Leadership, character and hard work through January, February and most of March, being on the road that much and winning that many games, it just goes to show the hard work and character of our players.
"That's why we're Stanley Cup champions."
---
Shawinigan Vikings Win AFHL Stanley Cup!!
Port Hope Fans Light Fires, Break Windows After Game 7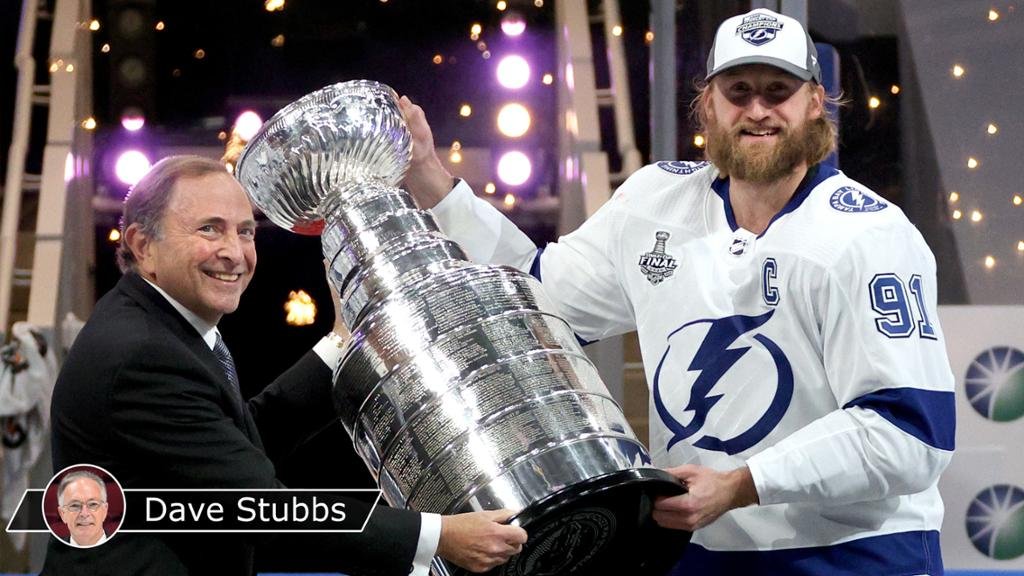 April 26th, 2022
After playing on a tight rope for three weeks, the Shawinigan Vikings held off a last-gasp rally by the Port Hope Panthers in Game 7 of the Finals to capture the franchise's first Stanley Cup on Sunday night.
Vikings star winger Nikita Kucherov, who scored two goals and three assists in Game 7, said this was even sweeter than his first Cup with the San Diego Gulls just a few years ago.
"It seems like this was the hardest one," Kucherov said. "I've been here before so I knew what to expect but I'm really enjoying this moment. Who knows how many of these opportunities come along? You always want to take advantage."
The Vikings lifted the Cup for the first time in franchise history. They had to wait, however, as the trophy was delayed by weather and needed a police escort to the arena.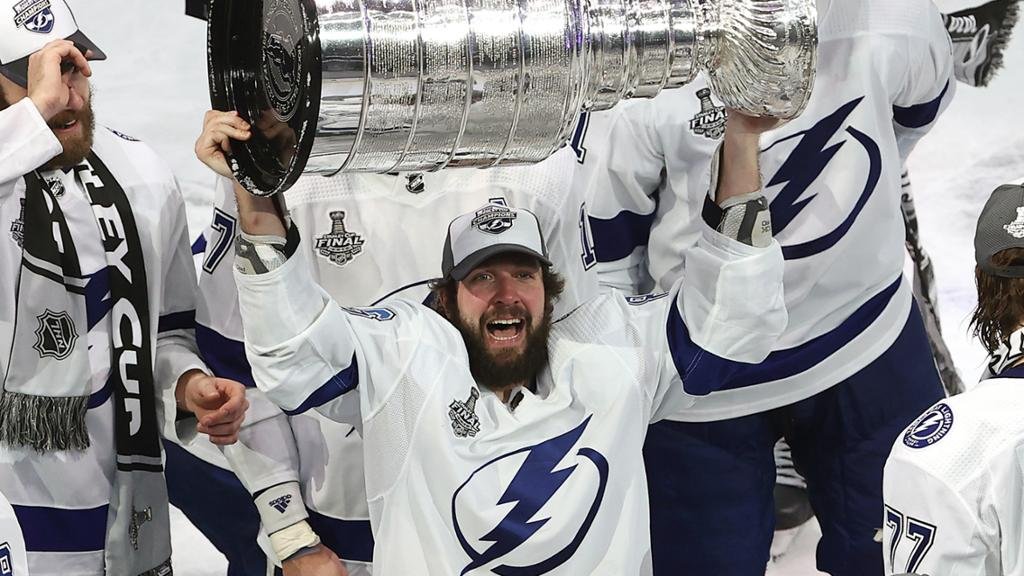 Fans didn't leave for more than an hour after Kucherov lifted the Cup and handed it to Vikings Coach/GM Phil Svoboda, the architect of the team. They sang to "Sweet Caroline," some banged on the glass and most simply didn't want to leave.
"Keep the bars open tonight," Svoboda said after he lifted the Cup for the first time in his life. "We're going to fill the Cup up, and we're going to share it with the city of Shawinigan!!"
A stunned crowd of 18,860 who were gathered inside of the Port Hope Panthers arena and hundreds of thousands more in the downtown streets watched their Presidents' Trophy-winning team slump offensively with only 17 goals to the Vikings 30 goals in the series. One of the best GMs in the history of the league, Keith Cancilla, was unable to win his first Stanley Cup with such little production.
"I think anybody in our situation right now would feel real disappointed, whether you're the favourite or not," Cancilla said. "We battled real hard. I know we gave it our best shot, but in this one series, they were the better team. It's that simple."
Panthers fans did not take the loss lightly.
In one of the worst episodes of rioting the sports world has seen in decades, Panthers fans angry over losing the Stanley Cup clashed with police officers in Port Hope, set vehicles ablaze, smashed windows and looted and burned stores throughout the downtown area late Sunday night.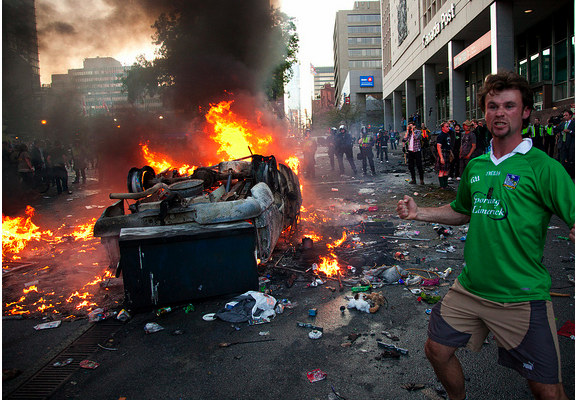 The Port Hope Health authority said that five people were in critical condition and that up to 139 others were treated at two downtown hospitals. Many had suffered tear gas exposure, the authority said, but there were at least eight stabbings, some cases of major trauma, and "head injuries, fractures and cuts."
The riots stunned the police, the city and the nation, all of which had recalled rioting after the Buffalo Phantoms defeat in the finals to the Hamilton Firestorm almost 10 years ago.
But Sunday night, with the last game of the Stanley Cup finals drawing to a close and the Panthers trailing 7-2, some of the estimated 100,000 fans watching the game on giant televisions in free public viewing areas downtown began a four-hour rampage, leaving a trail of destruction, looting and violence that far outstripped the melees in Buffalo several years ago.
"We just repaved a lot of roads and built some new buildings, and people were speaking highly of Port Hope," said Greg Matthews, 35, who lives downtown. "This is a great city and place to live in, and to see this, it's heartbreaking."
*
City of Shawinigan to Hold Stanley Cup Boat Parade Next Monday
The Shawinigan Vikings will celebrate their Stanley Cup championship win with boat parade.
The Vikings secured their spot in AFHL history Sunday night when they became Stanley Cup champs for the first time by beating the Port Hope Panthers 7-2.
Now, the City of Shawinigan says fans will be able to celebrate their home team's victory along the Saint-Maurice River on Monday, May 2nd.
Beginning around 10 a.m., players will be ushered onto boats stationed near Pont Shawinigan. The goal is to have the parade off and sailing by 11 a.m. Monday.
"Our fans will be in for a wild ride," the mayor of Shawinigan said. "I justg hope the Stanley Cup doesn't end up in the water."
The boat parade will end around noon or 1 p.m.
After docking, players will hop on trolleys and ride to La Mauricie National Park for a community celebration, complete with food trucks, drinks, entertainment and music. Players will take the stage there sometime after 2 p.m. The park is opening up at 9 a.m. for fans.
---
2022 Stanley Cup Finals: Media Day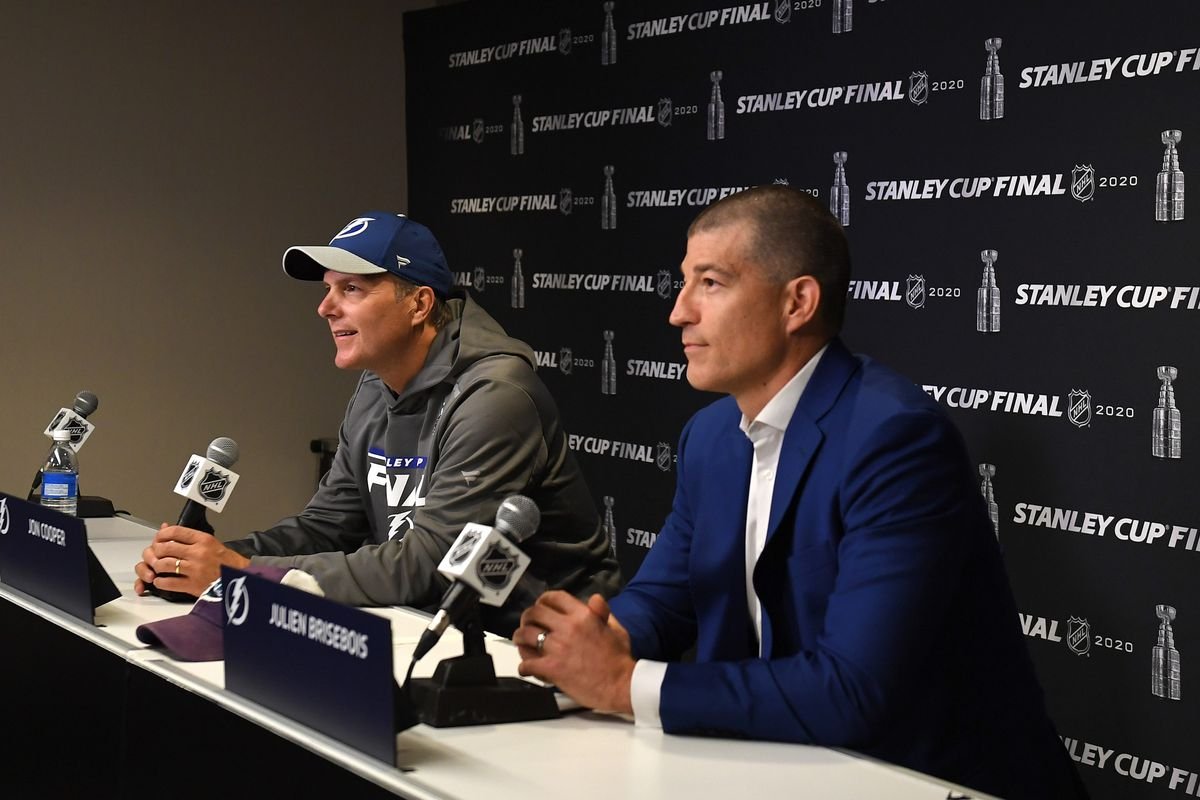 April 18th, 2022
Friends become foes when the puck drops in the Stanley Cup Finals between the Port Hope Panthers and Shawinigan Vikings, Monday at 7 p.m. EST.
Monday was the annual media day on the eve of the finals. Management, coaches and players spewed comments about respecting their opponents and how much they value their contributions to the game of hockey.
Blah, blah blah.
When Game 1 gets under way, all those flowery comments go out the window because hockey's ultimate goal is at stake. Over the next seven days, the Panthers and Vikings will battle, claw and chew their way for the opportunity to hoist the Stanley Cup for the first time in their franchise history.
Here are some of the most interesting quotes from media day: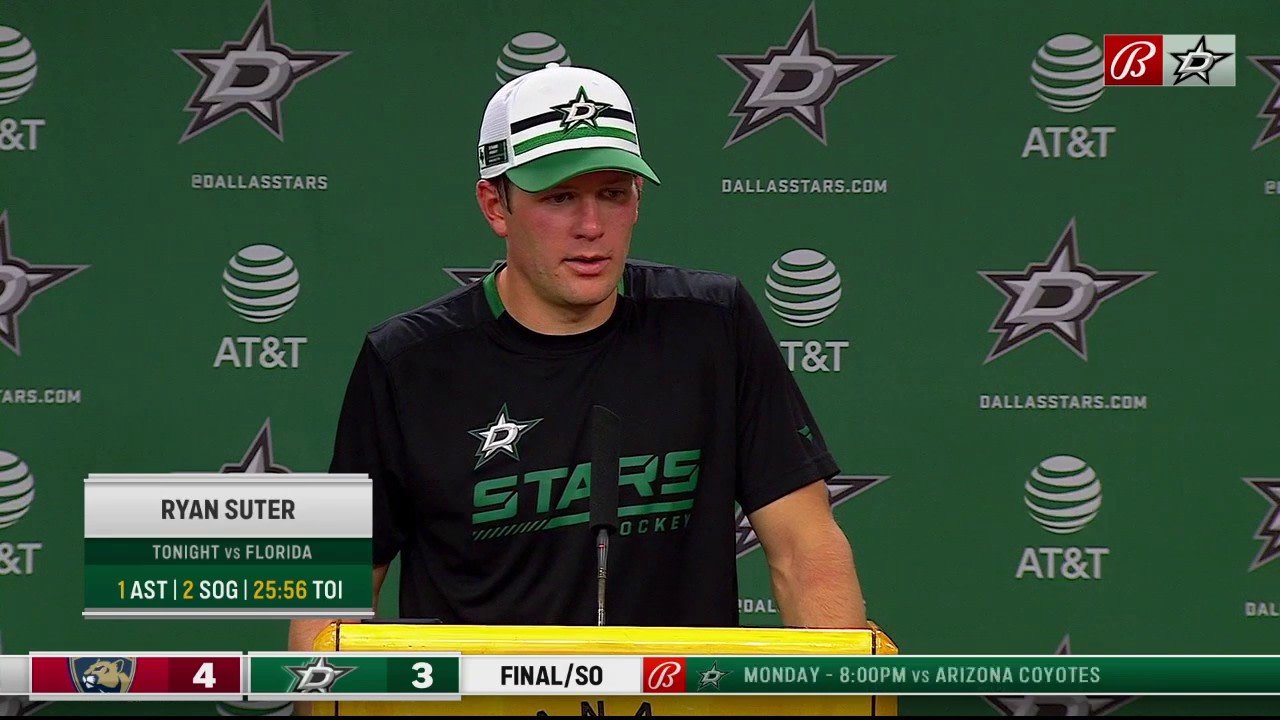 Panthers defenseman Ryan Suter:
"Here we go," he said. "Let's do this. It was [worth the wait]. It would have been nice when I was younger, but you definitely appreciate this. You realize how hard you've got to work to get to this point and I'm happy to be here."
During his career, there has been this stigma that he didn't care enough about the game. That's not the case and here's why:
"If you know me, it doesn't affect me," he said. "I know I'm a great player. I've played on some great teams, [they] just didn't mix. It does take 20 guys and that's just the reality of it. I know this Panthers team, one, two, three guys isn't going to make us get here and to win it. So, it takes all 20 guys and I realize that."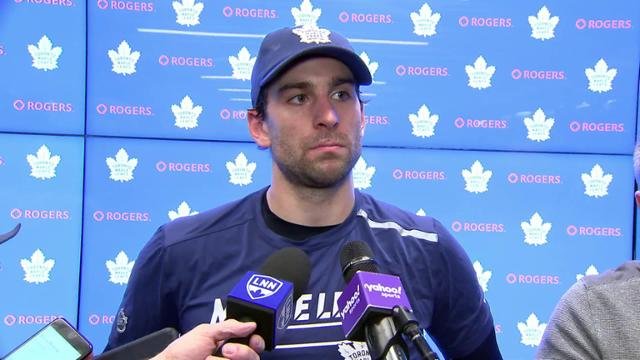 Vikings forward John Tavares:
"It's easy to be proud of yourself for doing what we've done, but we can't afford to sit back, pat ourselves on the back and take a breath," he said. "We've got a long summer ahead of us after this series, and we're on the doorstep, and this is what we've worked our whole lives for and it's an opportunity you can't let slip by without playing your very best hockey out there. You can't always control the result, but if each guy is focused on bringing his individual best game, we're in good shape. But it's one of those things you can't just stop and take a look around because it's gone in an instant, and the series is over. You've got to bring your best from the beginning of it, stay focused on your job and bring your best game."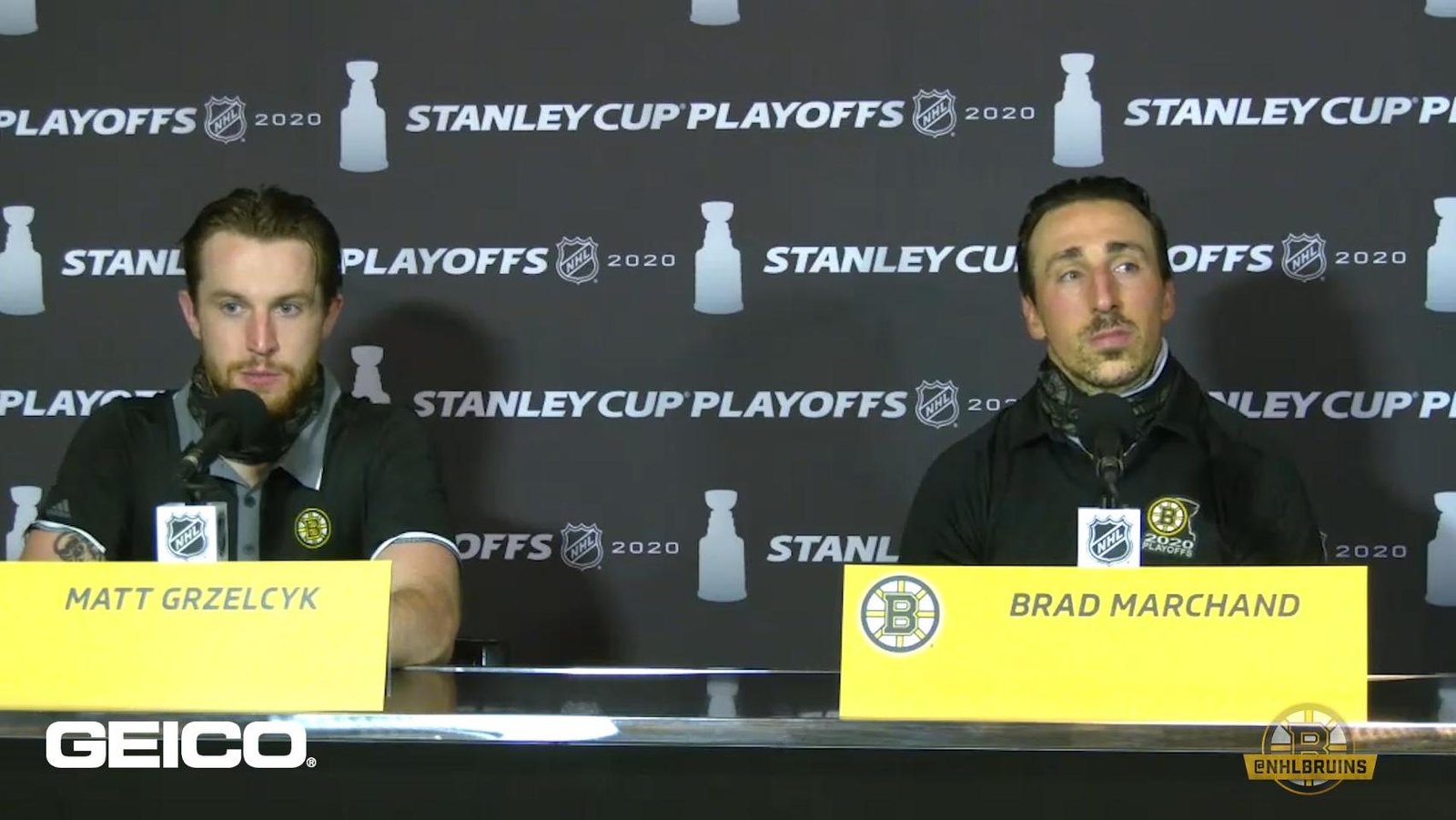 Panthers forward Brad Marchand:
"I'm fortunate to play with one of the best players in the world in Alex Ovechkin," Marchand said. "It's fun to see him in practice and that's something people may not think about. He's a real grinder, always out there trying to get better. He skates extremely hard in practice and for me to come to a team like this, he's welcomed me with open arms and has been great. He's been extremely kind to me and has definitely made this whole transition easy."
No matter which Panthers player you asked about No. 8, work ethic was a major topic of discussion.
"That's the reason he is the best player, just the way he grinds," Marchand added. "Every shift, every practice. He's got the hands and hockey sense not many players have. The reason he is where he is right now is because of how he grinds every day and probably all summer as well."
Vikings defenseman Seth Jones:
"There's a lot left to accomplish," he said. "We've been through a lot to get to where we are right now. We can't don't stop. We just have to stay with it. This is a special franchise with special leadership and this year has really come together and all the players have played well, so we're here now, and we need to remain focused for seven more days."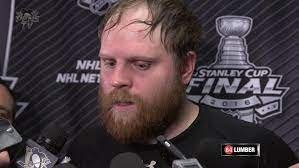 Panthers forward Phil Kessel:
"It's been fun," he said. "Obviously, this is could be your one and only chance to play in the Stanley Cup Finals. I've never been on a team that has felt like this. I don't even know how to describe it, to be honest. I'm so excited to play with these guys for the Stanley Cup."
As for his time in Port Hope:
"I've loved my time here," he said. "I love the city. The fans. I have made a lot of friends here. I love the experience. This is a whole different ball game. We have a great team here and have a chance to win the Holy Grail."
---
2022 AFHL Playoffs:
Teams Begin Their Quest for Lord Stanley
April 4th, 2022
With the 2021-22 regular season officially in the books, playoff teams around the league held their first practices of the postseason on Monday morning.
Following the on-ice sessions, players and coaches spoke with reporters. Here are a few highlights from their respective chats:
Panthers forward Alexsander Barkov on his confidence level:
"It's really good. We just finished the season with the best record in the league, so I'm pumped. I'm really pumped."
Royals defenseman Mikhail Sergachev on Westbury's leaders:
"It's a different type of leadership group, one that is based on the team as a whole. I think it's just like a community kind of environment in the locker room, no one is afraid to speak up or say what's on their mind or give advice to anyone. It's a family in there, and I am just happy to be part of it."
Vikings goaltender Andrei Vasilvesky on facing Laval:
"I think they're a heavy team, physical team. We are more of the faster team than physical I would say, but really good team. They have the experience, they've been here before, so it's going to be an interesting series for sure. We got to stay disciplined, we got to stay out of the box and play our game 5-on-5."
Nomads head coach Alex Chau on his upcoming lineup decisions:
"The decisions will be tough, no question. I think our guys have played good and they're getting the job done. We'll look at Shawinigan, what we project for their lines, see what we like for our matchups, at least to start and then we'll keep evaluating on a day-to-day basis. A guy that might find himself out of the lineup in Game 1 could possibly be in soon after that. Hopefully the lineup decisions we make and the matchup decisions we make are the right ones, and even then we'll have to address our lineup on a daily basis and pick which lineup we feel is the best one to go the next evening. There's going to be some tough decisions as we get healthier."
Bitch Pigeons forward Conor McDavid on fighting in the playoffs:
"Last half hour of practice today was boxing lessons. Playoff hockey breeds different energy so we have to be ready to drop the gloves at any time."
Firestorm defenseman Cam Fowler on his approach a playoff game:
"Really you've just got to ride the waves. Take it really one shift at a time, one game at a time and kind of separate from game to game. This is a fun time of year."
X-Men forward Nathan MacKinnon on what teammate Mikko Ratanen brings to the group:
"He brings a lot. We all know he's a great player on the ice, but he's also a big locker room guy for our team. He's huge in the room. Last week, we saw that he had a hell of a game. When he's in that mood, he can do whatever he wants out there.
Phantoms coach Daryn Beckman on lines he'd feel comfortable using to begin the playoffs:
"There are some combinations that we're already familiar with. We know there's a lot of chemistry between Mathew Tkachuk, Sidney Crosby, and Patrick Kane. We expect them to play together. Generally, I like what Logan Couture and Joe Pavelski can do together. It remains to be seen who'll play on the left side. Jesper Bratt did well, but it was a little tougher a few days ago. The line of Anthony Mantha, Jonathan Toews, and Alex Tuch was excellent last game. We're counting on those combinations and we'll make more decisions over time.