New Moncton GM says Black Bears Have Potential
August 15th, 2018
John Robertson was officially introduced as the Black Bears new coach and GM  in a press conference on Wednesday morning.
AFHL Commissioner Anthony Furino dismissed the previous GM after only 24 hours on the job.
"Trades are a big deal in this league," said Furino. "Aside from participation and a high activity level, you have to make good trades if you want to remain in this league. I also saw an underachieving team in the Black Bears and thought I really needed to hire a stud GM."
Moncton has yet to make the playoffs in the eight year history of the AFHL.
"Obviously, I try and support every GM in this league," said Furino. "Firing Winston quickly was based more on a gut feeling that there was a better GM out there who could poke and prod and get a young core to meet their potential rather than totally cleaning house."
Now Robertson is in charge and he's committed to making smarter trades while having a high activity level and getting the Bears on the winning track.
"I've got a good track record and I know how to analyze players and get the most out of the ones that I have," Robertson said at the press conference on Wednesday.
Robertson made a couple of shrewd trades after about a week on the job. Most notably was his trade of Juuse Saros, a young highly sought after goaltender, for four first round draft picks. That trade left a hole in the goaltending department but Robertson quickly addressed that hole by trading prospect Cody Glass in a package for Philipp Grubauer who is expected to be the next starting goaltender in Colorado. Grubauer joins Corey Crawford and Scott Darling to create a very formidable goaltending committee for Moncton.
"I like this team a lot actually," said Robertson. "There is plenty of young talent and I hope to be competitive for a long time with my youth movement leading the way."
Robertson is not planning any more major moves but he now has plenty of draft picks and more assets to trade as he sees fit to plug some holes moving forward to better the team.
"Because of my love for all levels of hockey, including juniors, I've had great success in working with young and talented guys and getting them to play," Robertson said. "I think there's potential with a lot of guys to be top players here and I'm excited to build a winning culture in Moncton."
Post a Comment
You must be logged in to post a comment.
GM Winston Bambrick Fired
Only 24 Hours After Being Re-Hired
June 29th, 2018
After attempting to make multiple trades within hours of being hired, including sending superstar player John Tavares to Shawinigan, Moncton GM Winston Bambrick has already been fired.
"He clearly didn't learn his lesson from the first run," AFHL Commissioner Anthony Furino tweeted out on Friday afternoon. "It's a real shame."
The issue seems to be that Winston traded Tavares without shopping him to the entire league.
"He traded him literally a couple hours after being hired," said Furino. "How would you be sure to get the biggest bang for your buck if you don't attempt to speak with all the teams in the league? Half the GMs in this league didn't even know Winston was back let alone Tavares was available. I am not letting him ruin another team."
Winston was fired after only one day on the job.
This is the fastest GM firing in league history. The second fastest firing was former London GM Tom Schmansky who lasted 11 days. Here is the link to that article: "Hasta La Vista, Schmansky
Post a Comment
You must be logged in to post a comment.
Heeee's Baaaack!!! Winston Returns to AFHL
Hired as New GM of Moncton Black Bears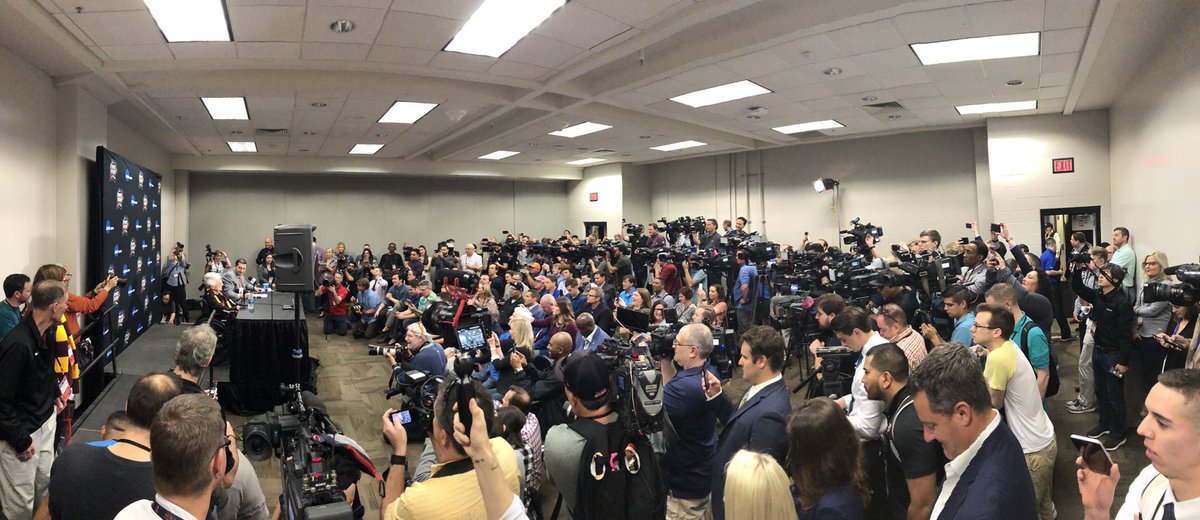 June 28th, 2018
The Moncton Black Bears front office underwent a significant change on Thursday when AFHL Commissioner Anthony Furino announced he will be hiring Winston Bambrick as new GM.
Bambrick served as general manager of the Westbury Royals between 2015-17. He parted with the AFHL after getting backlash from other GMs for making questionable trades for a struggling franchise.
"My breaking point was an argument with that dude from the army," Winston said of Fort Drum GM Steve Stryska at a press conference on Thursday. "He got me hot headed but I always regretted leaving. The AFHL is my favorite league of all-time and I have always felt like I had some unfinished business."
It was a sour ending for his run with the Westbury Royals but this ending should be different.
"Winston took over a fragile Westbury team that had very few pieces and some guys just have trouble with that," Commissioner Furino said at the press conference. "For reasons I just can't explain. Rebuilds are not easy and they are not for everyone. But Winston had a year off and he had time to take a step back to look at what went wrong, where, what went right and what would he do differently? I believe he learned a few lessons from his first run in the AFHL and got better from that. He has a great hockey knowledge and enough experience to thrive with a team like Moncton that has a good amount of pieces to be competitive as soon as this year."
Commissioner Furino believes a high activity level is the first and probably most important attribute of a great GM. Winston raises the bar for that category.
"He was by far the most active GM I have seen in our 8 years," said Furino. "Combine that activity level with better decision making skills and he could easily become a Hall-of-Fame GM one day."
Looking to the future, Furino said the Black Bears just need to find secondary scorers for next season. The strength of the Black Bears last season was the goaltending of Corey Crawford and Juuse Saros. They have stalwarts in guys like John Tavares, Dougie Hamilton, and rookie sensation Mathew Barzal.
"He needs to just build around that nucleus," Furino said of Winston. "If he can draft well and be more careful with trades, I think we can see this team in the playoffs sooner rather than later.
Winston is confident that this team has the pieces in place to compete at a very high level.
"There is a lot of talent, a solid core and some exciting young players eager to get better," said Winston. "We're getting to work right away on the things that will make us all successful."
Post a Comment
You must be logged in to post a comment.
San Diego Gulls Make History with Repeat Title
April 2nd, 2018
History is not made in one game. History is not made in one day. History is not made in one year.
History is built on the accumulation of time. It is as elusive as it is magnificent.
The 2018 San Diego Gulls have etched their names in history, both literally and figuratively, as they became the first team in AFHL history to win two AFHL Stanley Cup championships after defeating the Washington Wolfpack, 7-3, on Sunday in Game 7 of a seesaw series that pitted a high-scoring heavyweight against an upstart challenger.
It is an achievement that will live forever.
Over the years, the San Diego Gulls have gone through an ever-changing cast of players but the one staple has always been GM/Coach Lucas Main.
"We knew it was going to be tough all year, but we just tried to keep with it," Lucas said amidst the locker room celebration. "We had a lot of injuries and things like that. We just kept finding ways. That was really what we did all season, all playoffs. It's great to be able to do it."
Along with the team, Lucas Main has become the first GM in AFHL history – eight years – to win two AFHL Stanley Cups as well as the first to win back to back AFHL Stanley Cups.
"You might have a small window to win a Stanley Cup," Lucas said. "I feel fortunate, but I also understand how difficult it was so you just want to try to make the best of it."
Gulls goaltender John Gibson was named the MVP of the Playoffs. He posted a 1.97 GAA and a save percentage of .931% in the Finals.
"I think I'm just really happy for this group," Gibson said after skating around the rink with the Stanley Cup. "A good chunk of the guys were returning from last year, so it's pretty special. We set out to try to go back-to-back. We knew it was going to be pretty difficult, but I think that's probably where the most joy comes out of is just knowing how difficult it is to go back-to-back and knowing that we overcame all those things. It's a pretty special group, I'll say that."
Gulls forward Nikita Kucherov shed tears of joy in his post-game interview.
"I think this feeling right here. You can't match this," said an emotional Nikita Kucherov. "It's what it's all about, and to be able to share that with a group of guys, a lot of them guys that you've played a long time with and understand how difficult it is and what you've had to go through and that kind of thing, share it with family and friends, that's what it's about."
After hugging GM Lucas Main for what seemed like five minutes, Gulls forward Evgeni Malkin was asked what words were shared between the two.
Malkin paused for a moment and responded with one phrase: "Three-peat."
*
"It stings," said Wolfpack goaltender Martin Jones. "I think the biggest thing we've got to take from this is, remember the feeling. That's what's going to drive us … We're going to be back here again next year."
Washington GM Rick Charron was a hard man to find after the loss. Media eventually caught up to him a couple hours later outside the Wolfpack locker room.
"It's hard to describe. You dream about lifting the AFHL Stanley Cup for so many years, and the dream has happened probably a million times for most of us. Being that close, being one game away from lifting the Stanley Cup, it [stinks]. But for us, we did so many things well and this is such a tremendous run for our team, and we have such a good well balanced team. I think we gained a ton of experience from this run and we are going to work hard to get back here."
*
The Gulls victory parade will be 11 a.m. next Wednesday, the city announced via Twitter early Monday afternoon.
Although a formal release is still upcoming, the route is expected to remain the same as last year.
The city expects as many as 500,000 people will gather along the parade routes and related celebrations, said Alexander Costa, the chief operations officer under the San Diego Mayor. Costa said that would rank the crowd total larger than last year.
Post a Comment
You must be logged in to post a comment.