Fed Up Killers Fans Set to Protest
Against Front Office Saturday
July 19th, 2014
Let's be honest, fan protests against team owners and management never work. The only way you can really voice your opinion and hurt owners is to hit them in their bank accounts by not buying tickets and by not watching games on television.
But most sports fans are too loyal to follow through on that so they find other ways to voice their opinions and get their message across.
This Saturday night, the popular fan website www.KillersNation.com is organizing a protest of Killers GM Steve Stryska in front of Fort Drum's home ice arena.
"We hope Killers fans can see the problem with this organization," said KillersNation.com owner Pete Pruber. "If we go a second straight season without a starting goaltender, that will be the straw that breaks the camel's back for a lot of Killers fans."
Pruber, a 19-year-old finance major at SUNY Albany, started the website in 2009 after the Killers magical run to the playoffs. His Twitter account, @KillersNation, started in January of 2010 has ballooned to more than 5,300 followers and continues to grow at a rapid pace.
Pruber is not expecting anything to come of the protest other than just awareness of what's going on with the team.
"I believe it is a duty to stand up for something you feel strongly about, and sitting back and doing nothing about it just makes you weak," said the Lindenhurst, Long Island native. "We want a starting goalie."
Pruber said the protest will begin in the parking lot around 5pm with Killers fans holding signs, starting chants, wearing their Killers jerseys inside out, and handing out flyers to inform other fans about what is going on.
According to Pruber, the fan reaction to the protest has been mostly positive with about 60 percent of people saying that they support the effort 100 percent and that they are either coming or wish they could be there. About 25 percent agree with his thoughts but believe it's a waste of time and effort while about 15 percent are down on the idea.
"I know the idea is gaining momentum and I have a lot of verbal commitments," said Pruber. "I wouldn't say I need a specific number … just loud people who are willing to do what it takes. I guess 200 or so would be nice."
Most people can understand how Pruber, his followers, and other fans may feel. Losing stinks. It's the worst part of being a sports fan. You don't mind it if you see progress and for the Killers, there was a glimmer of that with their young guns last season. But their fans have taken a beating for a long time. They are tired of losing. Let's hope that brighter days are ahead.
The Killers may have lost a lot of games over the last few years, but the fans have not lost their passion.
Pruber and the other loyal fans are proof of that.
Post a Comment
You must be logged in to post a comment.
Record-breaking crowds celebrate Vipers Stanley Cup win
April 14th, 2014
The city of Victoria celebrated the Vipers 2014 Stanley Cup win with a massive parade and rally Friday that may go down as the best-attended celebration in city history.  
The celebration began early, with fans filling trains and buses before sunrise. At one point, train routes became so crowded that the commuter train service began to fall behind schedule and started skipping stops because of capacity concerns.
Shortly after 8 am, it happened. Police struggled to keep barricades in place as fans streamed into the Vipers home ice arena parking lot. People, in a full sprint, rushed for spots near the double decker buses.
"It's craziness. That's all I can say, pandemonium, organized chaos," said fan Paul Gomez.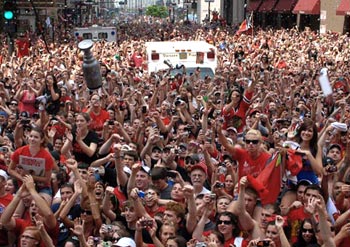 Among the first into the parking lot was long-time Vipers fan Danny Lawless, who had covered his naked torso in red body paint and donned a faux-Viper headdress purchased from a Party City store.
"Go all-out," Lawless said. "This is a once-in-a-lifetime thing."
With several hours to kill before the parade began, fans passed time tossing beach balls and trying to keep hydrated with the free bottled water being passed out. The sun — and, in some cases, an overindulgence in nonwater beverages — proved too much for some as the Victoria Fire Department began treating people for heat exhaustion.
Team Coach/GM Chris Hartley mingled with fans on his way out of the arena and onto the first double decker bus, shook hands and posed for pictures.
A short time later, the team emerged from the building to the cheers of onlookers. Most wore flip-flops and shorts with their Viper jerseys. And many had ditched or significantly trimmed their playoff beards for the occasion.
After driving through streets that quickly filled with confetti, the team arrived at a park to cheers of "Let's Go Vipers!"
Several took the microphone at the homecoming party.
"It's an unbelievable feeling to bring the Cup here," defenseman Drew Doughty said. "The city of Victoria did a great job. The fans and everybody coming out is awesome."
"Everybody's here," said forward Alex Ovechkin. "There's not a single person working today. Or they're watching this on television. Nobody's working today."
A clearly excited Semyon Varlamov, who won the Conn Smythe Trophy as the playoffs' most valuable player, gave a profanity-filled speech about how hard his teammates had worked to make this moment possible.
"No one will ever take this away from us," he said. "We're the fucking champs!"
Before exiting, the Vipers passed the Stanley Cup among one another, repeating a time-honored tradition they also performed last Sunday night. Each player took a turn holding hockey's holy grail, some raising it high above their heads and others planting a kiss on it.
Most took a moment to stop and look at the adoring masses. With the Victoria skyline in the background and confetti falling from on high, the crowd erupted into another chorus of "We Are the Champions".
The song and the scene seemed to offer a definitive answer to the question that GM Chris Hartley asked only a few minutes earlier:
"What do you say we get back and do it again next year?"
Post a Comment
You must be logged in to post a comment.
Victoria Vipers win 2014 AFHL Stanley Cup!!
Vipers cap remarkable run, defeat Red Devils for first title in franchise history
April 7th, 2014
Alex Ovechkin skated to center ice and thrusted the 36-pound silver trophy skyward, the captain never flinched under the weight. Victoria Vipers fans, who had never even seen fantasy hockey's greatest prize, went crazy.
"Better than sex," Ovechkin said when asked what it was like to lift the AFHL Stanley Cup.
Nothing like the sights and sounds of Alex Ovechkin, Cup high in his hands, blood dripping down his cheek, happy profanity flying from his mouth.
"It's all a blur right now," said Vipers goaltender and Playoff MVP Semyon Varlamov during the postgame celebration. "But man, it feels good."
Varlamov made 58 saves and posted a 1.85 GAA in his latest stellar performance, and the Vipers beat the Toronto Red Devils 8-1 in the 2014 Stanley Cup Finals, to win their first title in franchise history.
Jordan Eberle scored three goals and five assists for the Vipers in the Finals, which ended its spectacular postseason run in front of a crowd including several dozen Vipers faithful who have been at rinkside since the team's birth as a franchise in 2009. Every other year ended unhappily.
"Every single guy worked so hard for us this season," said Eberle. "Everyone deserves this. We got used to each other, we developed a chemistry, and we just went sailing from there."
After an explosive start to take the early series lead, the Vipers finished ferociously on Sunday just when the first-seeded Red Devils appeared to have a chance for one of the biggest comebacks in finals history.
"You don't give yourself a lot of room for error, finding yourselves in a pretty deep hole," Red Devils forward Steven Stamkos said. "It's hard, but we really felt like could get back in this. We did give our best, but we just came up a bit short, unfortunately."
"They're deep and well balanced," Toronto coach Jordan Carbone said. "They got stronger as the series went on, and they're a great hockey club. They need to be congratulated on that. But at the same time, I'm going to stand here and tell you how proud I am of our team, how those guys battled right until the end. Without getting into all these injuries today, because it's not the time, we battled through a lot. You know, when you realize that you're a couple wins away from a Stanley Cup and how those guys push through a lot of things, I have nothing but good things to say about it."
Vipers coach Chris Hartley said it's an amazing ending to an amazing year, although he found it a little hard to celebrate while standing on the ice, amid the mob of players and officials, family and friends.  
"I'm pretty exhausted to be honest," said Hartley. "But once we fill the Cup up, I think I'll be feeling better."
*
Stanley Cup Victory Parade:
The City of Victoria will celebrate the 2014 Stanley Cup Champion Victoria Vipers at 11:00 a.m. on Friday, April 11th with a rally and parade outside their home ice arena.
"The City of Victoria is so proud of our Vipers, and we are looking forward to celebrating their championship with the best fans in the world," said Mayor Dean Fortin. "We also ask fans to enjoy the celebration responsibly by respecting the city and each other."
Fans are encouraged to cheer on the Vipers along the parade route or gather at the home ice arena for a celebration with the team and the coveted Stanley Cup trophy.
RALLY
There will be two public entrances to the rally. To accommodate the anticipated crowds, a jumbotron will be positioned at the side of the stage for enhanced viewing of the program and team, and additional jumbotrons will be set up alongside streets to accommodate the crowd.
Due to the large crowd anticipated at the festivities on Friday, City officials strongly encourage attendees to use public transportation in lieu of driving. For those who drive to the event, please be advised that the streets along the parade route and in the Loop could be shut down by 8 a.m. and access to many parking garages could be restricted. Additionally, the Victoria Police Department reminds attendees that anyone carrying backpacks or large bags must undergo additional screening. Coolers are not allowed into the rally and that there will be zero tolerance for drinking alcohol on the public way.
PARADE ROUTE
Double-decker buses featuring the team and front office personnel will ride to the rally beginning at approximately 10:30 a.m.
When the motorcade arrives at the rally site, the team will step off the buses to immediately start the rally.
There will be zero tolerance for drinking on the public way.
IMPACTED STREET CLOSURES
Motorists should anticipate street closures as necessary due to crowd size to ensure the public safety of pedestrians and parade attendees.
WEATHER
The weather forecast for Friday is 59 degrees with clear skies. Fans are encouraged to dress accordingly and make sure to stay hydrated throughout the day.
WATER AT THE RALLY
Closed water bottles will be allowed into the rally, water fountains will be onsite, and water will also be available from onsite vendors during the rally.
Post a Comment
You must be logged in to post a comment.
The AFHL agrees to a one year deal with Fantrax
January 4th, 2014
After several days of negotiation, the AFHL reached an agreement with Fantrax on Monday morning, one that will help the AFHL regain momentum and boost its prominence.
"The future of the AFHL is now extraordinarily bright," said AFHL commissioner Anthony Furino during a news conference at the Marriott Hotel in NYC on Tuesday. "I'm confident that this switch from Yahoo to Fantrax will make the AFHL much, much better, and much, much stronger."
AFHL deputy commissioners Gates Imbeau and Keith Cancilla watched the news conference from a doorway in the hotel lobby. Most GMs attended along with more than a dozen superstar players from around the league.
"We are honored and thrilled to be the new host of the most amazing fantasy hockey league on the planet," said Lee Kleiner, President of Fantrax. "The AFHL has a strong, intelligent, charismatic nucleus of GMs with a very bright future. Our goal is to give GMs in this league the best and most fun fantasy hockey experience in 2014-15 and beyond. We are 100 percent committed to the AFHL and we promise to help make 2014-15 the best season in AFHL history."
Fantrax's mission statement has always been to give people the ultimate fantasy sports experience. They started with a group of fantasy sports enthusiasts, some of whom were also experienced software developers, who were unhappy with the features and overall quality of existing websites like Yahoo and ESPN. Fantrax prides themselves on putting Yahoo and ESPN to shame.
Some of the current offerings by Fantrax include:
- The most powerful League Manager / Commissioner Product on the internet: more features, options, flexibility, and detailed help.
- An extremely fast and easy-to-use website.
- Continuous addition of new features requested by users to allow as much customization and automation as possible.
 FEATURE COMPARISON CHART:
| | | | |
| --- | --- | --- | --- |
|  Current Features | Fantrax | Yahoo! | ESPN |
|  Fully Customizable Public Commissioner Leagues | | | |
|  Points, Roto and 3 H2H (Points and Category) Scoring Systems (all sports) | | | |
|  Drag & Drop, "Easy Click" and "Classic" Lineup Change Methods | | | |
|  Trade Draft Picks (Present and Future) | | | |
|  Allow Players to be Owned By Multiple Teams | | | |
|  Multi-Team Trades | | | |
|  Auto-Enforce Owners to Take Healthy Players Off Injured Reserve | | | |
|  Customizable Scoring Categories per Any Position for All Scoring Systems | | | |
|  Up to 200 Teams Per League | | | |
|  Player Salary and Contract Options | Advanced | None | None |
|  Advanced Free Agent Claim/Bidding League Setup Options | Advanced | None | None |
|  Free Agent Bidding Contingency System | | | |
|  Start & End Season Stats at Any Dates (Including Retroactive Scoring) | | | |
|  Create League at Any Time During the Season | | | |
|  Live Chat rooms | | | |
|  Run and Undo Live/Auto/Offline Draft at Any Time | | | |
|  Start Live Online or Auto Draft at Any Time During the Season | | | |
|  Live Online Draft Commissioner Options | Advanced | Basic | Basic |
|  Live Online Draft Team Owner Options | Advanced | Intermediate | Intermediate |
|  Live Online, Automated and Offline Drafts | | | |
|  Offline Draft Tool | Advanced | Basic | Basic |
|  Full "Team Roster Position" Flexibility | | | |
|  Multiple Commissioners Allowed | | | |
|  Pre-Rank Players By Position for Automatic or Live Online Draft | | | |
|  Custom Team Selection for Player Pool | | | |
|  Customize Point Ranges for Scoring Categories in PB Leagues, All Sports | | | |
|  Waiver Wire Claim System Options | Advanced | Basic | Basic |
|  View Stats/Standings by Any Date Range | | | |
|  Commissioners Don't Have to Own a Team | | | |
|  Creation and participation of teams without owners | | | |
|  Detailed Context-Sensitive Help Within Every Fantasy League Screen | | | |
|  Roster League Setup Screen | Advanced | Basic | Intermediate |
|  Full Illegal Roster Capability | | | |
|  Capability to Deny Transactions Based on Roster Restrictions | | | |
|  Minor League Roster Positions | | | |
|  Minor League Eligibility Options | | | |
|  Detailed Email Notification Preferences for Fantasy Leagues | | | |
|  Statistical Analysis and Player Search Capabilities | Advanced | Intermediate | Intermediate |
|  Multiple Head-to-Head Matchups per Team/Period (e.g. Double-headers) | | | |
|  Head-to-Head Playoff Schedule Generator | Advanced | Basic | Advanced |
|  Manually Configure Regular Season and Playoff Head-to-Head Matchups | | | |
|  View All Teams at Once | | | |
|  Statistical Corrections Page | | | |
|  Manually Configure Which Real-Sport Games Count for Your League | | | |
|  Easy One-Click Undo Transaction Option | | | |
|  Min/Max Scoring Category Requirements | | | |
|  Real-time Stats Across the Entire Site | | | |
|  Lineup/Roster Period & Deadline Configuration Options | Advanced | Basic | Basic |
|  Trade Voting System Configuration | Advanced | Basic | Intermediate |
|  Keeper League Options | Advanced | Basic | Basic |
|  Track League Fees | | $24.95 | |
|  Player Watch List | | | |
|  Custom Tiebreaker Rules | | | |
|  Overall Commissioner Capabilities | Advanced | Basic | Basic |
|  Override Players' Eligible Positions | | | |
|  College Football & Basketball Content | | | |
|  MLB, NFL, NHL, NBA Commissioner / League Manager | | | |
|  College Football & Basketball Commissioner / League Manager | | | |
|  NASCAR Commissioner / League Manager | | | |
|  PGA Commissioner / League Manager | | | |
|  European Soccer Commissioner / League Manager | | | |
|  Playoff Commissioner / League Manager for All Sports | | | |
|  Quick and Detailed Customer Email Support | | | |
|  Projected Player Rankings Based on Your League's Custom Scoring System for Rotisserie, Points-Based Leagues | | | |
|  Manually Adjust Scores in Standings | | | |
|  Add New Players at any time to Your League's Player Pool | | | |
|  Commissioner Can Execute any type of Transaction Retroactive to any Date & Time | | | |
|  All Leagues are Backed Up Nightly and Can Be Recovered at Any Time | | | |
|  Auto-Generate Player Salaries for Your League Based On Your League's Scoring System, Real Player Salaries or Cap-Hits | | | |
|  Create Your Own Fully Customizable Salary Cap Game | | | |
|  League Prize Configuration and Tracking | | | |
|  Player and Team Salaries and Contracts are Per-Period not Per-Season | | | |
|  Custom fields/columns in Team Roster screen. | | | |
|  Lock Individual Team Owner Privileges | | | |
|  Commissioner Rule Changes Page | | | |
|  Copy/Renew League Function | | | |
|  Prevent Any New Players from Entering the Player Pool | | | |
|  Determine which types of injuries qualify for Injured Reserve status | | | |
|  Merge Any Periods Together in Your League's Schedule | | | |
|  Prevent Any Specific Games (NFL, MLB, etc.) from Counting in Your League | | | |
|  Allow/Disallow Claims/Drops and/or Trades Pre-Draft | | | |
|  Option to Prevent Claims for Injured Players | | | |
|  Option to Prevent Claims for Minor League Players | | | |
|  Option to Prevent Dropped Players from Being Claimed During Same Period | | | |
|  Optional "Can't Drop List" to Prevent Elite Players from Being Dropped | | | |
|  Option to prevent "Waiver Wire Churning" | | | |
|  Fully Automated Salary System | | | |
|  Fully Automated Contract System | | | |
|  Live Online Long/Extended Drafts | | | |
Fantrax is a full-fledged sports information site, containing the highest quality real-time statistics, up-to-the-minute news, player updates, injuries, boxscores, schedules, and much more.
In accordance with their purpose, Fantrax is constantly improving their website and they welcome user feedback. Because they are able to add new features very quickly, they seriously consider every feature request, and often implement them very soon after they receive them.
"Fantrax truly has a great system that will allow all teams to be competitive and have a chance to make the playoffs and even win the AFHL Stanley Cup," Furino said. "I'm looking forward to continuing to grow the AFHL with the help of Fantrax. I think the opportunities are great and I couldn't be more excited for the future."
The league setup process on Fantrax will start behind the scenes once the offseason gets underway. Furino and Fantrax have agreed to meet on 12 consecutive days in June to complete documents that will total over 30 new customized league settings and features for the 2014-15 season. 
Post a Comment
You must be logged in to post a comment.