As losses pile up, fans of rebuilding teams try to be patient
November 20th, 2013
"Patience, persistence and perspiration make an unbeatable combination for success" -American author Napoleon Hill
Patience.
It's become akin to a four letter word for the fanbases of Pittsburgh, Ottawa, San Diego, Fort Drum, and Philadelphia. The use of the word "patience" with the die-hard fans of these teams generally elicits a very emotional and sometimes fervent response.
We asked the fans of these rebuilding teams to tell us how they feel about their team this season and here is what they had to say:
"As a long suffering Ottawa Knights fan (three and a half years), I am very happy with the plan and I see it coming together over time. It's taking a while but the key is patience. I just hope GM Armstrong does not take his eyes off the long term goal for some short term success, since I do not consider a one series playoff run to be success." -James from Ottawa
"There's still a lot of work to be done but I like what Heroes GM Jason Henley has done with our team so far. Good job Jason, keep it up!" -Stanley from Pittsburgh
"It's already a difficult season but on the bright side it looks like the Killers are gonna win the Connor McDavid sweepstakes haha cheers Fort Drum!" -John from New York
"Part of my confidence in our GM [Paul Kiely] is that I really believe he won't lose sight of the ultimate goal and that is to build a powerhouse that wins several AFHL Stanley Cups. As much as I wish he'd open up a little and be just a tad more of a showman, I appreciate that he's all about sticking to the plan, not falling prey to the panic of the day. Hopefully that serves him well when the fans starts to get antsy about fast-forwarding things before it's time." -Mike from Philadelphia
"In Year 5 of a fantasy hockey dynasty league, it's going to be interesting to see if GM Main can get creative at the Trade Deadline and leverage teams with certain needs and roster issues to land some players he might not otherwise be able to nab. Should be able to pry away some top prospects from contending teams in exchange for veterans at the deadline. Looking forward to that time of year." -George from San Diego
"Some people think the rebuilding in Ottawa should be over now but I think we still need a few more assets. One more good draft is required as well as some key trades at the deadline. On the pro team roster, Jonathan Toews and Seth Jones should be untouchable." -Scott from Ottawa
"We gotta be patient. There are moments when I expect far more from the Killers, part of how they perform in those moments depend on the luck of what fell into their laps before then. So I'm not rushing. But I know most fans are on board with the rebuild now, people are going to choose a lot of different jumping off points. It will be interesting." -Mike from Fort Drum
"I like the fact that there's still no face of our franchise. I think the face of our franchise ought to be the Heroes logo, and the goal of the franchise ought to be to win a Stanley Cup. The whole is supposed to be greater than the sum of its parts." -Jimmy from Pittsburgh
"You can knock him for the moves he made and the moves he didn't make, but Stryska hasn't made an outright poor move. He is continually given high marks for the signings he makes and his choices at the draft. There's a lot of talent in the prospect system, and that's largely due to Stryska. Also, his stockpiling of picks is incredibly wise." -Chris from Fort Drum
"First off, I think Lucas Main has done a very good job since being given the keys to this team. He made some questionable moves in the past but they have been easily forgotten and his good moves overshadow them. It's sometimes hard to accept that Lucas took over a team that was bad to begin with. Looking at the roster now, it's got a lot of young promising talent because of his work." -Carlos from San Diego
"I have no problem with this rebuild. Like any fan, I would like to see more Wins, but it's going to take some time before we can say the rebuild is over. The parts are there, and there's more coming. I'm not worried about it at all. And if they get another top pick this year… wonderful." -Chris from Philadelphia
"The biggest question is how will they look at the end of this year? They have an excellent crop of "supporting" players now, but no real superstars. The system is there. They can win with three lines that are responsible and productive. Trade deadline and entry draft will be two very important times this year. Henley must be prepared and remain patient." -Brian from Pittsburgh
*
Quick Hits:
Hamilton beat Toronto with no goalies!! At the beginning of their matchup last week, Toronto GM Jordan Carbone posted some smack talk and basically wrote off the Firestorm because they had no goaltenders for the matchup. Hamilton's star players stepped up to the challenge and defeated Toronto 7-5. As a result, Toronto is no longer undefeated this season.
After getting their first win of the season, San Diego Gulls defenseman Yannick Weber went out and spent $300,000 at a club on Sunday night. He missed practice on Monday due to a hangover.
The London Mustangs have won two straight matchups. Star forward Claude Giroux's first goal of the season and the rampant trade rumors have the club buzzing. They've got a big test this week against the second place Washington Wolfpack.
The Comox Valley X-Men are playing well this season and slowly but surely they are silencing the naysayers. The emergence of young goaltenders like Ben Scrivens and Anton Khudobin have given the team a chance to be competitive in every matchup. "GM McKenna has really stuck by our side to ensure this team has a strong core of youth," said goaltender Craig Anderson. "We trained really hard in the offseason and all of the young guys are learning a lot from the veteran leadership in the locker room."
Frustrated with the poor play of his team, Manhattan coach Tony Furino flipped out in the locker room on Sunday night. According to several sources, Furino was seen shoving defenseman Kimmo Timonen against a wall. A few moments later he tried to hit forward Adam Henrique in the head with a steel chair. The police were called but Furino stormed out of the building before they arrived. Furino will begin seeing his shrink on a daily basis next week.
The Lakehead Ice Holes remain the top team in the league with an overall record of 50-12-10. The defending champions are the only team that is still undefeated this season.
Philadelphia is the only team still seeking their first win of the season.
The Toronto Red Devils lead the league in goals scored with 103.
Vipers forward Alex Ovechkin and Boston forward Alexander Steen are tied for the league lead in goals with 17.
The Toronto Red Devils lead the league in points scored with 255.
Boston forward Alexander Steen is the league leader in points scored with 26. Sidney Crosby (Buffalo) and John Tavares (Oshawa City) trail Steen by 1 point with 25 each.
Red Devils defenseman Erik Karlsson has already scored 20 points this season which is the most among all defensemen in the league.
Boston goaltender Josh Harding is the top ranked goalie in the league right now. He has racked up a total of 12 wins, a 1.25 GAA, .946 SV%, and 2 shutouts.
Post a Comment
You must be logged in to post a comment.
Biggest surprise starts to the 2013-14 AFHL season
November 5th, 2013
We're a month into the 2013-14 AFHL season. There have been plenty of big stories so far so let's take a look at the three most shocking starts this year.
The biggest surprise is the Montreal Xtreme, but in all honesty it really wasn't far out from happening. After successfully completing a three year rebuild by making some big splashes via trade in this past summer, Montreal has exploded to a 33-9-6 start this season which is the third best record in the league.
"When I took over three years ago, this was the absolute worst team in the league," Montreal GM Keith Cancilla told a reporter after practice on Monday. "We were the league doormats. But I made a plan to rebuild this franchise and turn it into a powerhouse. I knew it wouldn't happen over night so I had to be patient. Slowly but surely I executed my plan of mostly stockpiling draft picks and developing prospects. Then I cashed in my chips this past summer with some big trades for proven talent and now look at where we are."
The excellent play of Montreal's newly acquired superstars has made the difference. Players such as Bobby Ryan, Corey Perry,  Brad Richards, and Daniel Alfredsson have led the way on offense. In goal, Roberto Luongo has been playing lights out. By all means, on paper, this team is much stronger than the one that almost got into the playoffs last year.
"Being one of the more skilled and enjoyable teams to watch, I look forward to seeing the Xtreme making a strong playoff push," said AFHL Commissioner Tony Furino. "I believe I witnessed a truly amazing and successful rebuild so now I'm very excited to see how Montreal ends this season. One thing is for sure, Keith Cancilla is the early favorite for this year's Jack Adams."
Another shocker this season is the Twin City Vikings. With the star power the Vikings have such as Kessel, Kane, MacKinnon, Yakupov, and Holtby, they should not be 16th in the standings with a 12-28-8 record.
Apparently, there was a "Fire Phil Svoboda" chant from their disgruntled crowd in the final minute of their 7-3 loss to Boston on Sunday night.
"It's way to early in the season to hit panic button," Vikings GM Phil Svoboda said on Tuesday morning. "The fact that we have a very young team with several rookies in the lineup has to be taken into consideration. We've got world class talent, we'll adjust soon enough."
Possibly the biggest surprise this season is the Washington Wolfpack boasting a 30-7-11 record which is good for second best in the league standings.
"The offense is on fire for Rick Charron's squad," said Hamilton GM Gates Imbeau. "Gotta give credit when credit is due. Charron is a guy who's constantly beating on his craft, trying to improve his team every day. He's always making roster moves, signing free agents, trading players. He's constantly improving his team."
Strong starts don't dictate everything in a full AFHL season, but if the players can consistently perform at their best with a healthy Tukkaa Rask in net, then Charron and the Wolfpack could be making a return to the playoffs sooner than everyone thought.
*
QUICK HITS: 
Montreal GM Keith Cancilla has recently been rumored to be starting a rivalry with Toronto GM Jordan Carbone. Apparently, Carbone has wanted several of Cancilla's recent acquisitions.
Pittsburgh Heroes forward Patrick Dwyer is currently leading the league in "Press Clips to Points Ratio" with a dominating 74/1.
The Toronto Red Devils are currently leading the league in goals scored with 79 and in points with 190.
Gulls forward Jamie Benn has purchased a mansion right on the beach in San Diego and plans on playing his entire career for the Gulls.
Although the London Mustangs have gotten off to a slow start this year, there are still some bright spots. Mustangs forward Frans Nielsen is playing at a torrid pace right now. London GM Matt Plachta said he's been impressed with the play of Nielsen as well as Vrbata and Shattenkirk. Plachta also said if the team doesn't turn things around soon then he may look to make some trades.
Buffalo Phantoms forward Sidney Crosby currently leads the league in scoring with 23 points. Toronto Red Devils forward Steven Stamkos trails him by three points with 20.
The teams who are still undefeated are: the Lakehead Ice Holes, the Toronto Red Devils, and the Montreal Xtreme.
The teams who are still winless are: the Fort Drum Killers, the Philadelphia Crunch, the San Diego Gulls, and the Pittsburgh Heroes.
Post a Comment
You must be logged in to post a comment.
Lakehead Ice Holes celebrate last season's title, win opener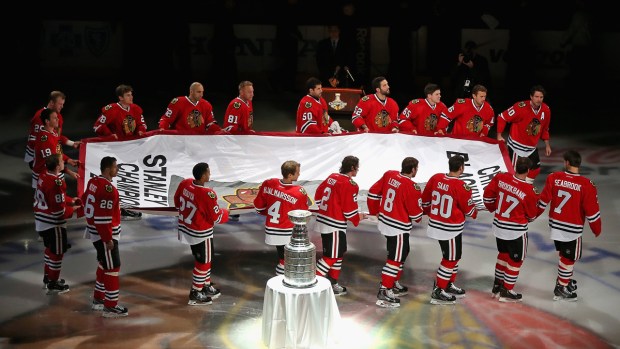 The defending Stanley Cup champion Lakehead Ice Holes opened their season with a 10-1 victory over the Manhattan Supermen in 2013 Finals rematch.
October 14th, 2013
The Ice Holes watched as their championship banner rose to the rafters at their home ice arena. They took another look at the Stanley Cup, and soaked in the applause from the sellout crowd.
Then Henrik Sedin and company went out and reminded the rest of the AFHL how they won that title.
Sedin, Martin St. Louis, and Teddy Purcell combined for 20 points in helping Lakehead kick off their title defense with a 10-1 victory over Henrik Zetterberg and the Manhattan Supermen in Week 1.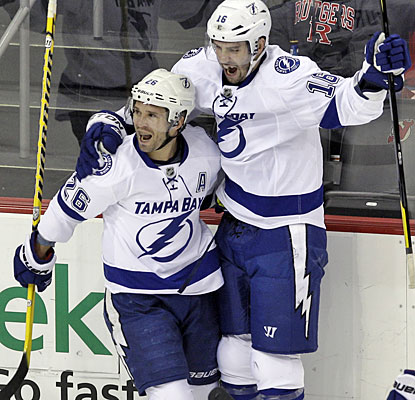 "We wanted a good start. I think we got that," Sedin said.
Jiri Hulder, P.A. Parenteau, and Dustin Byfuglien also put up big points for Lakehead in the dominating win. Jonathan Quick posted a .929 save percentage and made 79 saves, including a couple of huge stops when the Ice Holes killed off an early five-on-three power play.
Lakehead coach Jason Briggs made it clear in training camp that an opening surge is a priority.
"The guys have been in a good place since Day One of the season," Briggs said. "You've got to commend them on how they prepared themselves. If they consistently play like this all year then I think the Ice Holes will be the first team in AFHL history to win back-to-back Cups."
Quick Hits:
Thomas Hertl, the Philadelphia Crunch's 19-year-old rookie wunderkind, is currently the top goal scorer in the AFHL with seven goals in five games.
After winning his first ever Vezina Trophy in the AFHL, Washington Wolfpack goaltender Tuukka Rask is already on top of the goaltending leaderboard with three wins and a 1.00 GAA.
Buffalo Phantoms captain Sidney Crosby is currently leading the league in scoring with nine points in five contests and has recorded his longest point streak to begin campaign since his rookie season of 2005-06.
Ottawa GM Ryan Armstrong is very happy about the Knights getting off to a good start this year. "It's a good sign we're taking a big step forward this year," Armstrong said after Sunday's 6-4 win over the Hamilton Firestorm.
Rumor has it that Chiefs GM Mike Nellany could be in the market for another starting goaltender. "We expect to compete this year," Nellany told a reporter after practice on Monday. "I think we're just one goalie and player away from being a legit contender for the Cup."
"I've said it before and I'll say it again… Bernier is better than Quick," Red Devils GM Jordan Carbone told the media on Tuesday. "Bernier is already boasting a 1.74 GAA and .946 SV% this season. Feeling good about our team right now. We put up the most points in the first week of the season with 75 points… and that's without James Neal who is still injured."
Post a Comment
You must be logged in to post a comment.
LIVE Blog Coverage of the 2013 AFHL Awards Show
September 30th, 2013
The 4th Annual AFHL Awards Show has arrived and TheAFHL.com's Harry Beaver is live-blogging the event.
Hockey analysts such as Barry Melrose and Kathryn Tappen will be reporting from the press room and red carpet, with many more reporters filing from around the world.
Follow along and tell us what you think in the comments throughout the show.
The Pre-Show (Red Carpet Arrivals) is scheduled to begin shortly. The actual Awards Show is scheduled to begin at 8:00pm EST, and unfortunately, the Post-Show (Live Chat After-Party) has been cancelled this year due to website construction.
Pre-Show: Red Carpet Arrivals
7:00pm – Broadcasting is now underway as the camera zooms in on the red carpet.
7:02pm – A range rover pulls up to the red carpet. Fans rush to the range rover to see who is inside.
7:03pm – San Diego Gulls GM Lucas Main steps out of the range rover and he's wearing a tuxedo shirt that shows he's formal but still likes to have a good time. His guest for the evening is Buffalo Phantoms GM Daryn Beckman's sister.
7:05pm – A lot of people are on the carpet but no star players yet. Just security and the heaps of media.
7:10pm – Montreal Xtreme GM Keith Cancilla has just arrived on a public/transit bus probably because his payroll has increased dramatically this year from all the trades he made over the summer. He's wearing an Xtreme jersey that reads "Fuck Kovy" on the back. He's also holding a replica AFHL Stanley Cup trophy over his head.
7:12pm – A reporter asks Cancilla about the replica trophy and Cancilla says the trophy is his guest and it will be sitting in the seat next to him during the show.
7:05pm – Red Devils defenseman Erik Karlsson is the first player to arrive. Other star players such as Jonathan Quick and Evgeni Malkin appear shortly after.
7:15pm – Washington Wolfpack GM Rick Charron has just pulled up in an old style gangster car and he's wearing the gangster suit and hat to match. He has two beautiful women with him who are wearing nothing but the Wolfpack jerseys that barely cover their asses. The camera zooms in on the women to reveal their identities: Kate Upton and Alyssa Milano.
7:17pm – Charron shakes hands with Montreal GM Cancilla and San Diego GM Main.
7:20pm – Comox Valley X-Men GM Pat McKenna has arrived in a 1972 Pinto. Like Montreal GM Cancilla, he currently has a budget issue. Cancilla walks up to McKenna, gives him a big hug and tells him it's going to be alright. A reporter interviews the three GMs. Charron compliments McKenna's tuxedo and Charlie Chaplin bowler hat. McKenna says he borrowed the wardrobe from a friend but he's thrilled to be here.
7:23pm – Players continue to appear on the red carpet including Deer Park goaltender Henrik Lundqvist and Lakehead forward Martin St. Louis.
7:25pm – Ottawa Knights GM Ryan Armstrong just stepped out of a black limousine. He's wearing a nice tuxedo and blows a kiss to the camera.
7:26pm – Hamilton Firestorm GM Gates Imbeau has just arrived after a flight back from Jamaica. He's wearing a funny shirt that says "Tony for Prez!" and his guests are the beautiful Rashida Jones and Yvonne Strahovski. San Diego GM Lucas greets Gates with a handshake. Gates tells him he's back from Jamaica only for the awards show. He has a midnight flight to go back to Jamaica after the show.
7:29pm – A chromed out hearse just pulled up to the red carpet. Fort Drum GM Steve Stryska steps out with Danny McBride wearing Killers jerseys. McBride tells a reporter he's been a huge Killers fan and like many Killers fans he will continue to be patient during the organization's rebuilding process.
7:30pm – Toronto GM Carbone and Hamilton GM Imbeau are trade talking.
7:30pm – Twin City Vikings GM Phil Svoboda has just arrived on a Twin City Vikings float. He's accompanied by an entourage of Vikings cheerleaders called the Fallegur Stelpas. They're wearing the traditional mint green sequin outfits and Viking helmets. Svoboda is wearing a sequin tuxedo in Viking green. He's also accompanied by his wife and his first overall pick in the 2013 Entry Draft, Nathan MacKinnon.
7:33pm – Toronto Red Devils GM Jordan Carbone has just pulled up on a pimped out tricycle with a sidecar driven by Chewbacca and it's shooting missiles onto the red carpet that explode into thunderous bass pounding beats. Carbone's wearing a Team Canada jersey that is half Subban and half Stamkos. Accompanying Carbone is the notorious Tori Black and Ferrah Abraham who is there just to be a complete bitch to everyone in attendance.
7:34pm – In an interview with hockey analyst Barry Melrose, Taylor Hall says the Red Devils are ready to win it all this year.
7:34pm – Carbone tells a reporter his jersey is the only one of it's kind. It was sewn together with a material that was made with Victoria GM Chris Hartley's tears that were somehow collected at the time of his playoff defeat.
7:36pm – Comox GM McKenna is now being interviewed by Barry Melrose. He tells Barry that he's excited about the new season. He says his biggest acquisition this summer was Roberto Luongo but there are still some adjustments in the lineup to make. Lots of guys are battling for rosters spots and don't be surprised to see this squad make a late run for the playoffs.
7:37pm – The AFHL Commissioner / Manhattan GM Tony Furino is seen stumbling onto the red carpet. Ottawa GM Armstrong is heard saying Furino reeks of booze. A reporter asks Furino how many drinks he had before the show. Furino says, "I drank about 30 beers. [Slurs words] I don't know where I am right now."
7:38pm – Deer Park GM Mike Nellany forgot about the Awards Show until this morning and the rumor going around on the red carpet is that he had to hop on a Lier Jet to arrive before the start of the ceremony.
7:38pm – Tony Furino just barfed on the red carpet.
7:39pm – London Mustangs GM Matt Plachta has just arrived in a clown costume. He's wearing tight-fitting, skinny polka dot pants and a ruby encrusted nose piece with a whiskey spitting flower pin. His date tonight is Harley Quinn.
7:40pm – Plachta tells a reporter he lost a bet when the Mustangs failed to qualify for the 2013 playoffs.
7:41pm – Philadelphia Crunch GM Paul Kiely is seen riding down the red carpet on his 1974 moped. He gives high fives to several GMs before parking his moped and greeting some Crunch fans hanging on a railing.
7:43pm – Kiely is the third GM tonight who is not afraid to talk about his money problems. He tells a reporter with the Crunch struggling at the gate and him not willing to reduce salary, he's had to cut back in other areas. As with the moped and due to his focus on funds, building the team to a champion, he has focused his dollars in areas outside of his own wants and needs. He's wearing a timeless outfit and he chose not bring his wife to the show because there is no open bar. He adds that she needs to stay very hammered to not realize how poorly she married.
7:44pm – North Bay Warriors GM Mike Brunetta has just arrived on the back of an elephant. He's wearing a snazzy suit. The suit jacket is in the style of the North Bay Warriors road white jersey. Sitting behind him on the back of the elephant is actress/model Amber Heard.
7:45pm – A limousine pulled up to the red carpet about ten minutes ago and whoever is inside has not yet gotten out of the limousine. Some antsy fans just jumped a barricade, ran up to the limo and opened the door. Camera zooms in and Deer Park GM Mike Nellany is seen getting a lap dance from Jordan Carbone's ex-girlfriend. Nellany eventually gets out and begins greeting the other GMs on the red carpet.
7:46pm – Washington GM Charron is currently being interviewed by hockey analyst Darren Pang. He talks about the high expectations for the Wolfpack this year and at the end of the interview he shouts, "Where is my mother fuckin 40 creek at?"
7:47pm – Lakehead Ice Holes GM Jason Briggs has just pulled up fashionably late in a yellow 2014 Porsche Cayman.
7:47pm – Accompanying Briggs is the former TSN Sportscentre duo of Jay Onrait and Dan O'Toole. Although now hosting the new Fox Sports Live, Jay and Dan have strong ties to Canada and are regular guests at Ice Holes games.
7:48pm – Media is now going crazy trying to take pictures of the Lakehead Ice Hole players who have just arrived with the AFHL Stanley Cup.
7:48pm – Briggs tells a reporter that he's been living large since winning the 2013 AFHL Stanley Cup last Spring. Earlier today, he had a previous engagement at the playboy mansion with several playboy playmates.
7:49pm – Victoria Vipers GM Chris Hartley has just crashed the red carpet with seven of his best friends. Hartley's wearing black dress pants, a red shirt, a black velvet vest, a red bowtie, with a sombrero on his head.
7:50pm – Barry Melrose grabs Hartley for a quick interview. Hartley says the Vipers may not win any awards tonight but look out for the Vipers next year.
7:51pm – One of Hartley's friends just pants'ed the Commish to reveal that the Commish freestyles in front of a group of women who respond with gasps of horror. Commish says the ladies get scared because the angle of his dangle is inversely proportional to the heat of his meat..
7:55pm – Red carpet is starting to come to a close. Most of the big stars, GMs, and nominees have arrived and are being asked to take their seats.
The Main Event: 2013 AFHL Awards Show
8:00pm – The awards show starts with a funny opening skit with tonight's host: David Letterman.
8:05pm – Letterman introduces the future hall-of-fame defenseman Nicklas Lidstrom to present the first award of the night.
Norris Trophy
Awarded to the top defenseman who demonstrates throughout the season the greatest all-around ability in the position (consider offensive stats, plus/minus, and contribution to team success).
The nominees are…
P.K. Subban, Toronto Red Devils
Kris Letang, Lakehead Ice Holes
Shea Weber, Hamilton Firestorm
Duncan Keith, Oshawa City Leafs
And the winner is…
P.K. Subban, Toronto Red Devils
8:15pm – Letterman introduces a surprise guest to present the next award. Comedian Lewis Black appears on stage.
Trash Talker Trophy
Awarded to the best trash talking GM
The nominees are…
Toronto GM Jordan Carbone
Lakehead GM Jason Briggs
Deer Park GM Mike Nellany
And the winner is…
Toronto GM Jordan Carbone
8:30pm - Hall-of-Famer Pavel Bure is introduced to present the next award.
Calder Trophy
Awarded to the best rookie
The nominees are…
Nail Yakupov, F, Montreal Xtreme
Brendan Gallagher, F, Philadelphia Crunch
Brandon Saad, F, Boston Giants
Alex Galchenyuk, F, Manhattan Supermen
And the winner is…
Brendan Gallagher, F, Philadelphia Crunch
8:45pm – Hall-of-Fame goaltender Ed Belfour is introduced to present the Vezina Trophy.
Vezina Trophy
Awarded to the best goaltender
The nominees are…
Jimmy Howard, North Bay Warriors 2
Antti Niemi, Lakehead Ice Holes 1
Sergei Bobrovsky, Washington Wolfpack 5
Tuukka Rask, Washington Wolfpack 9
And the winner is…
Tuukka Rask, Washington Wolfpack
8:45pm – Comedian Lewis Black appears on stage once again to present the Laugh Out Loud trophy.
Laugh Out Loud Trophy
Awarded to the GM judged to be the best at making fun of anyone and/or anything. The funny GM says things that are completely unexpected and different from the norm to surprise people. Basic categories of humor include absurdity, exaggeration, mockery/ridicule, verbal humor. A funny GM is at his best when he forgets himself. He says the first thing that comes into his head and doesn't even try to be funny. He throws himself into an unknown future and doesn't even think about limits or boundaries. He's relaxed and loose and bold. He'll just go for it. He'll go off on some crazy tangent. A funny GM lives in the moment and sometimes he just doesn't give a fuck.
The nominees are…
Buffalo GM Daryn Beckman
Lakehead GM Jason Briggs
Toronto GM Jordan Carbone
Deer Park GM Mike Nellany
And the winner is…
Deer Park GM Mike Nellany
9:00pm – Hall-of-Famer Joe Sakic appears on stage to present the Hart Trophy.
Hart Trophy (MVP)
Awarded to the player judged most valuable to his team in the regular season.
The nominees are…
Steven Stamkos, F, Toronto Red Devils
Alex Ovechkin, F, Victoria Vipers
John Tavares, F, Oshawa City Leafs
Jimmy Howard, G, North Bay Warriors
Antti Niemi, G, Lakehead Ice Holes
And the winner is…
John Tavares, F, Oshawa City Leafs
9:15pm – AFHL Commissioner Tony Furino appears on stage and gives a speech about the rock solid foundation of the AFHL and how the league as a whole will continue to get better and better. He then introduces Pittsburgh GM  Jason Henley, the newest GM in the AFHL, to present the last award of the night.
Jack Adams Award
Awarded to the "Best" Coach / GM of the Year.
Important skills to be considered: winning, trading, brewing rivalries, posting on message boards, being active on a regular basis, and having fun.
The nominees are…
Lakehead GM Jason Briggs
Toronto GM Jordan Carbone
Victoria GM Chris Hartley
North Bay GM Mike Brunetta
Hamilton GM Gates Imbeau
Twin City GM Phil Svoboda
And the winner is…
Lakehead GM Jason Briggs
Briggs receives a standing ovation as he walks up to the stage. Furino and Henley exchange handshakes with Briggs at the podium. Briggs gives a short speech basically saying it was an incredible year that he will never forget and he thanks a list of people including his friends and family. He ends by saying, "Swag is very prominent in the Ice Holes front office. Our franchise is poised to defend the title this season and for several seasons beyond. This dynasty has only just begun."
Briggs gets another standing ovation as he walks off the stage.
9:28pm – AFHL Commissioner Tony Furino ends the show with a final speech:
"That's our show tonight. I do wanna thank all GMs for doing a fantastic job last season and throughout the summer. Congratulations to all the winners tonight. Big thanks to all the fans of the AFHL, wherever you are in the world, whichever side of the clouds you're on and watching, hope you enjoyed this year's celebration of the most amazing fantasy hockey league on the planet. Looking forward to an amazing 2013-14 season. Thanks and goodnight."
9:30pm – Audience applauds as music plays and screen fades to black.
OTHER NOTABLE TROPHIES:
Maurice Richard Trophy
Top goal scorer in regular season
Winner: Alex Ovechkin, Victoria Vipers
Presidents Trophy
Team with the best record in regular season
Winner: Lakehead Ice Holes
Art Ross Trophy
Player who leads the league in scoring points at the end of the regular season
Winner: Martin St. Louis, Lakehead Ice Holes
Conn Smythe Trophy
Playoffs MVP
Winner: Evgeni Nabokov, Manhattan Supermen
Stanley Cup
League Championship / Winner of the Stanley Cup Playoffs
Winner: Lakehead Ice Holes
TONIGHT'S TROPHY TOTALS PER TEAM:
Lakehead – 4
Toronto – 2
Manhattan – 1
Victoria – 1
Oshawa City – 1
Washington – 1
Philadelphia – 1
Deer Park – 1
ALL-TIME TROPHY TOTALS PER TEAM:
Pittsburgh Heroes – 8
Buffalo Phantoms – 7
Deer Park Chiefs – 7
Lakehead Ice Holes – 6
North Bay Warriors – 6
Hamilton Firestorm – 5
Washington Wolfpack – 5
Toronto Red Devils – 5
San Diego Gulls – 3
London Mustangs – 2
Boston Giants – 2
Victoria Vipers – 2
Manhattan Supermen – 2
Philadelphia Crunch – 2
Montreal Xtreme -1
Oshawa City Leafs - 1
*Commish will add Trophies/Awards to team pages as soon as possible.
Post a Comment
You must be logged in to post a comment.
Lakehead celebrates Stanley Cup with parade and rally
April 25th, 2013
An estimated 120,000 fans turned out Thursday to cheer for the Lakehead Ice Holes, holding a boisterous parade and rally to honor the Amazing Fantasy Hockey League champions who beat the Manhattan Supermen 7-2 in the Stanley Cup Finals.
"I've had to wipe away a few tears," Lakehead forward Andrew Ladd said. "This is why I play in Lakehead."
Four days after the Ice Holes raised the hallowed trophy, spectators jammed the streets of downtown Lakehead to join the party.
 "I didn't expect this many people to show up for the parade," said Ladd. "Incredible!!"
The Ice Holes rode double-decker buses and flatbed trucks in a parade through downtown Lakehead, past thousands of roaring fans. Eric Staal and Antti Niemi then raised the Cup outside Lakehead's home ice arena, where the Ice Holes completed their three week rampage through the postseason on Sunday night.
"It was more than you could ever expect," forward P.A. Parenteau said. "It's one of those moments you want to live over and over again. It's amazing to hear all the support, and to put faces to the cheers we've heard all year."
The Ice Holes gathered inside the arena for a packed rally, with fans waving towels and giving repeated standing ovations to every speaker. GM/Coach Jason Briggs even pumped up the fans with a series of joyously out-of-character fist pumps, and forward Henrik Sedin riled them up even more.
"What's up Lakehead? Anyone want Jarome Iginla's cell phone number?" Sedin playfully called out to the fans. "This is too much fun not to win it again next year!!"
"Just to see the looks on their faces after they won it is something I'll remember for the rest of my life," said Jason Briggs. "It's just amazing, amazing, amazing."
The Ice Holes will have all summer to absorb what they accomplished this spring. The Stanley Cup has already made an extensive tour of Lakehead, starting at a local pub just a few hours after the Ice Holes claimed it. The Cup was in Kris Letang's backyard Tuesday morning, where one of his nephews drank milk and ate cereal out of the bowl while wearing his Iron Man pajamas.
After appearances on two talk shows on Tuesday, the Cup was seen at a popular stage show in a historic Ontario hotel, where Will Ferrell and Brock Lesnar joined in the celebration.
"It feels great," said Letang. "You want to have parades every year. It's going to be tough, but we think we have the team to do it."
The Ice Holes are uniformly excited they've got a strong chance of defending their title next season with much the same roster. GM Briggs, who lost his voice in the post-Cup celebrations and couldn't speak to the rally crowd, already has already promised most of Lakehead's key contributors for at least one more year.
"I'd say my chances are pretty good," veteran forward Jarome Iginla said of his chances of returning to Lakehead. "I want to be back. They've got a good thing going here, and I love it."
Post a Comment
You must be logged in to post a comment.
Lakehead Ice Holes Win the AFHL Stanley Cup!
April 22nd, 2013
When AFHL Commissioner Anthony Furino handed Lord Stanley over to Lakehead's captain Eric Staal, you got a sense this was just the beginning of a Lakehead-style party that would last long into the night.
After taking the Cup, Staal let loose with a loud yell before smacking three kisses on the coveted trophy. He skated for approximately 20 seconds with the Cup high above his head before handing it over to his brother Jordan.
"This is certainly something special," Staal said. "You dream of winning the Cup, and you know what, I'm glad to know I was the first Ice Hole to ever lift it."
Jordan Staal eventually handed the Cup over to Jarome Iginla. The procession continued as players such as P.A. Parenteau, Keith Yandle, Kris Letang, Antti Niemi all received a twirl with the Cup.
Defenseman Kris Letang returned from injury and scoredfour points in the Finals.
Andrew Ladd, who scored 8 points in the Finals, would eventually get his hands on the big prize, too.
And GM/Coach Jason Briggs would also have a chance to raise the Cup.
"Amazing," Briggs said at his postgame press conference. "I had plans about this and had dreams about it. I wanted this to happen and I worked hard every day and took action, day-to-day decisions, running practices, everything. It's also the players in our room. They've been tremendous all year. You can't say enough about this group and how hard they worked."
The pregame video just before the Lakehead Ice Holes took the ice at their home ice arena during the AFHL Stanley Cup Playoffs was accompanied by multicolored spotlights, a laser show and images projected onto the playing surface. The heart of the video, though, goes to the soul of this sport. There are pictures of the Ice Holes in their youth, boys wearing over-sized hockey equipment who dreamed of reaching the pinnacle of the sport they loved.
The boys in those faded photos arrived there Sunday night.
Lakehead, on the strength of their dominating offense, finished off the Manhattan Supermen with a 7-2 victory in the Stanley Cup Final, earning the franchise's first championship in its four-year history.
The victory caps one of the most dominating seasons in League history. Lakehead finished the regular season with the best overall record and the number one ranked offense in the league. In the postseason, they were unstoppable. They defeated Oshawa City 10-1 in the first round. They defeated Toronto 6-4 in the second round. And they defeated Manhattan 7-2 in the Finals.
"I don't know, I can't even describe it," forward Jarome Iginla, who at 35 years old the eldest of the Ice Holes, said after winning the Cup for the first time. "Everyone played road hockey as a kid. We had a green garbage can that everyone would go around and pose with it. We just did it for real, baby. This is awesome. It has been a great journey."
The Supermen proved to be a tough foe all week before finally succumbing over the weekend. They also had a pretty incredible postseason run, knocking off the Vikings in the first round, and vanquishing the Vipers in the second round en route to their first Finals appearance in franchise history.
A small consolation was Manhattan goaltender Evgeni Nabokov, who was awarded with the Conn Smythe Trophy as playoff MVP.
"Nabby" never smiled as he accepted the trophy and immediately skated off the ice with it as the Ice Holes applauded.
"That was very nice of them," he said. "But the Conn Smythe Trophy is not the one I wanted."
As the Ice Holes mobbed each other in victory at the final buzzer, tears rolled down Nabokov's face. Teammate Henrik Zetterberg was the first player to console him as he rested his left arm on the net. Eventually he fell to the ice and took his helmet off. Soon, the rest of the Supermen skated up and patted him on the head. He used his jersey to wipe away more tears.
"I don't think there was any question that he was the reason why we made it all the way to the Finals," Zetterberg said. "He was unbelievable throughout the entire playoffs. It's tough to lose when you make it all the way to the Finals, but this is a good thing for our organization. We took some big steps forward. We will be back."
Jason Briggs thinks the Ice Holes will be back, too.
"We're enjoying these emotions right now but it's not over for us," said Briggs. "I'm building a dynasty here."
*
Ice Holes fans hoping to carry on their Stanley Cup celebrations will have another chance Thursday at a parade and rally scheduled in downtown Lakehead. The parade is to start at 12 noon.
Players and their families, coaches and others are expected to ride in double-decker buses and other vehicles during the 30 to 45 minute parade.
An hour-long "championship rally" is scheduled to begin at the Ice Holes home ice arena at 2:30 p.m., featuring video highlights, presentations and speeches from several players, the team said.
Tickets are required, but are free. They will be distributed on a first-come, first-serve basis and are available online. Officials said season-ticket holders and suite and premier seat owners would be given first priority, with the remaining tickets made available to the public at 6 p.m. Tuesday.
There is a limit of four tickets per order, officials said.
*
LIVE in Lakehead: Final Minute of Stanley Cup Finals
+ Ice Holes Locker Room Celebration
Post a Comment
You must be logged in to post a comment.