San Diego Gulls Make History with Repeat Title
April 2nd, 2018
History is not made in one game. History is not made in one day. History is not made in one year.
History is built on the accumulation of time. It is as elusive as it is magnificent.
The 2018 San Diego Gulls have etched their names in history, both literally and figuratively, as they became the first team in AFHL history to win two AFHL Stanley Cup championships after defeating the Washington Wolfpack, 7-3, on Sunday in Game 7 of a seesaw series that pitted a high-scoring heavyweight against an upstart challenger.
It is an achievement that will live forever.
Over the years, the San Diego Gulls have gone through an ever-changing cast of players but the one staple has always been GM/Coach Lucas Main.
"We knew it was going to be tough all year, but we just tried to keep with it," Lucas said amidst the locker room celebration. "We had a lot of injuries and things like that. We just kept finding ways. That was really what we did all season, all playoffs. It's great to be able to do it."
Along with the team, Lucas Main has become the first GM in AFHL history – eight years – to win two AFHL Stanley Cups as well as the first to win back to back AFHL Stanley Cups.
"You might have a small window to win a Stanley Cup," Lucas said. "I feel fortunate, but I also understand how difficult it was so you just want to try to make the best of it."
Gulls goaltender John Gibson was named the MVP of the Playoffs. He posted a 1.97 GAA and a save percentage of .931% in the Finals.
"I think I'm just really happy for this group," Gibson said after skating around the rink with the Stanley Cup. "A good chunk of the guys were returning from last year, so it's pretty special. We set out to try to go back-to-back. We knew it was going to be pretty difficult, but I think that's probably where the most joy comes out of is just knowing how difficult it is to go back-to-back and knowing that we overcame all those things. It's a pretty special group, I'll say that."
Gulls forward Nikita Kucherov shed tears of joy in his post-game interview.
"I think this feeling right here. You can't match this," said an emotional Nikita Kucherov. "It's what it's all about, and to be able to share that with a group of guys, a lot of them guys that you've played a long time with and understand how difficult it is and what you've had to go through and that kind of thing, share it with family and friends, that's what it's about."
After hugging GM Lucas Main for what seemed like five minutes, Gulls forward Evgeni Malkin was asked what words were shared between the two.
Malkin paused for a moment and responded with one phrase: "Three-peat."
*
"It stings," said Wolfpack goaltender Martin Jones. "I think the biggest thing we've got to take from this is, remember the feeling. That's what's going to drive us … We're going to be back here again next year."
Washington GM Rick Charron was a hard man to find after the loss. Media eventually caught up to him a couple hours later outside the Wolfpack locker room.
"It's hard to describe. You dream about lifting the AFHL Stanley Cup for so many years, and the dream has happened probably a million times for most of us. Being that close, being one game away from lifting the Stanley Cup, it [stinks]. But for us, we did so many things well and this is such a tremendous run for our team, and we have such a good well balanced team. I think we gained a ton of experience from this run and we are going to work hard to get back here."
*
The Gulls victory parade will be 11 a.m. next Wednesday, the city announced via Twitter early Monday afternoon.
Although a formal release is still upcoming, the route is expected to remain the same as last year.
The city expects as many as 500,000 people will gather along the parade routes and related celebrations, said Alexander Costa, the chief operations officer under the San Diego Mayor. Costa said that would rank the crowd total larger than last year.
Post a Comment
You must be logged in to post a comment.
2018 Stanley Cup Finals Preview
Best Quotes from Media Day
March 26th, 2018
"Woo for Two!"
That was the headline to the special Stanley Cup Final section in a San Diego newspaper on Monday morning, a reference to the Gulls' quest for a second straight Stanley Cup win.
San Diego GM Lucas Main knows this stage well. Game one (Monday 7 p.m.) will mark his second straight appearance in the Finals.
But despite the fact this will be the Washington GM Rick Charron's first ever appearance in the Cup Finals, he believes he and his team belong.
"Most of their guys won it last year and know what's coming at them," Wolfpack forward Patrice Bergeron said. "But we know that if we play our game and keep doing the things that got us here we can find success."
So while the talk for much of Monday morning was about the Gulls' stars and the opportunity for them to make history by becoming the first team to repeat as champions and the first team to win more than one Cup, the Wolfpack feel like this is their stage, too.
They've taken no shortcuts on the road here. They beat one of the Stanley Cup favorite Sharks in round one and beat one of the hottest teams over the second half of the season in the Nomads in round two.
Now to win their first ever Stanley Cup, the Wolfpack will have to beat the defending champs.
"This is probably the biggest challenge we've had to face all year in this series," defenseman Brent Seabrook said. "But I feel good about our group and we're confident in our team and like this matchup."
Washington coach Rick Charron on what making the Stanley Cup final means to the city
"Come to Washington and you'll see. Like I said to somebody earlier, you should put this on your bucket list if you don't have it. Our building is probably the loudest of all the arenas in the league. The atmosphere is electric."
San Diego coach Lucas Main on two American Conference teams in the final
"I think it speaks a little bit about the progress that the American Conference has made. I think there's a lot of really good teams that are working extremely hard to be the best. There's a lot of real good coaches in that conference as well. To be a part of that American fraternity, I guess, it's something that I'm certainly proud of."
San Diego's Evgeni Malkin on his attitude about being in the spotlight
"Probably was a little bit more inclined to yes [to interviews] all the time when I was younger. Probably a little better at saying no sometimes when the time is right. But I understand that this is part of it. … As you get older, you figure out what works."
Tyler Seguin on Washington's postseason inexperience compared to the Gulls
"At the end of the day, it's another hockey game. Sure we will be nervous during the first shift but we will settle in quickly."
Washington goalie Martin Jones on facing Malkin and Kucherov
"From a goalie perspective, when those guys are in your zone, you have to be on your toes and know what's going on."
Washington coach Rick Charron on injuries to key players
"All players will be available to us who made the trip. Chara and Thornton are currently game-time decisions but we fully expect them to be ready for Game 1 tonight."
Post a Comment
You must be logged in to post a comment.
AFHL Teams & Cities Preparing for Playoff Pandemonium
March 12th, 2018
The AFHL regular season ended last night and immediately the eight qualifying teams, hockey fans, business owners, and police began preparing for the playoff season.
Sports stores all around the United States and Canada started preparing for a rush of customers by ordering double the teams merchandise than usual.
"There's a whole new batch of merchandise, everything from jerseys to tattoos to face paint and streamers, and stuff like this," said Kelly Hodgson, manager of a Modell's sporting goods store.
Nearby the San Diego Gulls home ice arena, fans are planning to watch the games in bars and restaurants on a street where celebrations turned chaotic last year after winning the AFHL Stanley Cup.
Pittsburgh police are also busy preparing for celebrations, and said it will cost between $50,000 and $60,000 per night to patrol the streets. After losing Game 7 in the Finals last year, they know what to expect.
"Experience is a good teacher, and we definitely know where we have to prepare and what we have to look at and those plans have been underway for some time," Pittsburgh Deputy EPS Chief Brian Simpson said.
Most police squads won't say exactly where their extra resources will be deployed, but they're reminding fans they will be cracking down on public drinking and jaywalking during the playoffs.
Several years ago after the Buffalo Phantoms lost to the Hamilton Firestorm in the Finals, more than $4 million was spent on police resources and 900 people were arrested in the streets of Buffalo.
This time around, police are bringing in crowd control experts from the United Kingdom for insight on how to handle these situations.
Meanwhile, some of those not quite lucky enough to get a ticket to a playoff game at their team's home ice arena will be watching the games from their local bars such as The Irish Tavern in Washington right next to the Wolfpack's arena – where managers plan to bring in a DJ and extra staff on game nights.
Work is still underway in much of Atlantic City surrounding the Sharks arena – and the Sharks are working to find a way to engage with fans outside the arena.
"Obviously, like everything else in this industry, we're very superstitious about jumping too far ahead until it's locked down, but after the celebration from our playoff birth a couple weeks ago our whole organization is busy in meetings around the city today just finalizing plans," Stew MacDonald with the Sharks Entertainment Group said.
Tickets for home playoff games mostly spoken for
At this point, all eight qualifying teams are guaranteed at least two playoff games at home this week, and the teams say tickets will be hard to get, as the majority have already been spoken for by season ticket holders.
Those season ticket holders were given the first chance to reserve playoff tickets, and it's an opportunity most took.
"I can tell you the percentage is the highest we've ever seen, well over 90 percent," a Laval Nomads spokesman said.
Some teams' season ticket holders also have the option of entering a draw to buy more tickets next week – and whatever is left will go on sale the following day.
Manhattan officials say their number of tickets available at this point will be in the hundreds, not thousands, and they're expected to be sold "within minutes".
However, on game days, teams are expected to release more tickets and alert fans through email – services thousands of people have signed up for.
The Supermen wouldn't say what tickets will cost; only confirming the price will be comparable to what season ticket holders are paying. Round 1 ranges from an average of $125 per seat in the upper bowl, to about $213 per seat in the lower bowl, plus more than $300 for club seats.
In addition, tickets will not be issued in a hard copy – only digital. Supermen officials said they decided to go digital to avoid ticket fraud.
Post a Comment
You must be logged in to post a comment.
 Live Coverage of the
2018 AFHL Trade Deadline
February 6th, 2017
It's a new year and a new trade deadline with a live-blog that will be your guide through this hectic and crazy day. What can you expect here? You can expect to find the latest news, rumors, breaking news and some analysis too.
It's going to be a good time, keep refreshing every hour or so, and enjoy the coverage by Pierre LeBrun, Barry Melrose, and Bob McKenzie who is at TSN's studios for Tradecentre.
9:00 am

Bob McKenzie: Happy Deadline Day everybody! Welcome to our AFHL Trade Deadline live chat extravaganza! 
9:15 am

Barry Melrose: And so it begins… wonder which teams will be the first to make some noise… We're ready.
9:29 am

Pierre LeBrun: The day of AFHL reckoning is upon us. Tonight at 9pm EST, teams will have made their final moves in either their run for a shot at Lord Stanley's Cup or in their admission that 2018 just won't be their year. 
9:35 am

Barry Melrose: No trades so far but rumors are flying.
9:40 am

Bob McKenzie: Quiet overnight in Cape Breton specific to captain, Johnny Gaudreau. Teams have called with interest, but Crunch GM Liam Goyetche says nothing in the works.
9:58 am

Pierre LeBrun: Heard there was a trade made late last night between Montreal and Washington. Yanni Gourde to the Wolfpack but it's still not official. Anyone know what the hold up is?
10:00 am

Barry Melrose: I thought maybe a problem with the paperwork but now I'm hearing it's under review.
10:20 am

Bob McKenzie: Fort Drum defenseman Jake Muzzin was just pulled off the ice during Killers morning skate. Wonder if he just got traded…
10:34 am

Bob McKenzie: Update – Muzzin was not traded. He took a puck to the foot. He's back on the ice.
10:40 am

Pierre LeBrun: There's been some rumblings that San Diego is looking to acquire Ryan Miller from Manhattan because John Gibson keeps getting hurt. But according to Pierre McGuire, it's quiet on that front right now.
10:51 am

Barry Melrose: Text from London GM Matt Plachta: "A lot of interest in Kale Clague and Nikolai Goldobin. They aren't on the block but there are some offers that are making us think."
10:52 am

Barry Melrose: Plachta adds: "Looking towards next year. Willing to take on injured players from playoffs teams that just want healthy guys in lineup."
10:59 am

Bob McKenzie: Goldobin is an interesting player. He started out in the AHL this year on a tear with 12 points in 10 games. He has shown flashes of offensive skill but he's still a young player learning to play the game.
11:02 am

Pierre LeBrun: There's a rumor out there saying Sidney Crosby wants to be traded. Since being drafted by the Buffalo Phantoms first overall in the AFHL Inaugural Draft eight years ago, he still has not won an AFHL Stanley Cup. Made it to the Finals several years ago but never won.
11:03 am

Pierre LeBrun: Spoke to Buffalo GM Daryn Beckman about that rumor this morning. He said he would have to be blown away by an offer for Crosby.
11:09 am

Barry Melrose: Beckman should really consider trading Crosby. He can get a nice haul for him.
11:13 am

Pierre LeBrun: I agree. A Crosby trade would improve that team tremendously.
11:18 am

Bob McKenzie: I'm hearing Atlantic City is in talks to acquire a superstar from the Canadian Conference. Nothing concrete yet but talks have intensified. 
11:20 am

Barry Melrose: A little after 11am and still no trades today. Who will be the first domino to fall?
11:23 am

Pierre LeBrun: Apparently a lot of GMs are holding onto their trade chips waiting to see if Toronto starts the rebuild. Lots of delicious players on that team including Nicklas Backstrom and Erik Karlsson.
11:34 am

Bob McKenzie: The Red Devils are the most interesting team. Will they blow it up? Will they deal Backstrom? Karlsson? Carter?
12:30 pm

Pierre LeBrun: First trade of the day. Hamilton trades Nick Foligno and Cal Clutterbuck to San Diego for JT Miller and Jean-Gabriel Pageau.
12:45 pm

Barry Melrose: Nick Foligno on TSN right now. Sounds half asleep. Says he's excited for a change of scenery.
12:53 pm

Bob McKenzie: Twitter rumor says Ryan Suter was just removed from Firestorm practice. 
12:59 pm

Barry Melrose: Speaking of practice. Business as usual at the Westbury Royals practice today. GM Stephen LeDrew had a brief media scrum and said there has been some mild interest in Patrik Berglund and Andrew Cogliano.
1:08 pm

Pierre LeBrun: Port Hope Panthers rebuild is underway. After trading away Carey Price and Artemi Panarin last week, he is now looking to trade Evander Kane, Justin Schultz, and Derrick Brassard.
1:10 pm

Bob McKenzie: Ryan Suter did in fact leave the Firestorm practice. The reason? A skate issue.
1:42 pm

Barry Melrose: Lots of trades are brewing right now.
1:43 pm

Bob McKenzie: Hearing Manhattan is working on not one, not two, but THREE blockbusters.
1:50 pm

Bob McKenzie: Deer Park GM Mike Nellany says he's still thinking "big picture" at the deadline.
1:57 pm

Bob McKenzie: Source telling me Manhattan GM Tony Furino can't pull the trigger on any of three blockbusters being discussed until he has commitments from all teams involved. Maybe too many moving parts to get it done.
2:01 pm

Pierre LeBrun: TSN reporting the Washington/Montreal trade was just approved. Yanni Gourde is on the move to the Wolfpack. 
2:04 pm

Barry Melrose: Pittsburgh GM Jason Henley said he's going to have Washington GM Rick Charron handle his negotiations from now on. "How'd he get Gourde for a sack of dongs like that anyway?"
2:25 pm

Bob McKenzie: Am told over 10 teams have inquired on Gaudreau in Cape Breton. 
2:32 pm

Pierre LeBrun: Laval Nomads are listening to offers for Panik, Devan Dubnyk, Kadri, Dadonov, and Frolik.
2:43 pm

Barry Melrose: Ondrej Pavelec to Montreal. Waiting for details…
2:47 pm

Barry Melrose: Westbury trades Ondrej Pavelec and a 2019 Third Round Pick to Montreal for 2018 Second Round Pick.
3:13 pm

Bob McKenzie: Text from Boston GM Mike Phelan: "It's slow right now."
3:15 

Pierre LeBrun: Yeah, over the years we have seen it get slow around this time mid-day and then it picks up around dinner time. 
4:24 pm

Barry Melrose: Moncton GM Alex Bork is annoyed by the low ball offers he keeps getting for Corey Crawford. He's not looking to trade Crawford.
4:30 pm

Bob McKenzie: I'm hearing a few trades were just made in the last several minutes that includes Johnny Gaudreau going to Atlantic City. 
4:32 pm

Bob McKenzie: Fort Drum has traded Jake Muzzin to Pittsburgh for a couple goaltending prospects.
4:34 pm

Bob McKenzie: Shea Weber is on his way to London along with Jason Spezza. Hamilton gets back Tomas Hertl, Nikolai Goldobin, Vitaly Abramov and a 2018 first rounder.
4:36 pm

Bob McKenzie: Montreal has traded their 2018 second round pick for Andrew Cogliano and Hamilton's 2018 second round pick.
4:45 pm 

Pierre LeBrun: Twitter is blowing up over a potential Gaudreau trade. 
5:10 pm

Barry Melrose: Gaudreau trade details: Cape Breton trades Johnny Gaudreau to Atlantic City for Anthony Duclair, Charles Hudon, Nick Bonino, 2018 First Round Pick, and 2020 Second Round Pick.
5:21 pm

Bob McKenzie: Everyone is up in arms about that one. I'm hearing it's currently under Trade Review.
5:38 pm

Barry Melrose: Now joining us live via phone call in the TSN studios is Port Hope GM Keith Cancilla. Thanks for joining us, Keith. I know you don't have much time but you are one of the current members of the AFHL Trade Review Committee. Very quickly, can you tell us what are your thoughts about this trade?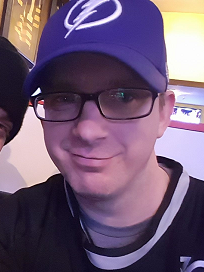 Voice of Port Hope Panthers GM Keith Cancilla
5:40 pm

Barry Melrose: Alright thank you, Keith. We'll know soon if this trade goes through.
6:30 pm 

Pierre LeBrun: The Gaudreau trade was vetoed.
7:15 pm 

Pierre LeBrun: Port Hope has just traded Brandon Dubinsky to Pittsburgh for a 2018 Second Round Pick.
7:49 pm

Bob McKenzie: It's the calm before the storm. Almost one hour til the deadline…
8:12 pm

Barry Melrose: Talks starting to pick up with less than one hour to go!!
8:33 pm 

Pierre LeBrun: Lots of chatter right now. You can feel the rush.
8:43 pm

Bob McKenzie: Just hung up with a GM who commented on how busy it is now. He said, "I'm talking to 7, 8, 9 GMs at once. Madness. Absolutely insanity."
8:44 pm

Barry Melrose: Port Hope sends Evander Kane to San Diego for Tuevo Teravainen and Adam Fox.
9:00 pm

Bob McKenzie: Flurry of deals to be announced in the final moments…
9:09 pm

Barry Melrose: Too many trades to announce too late at night. See Fantrax for the last minute deals. 
9:11 pm 

Pierre LeBrun: Busy day. Maybe not for fans expecting lots of trade action but chasing ghosts all day is hard work! Goodnight everybody!
Post a Comment
You must be logged in to post a comment.