Home
Vikings Raise Stanley Cup Banner
Before Bludgeoning the Killers in Week 1
The Vikings' summer of celebration was supposed to come to an end with last Monday's banner raising. Instead, they gave Shawinigan fans reason to think about adding another one to the rafters.
October 17th, 2022
Last Monday night, Shawinigan and the Vikings celebrated the franchise's first championship one last time. The banner-raising ceremony began with blue glowsticks flickering in a dark arena. It included three video tributes, full of highlights of the playoff run and the wild, boozy celebrations that followed across the region. The festivities ended at 7:45 p.m., when captain Mika Zibanejad kissed the Cup one final time and set it down in a black trunk, bidding it farewell.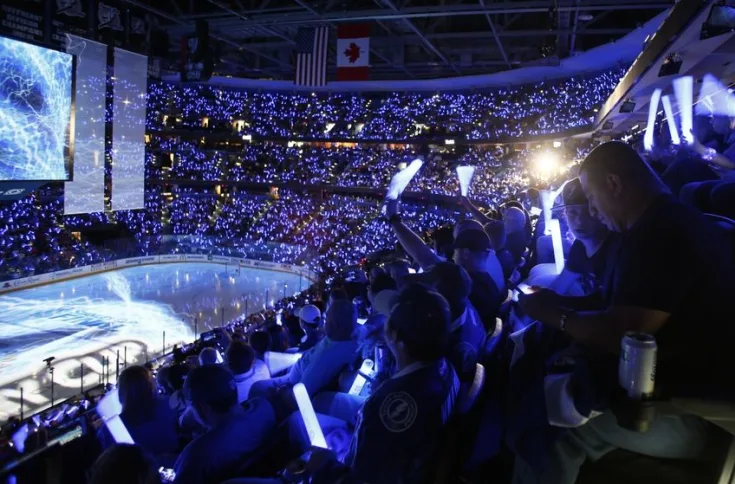 "Hopefully, for just a little bit," Zibanejad said. "[Until] next summer."
"Thank you. From the bottom of our collective hearts, thank you," Coach/GM Phil Svoboda said to the fans. "Our players delivered the Stanley Cup because they love and respect you."
As part of the ceremony, the crowd sang "We are the Champions!" — a moment that hit home for the players.
"Gave me chills. I was just looking up and I was hearing the crowd sing that song," center Steven Stamkos said, added with a laugh: "I want to experience that again."
For John Tavares, the ceremony got him thinking ahead to this season's playoffs.
"When you're part of something like that [ceremony]," said Tavares, "how can you not be excited to get going and try to do it again?"
The home opener was a celebration for Vikings fans inside and outside the arena. Streets were shut down to facilitate both a red-carpet entrance for the players and a viewing party for the fans, much like the festivities they had during the postseason.
Those fans sent a message to their team at the end of the opening night ceremony, chanting "BACK-TO-BACK" as the Stanley Cup banner was raised to the rafters.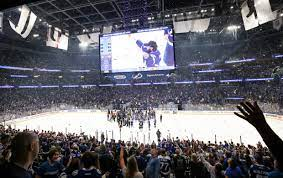 Nikita Kucherov said earlier in the week that it was back to business for his team.
"We have to realize it's over. It's a new season. We know how we have to play. We know what gives us a result," Kucherov said. "I think we've already moved on. We're professionals. We know how hard it is to reach that point."
Opening week felt like a continuation, not a culmination, as the Vikings followed up the banner raising with a dominating shutout win over the Fort Drum Killers to a final tune of 11-0. They forechecked hard, retrieved pucks fast, and generated high-quality offensive chances all week long. It was the same biting recipe that clinched three straight series in the playoffs last spring. And the kind that can make the mind wander far to what Shawinigan might witness next.
"Big roof," Svoboda says. "A lot of room for more banners."