LIVE Play-by-Play Coverage of
the 2012 AFHL Awards Show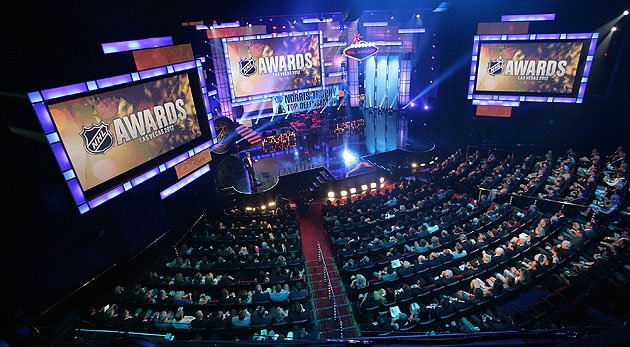 August 8th, 2012
Hello everybody and welcome! I'm Harry Beaver and for the third straight year I'll be live-blogging the coverage of the AFHL Awards Show from my laptop in the comfort of my own home.
Lots of fun stuff is planned for this year's show. The Pre-Show (Red Carpet Arrivals) is scheduled to begin shortly. The actual Awards Show is scheduled to begin at 8:00pm EST, and the Post-Show (Live Chat After-Party) is scheduled to begin at 9:30pm EST.
Broadcasting is now underway so let's get right into it!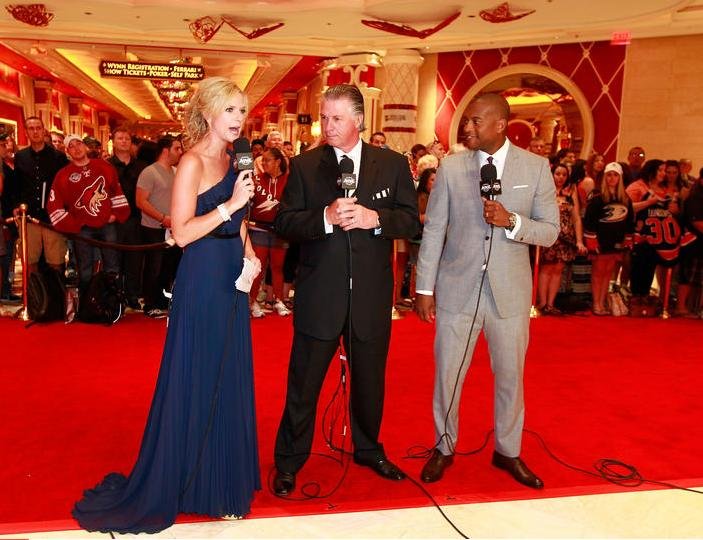 Pre-Show: Red Carpet Arrivals
7:00 PM: Camera zooms in on hockey analysts Kevin Weekes, Barry Melrose, and Kathryn Tappen as they talk about some of the players and coaches/GMs that are expected to walk down the red carpet shortly.
7:01 PM: Fans rocking their favorite player jerseys waiting for Red Carpet autographs.
7:02 PM: Patrick Kane of the North Bay Warriors is the first player to arrive at the Red Carpet.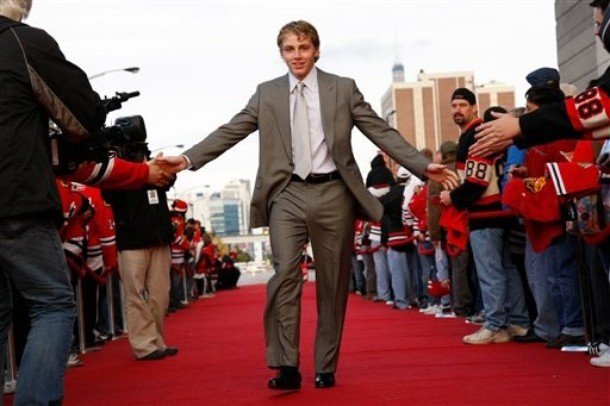 7:04 PM: Stepping out of a mint green escalade limousine right now is Twin City Vikings GM Phil Svoboda. He's wearing a sequin tuxedo and he's with three beautiful Vikings cheerleaders. The cheerleaders are wearing sequin outfits and Vikings helmets. Also with him is the Vikings' biggest fan and Svoboda's special guest of honor… Lil' Jon!
7:07 PM: More players have arrived including Fort Drum's Mikko Koivu, Ottawa's Jonathan Toews, and Philadelphia's James Reimer.

7:09 PM: Ottawa Knights GM Ryan Armstrong has just arrived in a limousine. He's looking sharp in a tuxedo and he's accompanied by one of the most beautiful actresses in the world, Blake Lively.
7:12 PM: A reporter just asked Armstrong about his relationship with Blake Lively. He replied, "We're lovers."
7:13 PM: Oshawa City Leafs GM Earl McNeill has just arrived on top of a zamboni with a Leafs logo painted on the side of it.
7:14 PM: Stepping out of a black escalade is Comox Valley Hitmen GM Pat McKenna. He's sporting a black tuxedo and he's with his lovely wife who's wearing a beautiful silver dress.
7:16 PM: More players seen on the red carpet including Buffalo's Sidney Crosby, Lakehead's Steven Stamkos, and the newest Viper in Victoria, Alex Ovechkin.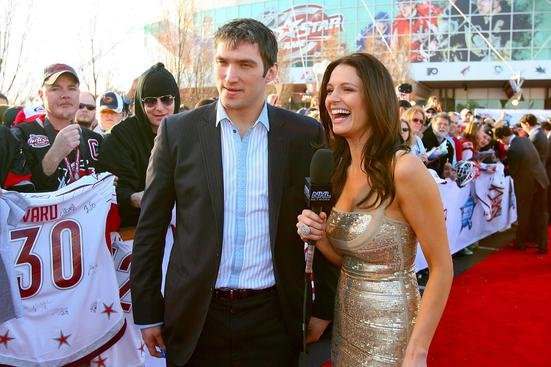 7:18 PM: New Goldsboro Rebels GM Lee Mantz has just arrived in a taxi cab!! He's wearing ripped blue jeans and his old Scott Stevens' Kitchener Rangers jersey.
7:19 PM: There are fans on top of fans in the Red Carpet line near the AFHL Network set.
7:19 PM: A reporter asked Mantz about arriving in a taxi and his choice of clothing. Mantz said, "I didn't have a choice. I had to spend all of my money to help the franchise re-locate to Minnesota. Anyone know where Jeff Skinner is? He said he would lend me some money to pay the taxi driver."
7:19 PM: Several players are talking with fans and signing autographs.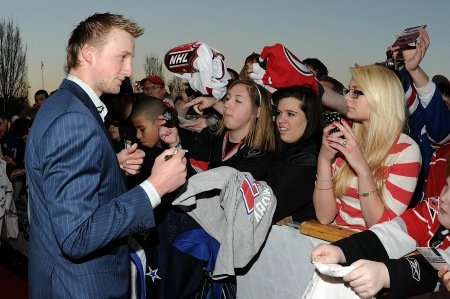 7:20 PM: Fort Drum Killers GM Steve Stryska has just arrived with his fiance on a bicycle built for two. Stryska's wearing a black tux and his fiancee is wearing a long black dress.
7:21 PM: Hitmen GM Pat McKenna is laughing as he shakes Stryska's hand while Stryska tells him that he's promoting energy conservation and the Go Green movement.
7:22 PM: Manhattan GM Tony Furino is being carried down the red carpet by three Chip & Dale dancers!
7:24 PM: London Mustangs GM Matt Plachta has just arrived in a 1965 Mustang Shelby Fastpack. A mustang in a mustang. How fitting. Plachta's plus one is the Mustangs' lone award nominee, Matt Read. Both are looking very cool in their Canadian tuxedos.
7:26 PM: Deer Park Chiefs GM Mike Nellany has arrived on a horse and buggy. He's wearing overalls with a big straw hat and he has his arms around two beautiful women.

7:27 PM: Hamilton Firestorm GM Gates Imbeau has just stepped out of a limousine. He's wearing a white tuxedo with an orange shirt, white tie, and orange sunglasses. He just made a fist with his right hand and put it in front of the camera lens to show off his 2012 AFHL Champions ring on his index finger. Gates brought his dog "Brady" who's wearing a Firestorm handkerchief around his neck.
7:28 PM: I wonder what Washington forward Tyler Seguin is laughing about right now.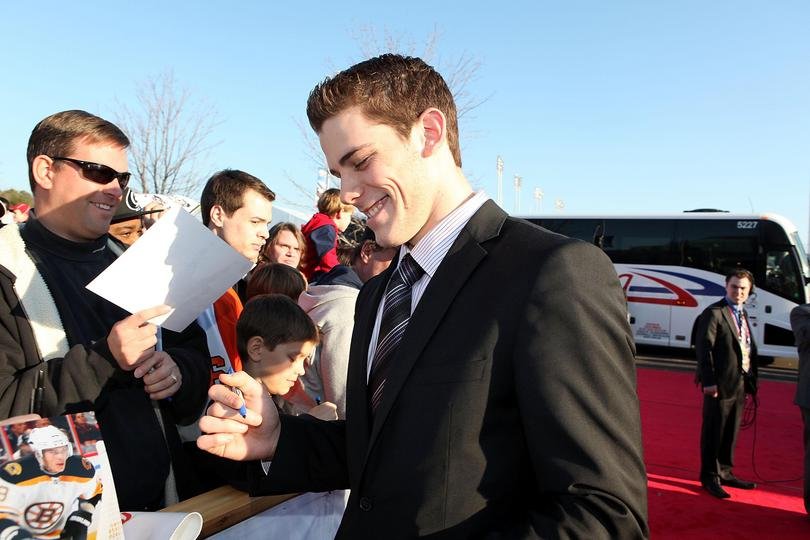 7:29 PM: Lakehead Thunderwolves GM Jason Briggs has arrived on a city bus with his lovely, soon-to-be bride, Sofia Vergera from the hit TV show Modern Family. She's wearing an incredibly low cut dress and seems to be without a bra.
7:31 PM: Toronto GM Jordan Carbone just snuck up behind Briggs and Vergera and started to "dry hump" Vergera. Briggs turned around and tried to punch Carbone in the face but Carbone ducked and ran off laughing. The Lakehead/Toronto rivalry is still alive and well.
7:33 PM: Briggs was asked about taking a city bus to the show. Briggs said, "Our franchise has so much cash tied up in our players , I hopped on a city bus in Thunder Bay, Ontario to meet with my newest 60-million dollar man, Jordan Staal. I asked to borrow one of his exotic cars to get to the show but he refused. So I had to get back on the 30-seat bus and use a thousand transfers to get here."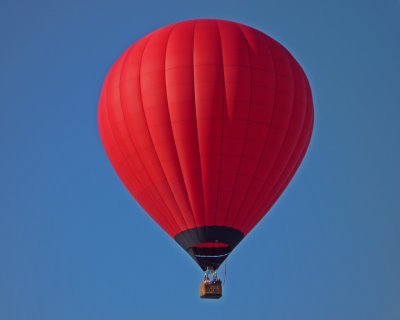 7:35 PM: Is that a hot air balloon?
7:36 PM: Security guards are seen clearing the area and telling people to move out of the way for what seems to be the landing of a hot air balloon.
7:37 PM: Yes it is. North Bay Warriors GM Mike Brunetta and his star goaltender, Jimmy Howard, have just arrived in a hot air balloon with the Warriors logo on it. Both men are wearing suits and waving at the crowd as the hot air balloon slowly lands in front of the red carpet.
7:39 PM: Killers GM Steve Stryska's fiance is seen yelling at one of the Vikings cheerleaders and telling her not to look at Steve. The cheerleader calls Steve's fiance a b*tch. Steve's fiance slaps the cheerleader with a right hand and the two women begin grabbing each other's hair. The cheerleade r puts Steve's fiance into a headlock and then body slams her onto the red carpet. Several players and GMs are now watching the fight. Fort Drum GM Steve Stryska pulls out a 100 dollar bill, places it on the ground and says, "I've got 100 dollars on the cheerleader." Other GMs and players begin pulling out their money until finally two security guards rush over to break up the fight. Both women are cursing at each other as they are dragged off the red carpet.
7:42 PM: Washington Power GM Rick Charron has just arrived in his 1978 corvette and he's sporting his new team jersey with the gorgeous Alyssa Milano on his arm.
7:44 PM: A hummer limo has just pulled up with music thumping. Topless women are seen in the sunroof drinking thousand dollar bottles of Cognac. The limo door opens, disco'esq lighting flashes all around, and Montreal GM Keith Cancilla steps out. He's wearing a silk smoking robe/jacket, aviator sunglasses, pipe, and man slippers. Arm in arm, hands inside his smoking robe with Toronto GM Jordan Carbone's mother and Victoria GM Chris Hartley's mother.
7:45 PM: North Bay GM Brunetta shakes Cancilla's hand as Cancilla tells him, "Now that I'm divorced, I'm playing up the single life. This is the rise of the Xtreme while exuding some cockiness."
7:47 PM: Earl McNeill just told John Tavares to come to an after-party.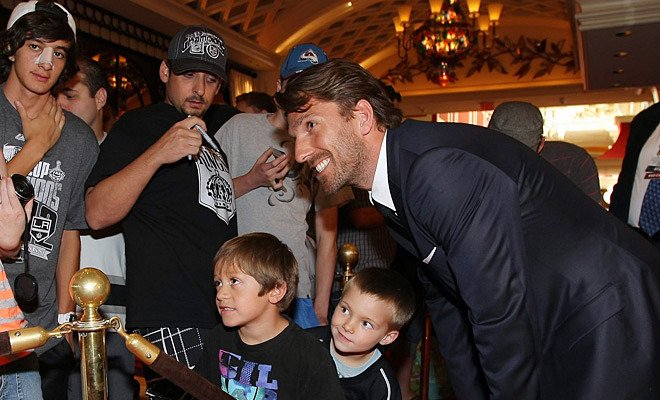 7:49 PM: I envy those fans at the Red Carpet right now… so lucky to meet all those players and GMs!
7:50 PM: Players and GMs have begun making their way inside to find their seats.
7:57 PM: Furino was just told a reporter that Vipers GM Chris Hartley rejected his invitation to the show probably because he felt he was snubbed on this year's Jack Adams trophy nominees. Apparently Hartley was in another country during the season and had very little activity on the message board front. Commish is big on that.
7:59 PM: Red Carpet extravaganza is now complete. Looks like everybody is sitting down waiting for the show to begin.
The Main Event: 2012 AFHL Awards Show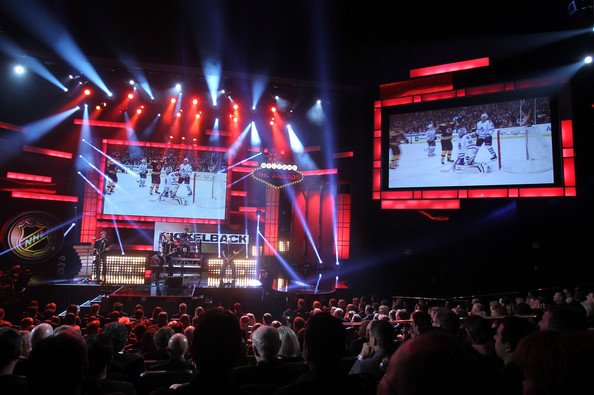 8:00 PM: The show opens with a video montage showing all of the highlights from this past season in the AFHL.
Announcer: "Ladies and gentlemen, the host of the third annual AFHL Awards Show… Jerry Seinfeld!!"
8:10 PM: Seinfeld opens with a couple of jokes and then introduces Hall-of-Fame defenseman Ray Bourque to present the first award of the night.
– – –
Norris Trophy ~ For Top Defenseman
The nominees are…
Alex Pietrangelo (London Mustangs)
Erik Karlsson (Toronto Red Devils)
Shea Weber (Hamilton Firestorm)
Kevin Shattenkirk (Montreal Xtreme)
Zdeno Chara (Hamilton Firestorm)
And the winner is… Erik Karlsson (Toronto Red Devils).
Karlsson scored 19 goals and 51 assists for a total of 78 points in 81 games played this season. 28 of those points came on the powerplay.
– – –
8:15 PM: Seinfeld introduces Hall-of-Famer Bobby Clarke to present the next award.
Calder Trophy ~ For Best Rookie
The nominees are…
Adam Henrique (Manhattan Supermen)
Gabriel Landeskog (Goldsboro Rebels)
Ryan Nugent-Hopkins (Twin City Vikings)
Matt Read (London Mustangs)
And the winner is… Gabriel Landeskog (Goldsboro Rebels)
Landeskog scored 22 goals and 30 assists for 50 points in 82 games played in his 2011-12 rookie campaign. 12 of those points came on the powerplay.
Landeskog immediately congratulates the other nominees and thanks his friends and family. He adds that he looks forward to helping his team get into the postseason next year.
– – –
8:21 PM: Will Ferrell makes a surprise appearance to present the next award.
He tells a couple of jokes and talks about what makes a person funny.
Ferrell: "A funny person is someone who says the first thing that comes into his head and doesn't worry about embarassing himself or offending someone else. He just says what he thinks and has fun doing it."
Laugh Out Loud Trophy ~ For Funniest GM
The nominees are…
Jordan Carbone (Toronto Red Devils)
Keith Cancilla (Montreal Xtreme)
Daryn Beckman (Buffalo Phantoms)
Mike Nellany (Deer Park Chiefs)
Pat McKenna (Comox Valley Hitmen)
And the winner is… Daryn Beckman (Buffalo Phantoms)
Beckman walks onto the stage drinking from a flask. He thanks Seinfeld as he is handed the award. Shockingly, he doesn't say anything at the podium. As he walks away from the podium to exit the stage, he stops and stands still with his back facing the audience. He bends over, drops his pants to his ankles, and shows his bare ass to the audience. Everybody laughs and cheers as he pulls up his pants and walks off the stage.
– – –
8:29 PM: Seinfeld introduces Martin Brodeur to present the Vezina after he tells a joke about Brodeur being the reason the show will end at 9:30 PM instead of 10 PM.
Vezina Trophy ~ For Best Goaltender
The nominees are…
Jonathan Quick (Toronto Red Devils)
Henrik Lundqvist (Deer Park Chiefs)
Tim Thomas (Hamilton Firestorm)
Jimmy Howard (North Bay Warriors)
And the winner is… Henrik Lundqvist (Deer Park Chiefs)
Lundqvist posted 39 wins, 8 shutouts, 1.97 GAA, and a .930 SV% for the Deer Park Chiefs in the 2011-12 season.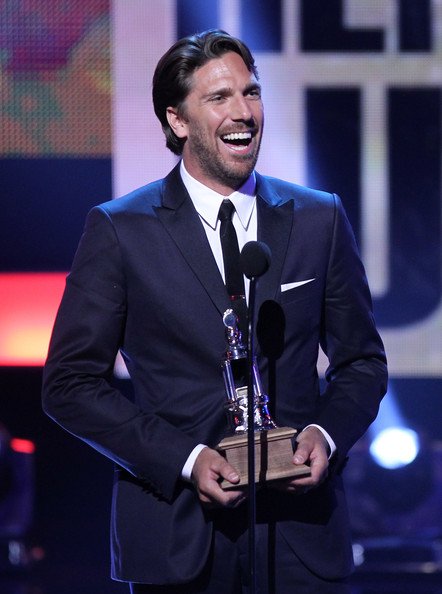 Lundqvist gets in a quick joke about Beckman's ass being very hairy and congratulates the Firestorm on their Stanley Cup win. He then thanks his family and the Chiefs organization.
– – –
8:41 PM: Seinfeld introduces Tie Domi to present the next award.
Trash Talker Trophy ~ For Best Trash Talking GM
The nominees are…
Mike Nellany (Deer Park Chiefs)
Jordan Carbone (Toronto Red Devils)
Daryn Beckman (Buffalo Phantoms)
Jason Briggs (Lakehead T'wolves)
And the winner is…
Tie Domi: "This one is a tie between Jordan Carbone (Toronto Red Devils) and Daryn Beckman (Buffalo Phantoms). Now, I've just been told that we're going to do something unique here to determine the winner of this trophy. Jordan and Daryn, can you please come join me on the stage?"
Jordan and Daryn walk onto the stage. Tie begins to speak again as he's standing between the two GMs.
Tie Domi: "The way we can break this tie to determine the winner of this year's Trash Talker Trophy is by having a good ol' fashioned wrestling match… right here and right now… Jordan Carbone vs. Daryn Beckman… Win by pinfall (1-2-3) or submission. Now, you guys don't HAVE to wrestle. You could just settle for a tie. It's up to you guys… settle for the tie or wrestle for the win…"
Daryn Beckman: "Let me think about it…"
Jordan Carbone: "You're wasting time thinking about it you dumb son of a b*tch! I don't think you have the balls to wrestle me. I'm looking into your eyes and you look scared because you know deep down inside you cannot beat me. Just do yourself a favor right now and walk your scraggly ass off this stage."
Daryn Beckman: "You think you can beat me? You really want a piece of me?"
Jordan Carbone: "I don't think there's one idiot in this audience that doesn't think I'll rip your ass from one end of this stage to the other. I accept the challenge. I think I can beat the living hell out of you… Punk!"
Daryn Beckman: "Let's have this match!! I'm gonna beat your ass all over this stage! I'm gonna walk right over your limp, bloody carcass, and take that trophy home with me."
Tie Domi takes off his jacket and reveals that he's wearing a referee's shirt underneath. Daryn and Jordan take off their jackets and begin trash talking as they stand face to face. The sound of a bell is heard and they start trading punches rapidly as the audience is cheering. Daryn puts Jordan in a headlock and wrestles him down to the ground. Jordan manages to get out of the headlock and back on his feet. Daryn also gets back on his feet. Jordan kicks Daryn in the balls. Daryn falls to the ground, clutches his crotch, and screams in pain. Jordan covers Daryn for the pinfall… 1…2…3… Jordan wins the match. Tie Domi gives Jordan the Trash Talker Trophy. Daryn sticks up his middle finger to Jordan as he walks off with the trophy.
(Note: Jordan won the tie-breaker when the majority of the guys who voted for the other nominees emailed the Commissioner and voted for Jordan over Daryn.)
– – –
8:55 PM: A tearful Nicklas Lidstrom appears on the stage shortly after a video montage is played on the big screen in honor of his retirement.
Nicklas Lidstrom: "Before I present the Hart Trophy, I want to take a moment to say a few things to the coaches and the players in the Hamilton Firestorm franchise. From the bottom of my heart, I wish all of you nothing but the best for this upcoming season. Although my time was short in Hamilton, I had so much fun helping you guys win the Stanley Cup and I know you'll continue to be a great team."
Hart Trophy ~ For Most Valuable Player
Steve Stamkos (Lakehead T'wolves)
Claude Giroux (Hamilton Firestorm)
Henrik Lundqvist (Deer Park Chiefs)
Evgeni Malkin (Boston Giants)
Jonathan Quick (Toronto Red Devils)
And the winner is… Evgeni Malkin (Boston Giants)
Malkin scored 50 goals and 59 assists for 109 points in 79 games played in the 2011-12 regular season.
Kind of hard to hear Malkin because of his accent. "Lots of gift baskets will be sent out tomorrow for everyone who voted for me," he said before a flurry of thank yous.
– – –
9:07 PM: Seinfeld introduces the commissioner of the AFHL to present the final award of the night. Commissioner Furino trips and almost falls while walking up to the podium. He winks at the camera and begins speaking into the microphone…
Anthony Furino: "Ladies and gentlemen, the Jack Adams Trophy is awarded once a year to the best GM in the league. Aside from the obvious elements, a person deemed to be the best GM supplies the template that everyone who wants to be the best should be drawing from. The best GM shows his passion and personality on a regular basis. He's a consumate pro. Regardless of his mood, he'll say the first thing that comes into his head at any given moment. He enjoys every moment. The fun, the challenge, the excitment of the process is what it's all about for him. Each and every day, each and every person he interacts with, each and every activity, challenge, problem he faces is a wonderful opportunity to discover, to experience, to grow, to master. And what he finds is that every day is a success, every day is exhilarating, every day he gives and he gets.."
Jack Adams Trophy ~ For Best GM/Coach
Mike Brunetta (North Bay Warriors)
Gates Imbeau (Hamilton Firestorm)
Mike Nellany (Deer Park Chiefs)
Daryn Beckman (Buffalo Phantoms)
Jason Briggs (Lakehead T'wolves)
Jordan Carbone (Toronto Red Devils)
And the winner is… Gates Imbeau (Hamilton Firestorm)
In just his first season in the AFHL, Gates Imbeau led the Hamilton Firestorm to their first Stanley Cup victory in franchise history. Hamilton finished the year with a record of 144 wins, 76 losses, and 32 ties.
Gates Imbeau: "Thank you, thank you very much. Thank you. It's such a high honor to win this trophy. This is something I'll certainly treasure forever. I may speak longer than anybody else has spoken tonight but I'll try to keep it short and sweet. When thinking about this speech, I couldn't help but think about the first speech I ever gave to my team in the AFHL.
It was the first game of the season and I was considered the rookie GM/Coach. I was so fired up about coaching my first game in the AFHL. Who doesn't get excited about their first game in the AFHL? The very first time you stood in the locker room to give a pep talk. That's a special place, the locker room, for a coach to give a talk. The first time I spoke before my team in the locker room, there was a lot of uncertainty in the air because the previous GM had abandoned the team (Barry Hickey – St. John's Red Wings) and I shook up the roster quite a bit. So here's what I did. Normally, you get in the locker room about a half hour before the team takes the ice, you do your little x and o's, and then you give the great Hoosiers talk. We all do. You get your squad ready and you get them all excited. Well I didn't go into the locker room. I waited. The team was wondering, "Where is he? Where is this great coach from DobberHockey.com?" I'm not there. 10 minutes I'm still not there. Two minutes before they could take the ice, I go in, bang the door open, and I had this great presence. I walked back and forth like this, just walked, staring at the players. I said, "All eyes on me… Gentlemen, we will be successful this year, if you can focus on three things. Your family, your religion, and the Hamilton Firestorm." They knocked the walls down and the rest is history.
It's so important to know where you are. How do you go from where you are to where you want to be? I think you have to have an enthusiasm for the game of hockey. You have to have a dream, a goal. You have to be willing to work for it. I thank all of you for listening."
Gates walks off to a standing ovation.
– – –
9:25 PM: Seinfeld tells his last joke of the evening and closes the show with, "Ladies and gentlemen, I had a blast hosting the 2012 AFHL Awards. Thanks for coming out and let's hear one more round of applause for the winners of the 2012 AFHL Awards!"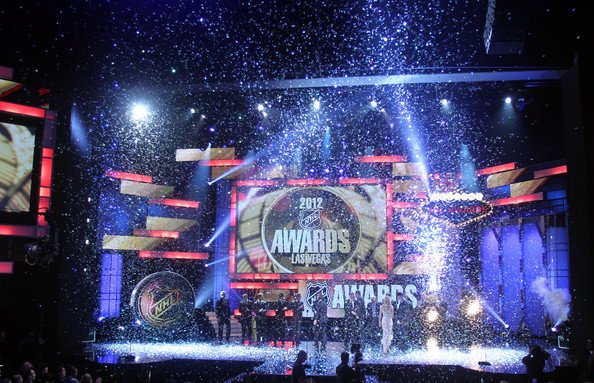 The winners file onto the stage as music plays and credits roll up the screen.
*
OTHER NOTABLE TROPHIES:
Trader Award ~ For the GM who made the most trades
Winner: ?
Maurice Richard Trophy ~ For the top goal scorer in the regular season
Winner: Steven Stamkos (Lakehead Thunderwolves)
President's Trophy ~ For the team with the best record at the end of the regular season
Winner: North Bay Warriors
Art Ross Trophy ~ For the player who leads the league in scoring points at the end of the regular season
Winner: Evgeni Malkin (Boston Giants)
All-Star Game Winning Coaches/GMs
Winners: Mike Nellany (Deer Park Chiefs) and Daryn Beckman (Buffalo Phantoms)
Conn Smythe Trophy ~ Playoffs MVP
Winner: Sidney Crosby (Buffalo Phantoms)
Stanley Cup ~ League Championship / Winner of the Playoffs
Winner: Hamilton Firestorm
TONIGHT'S TROPHY TOTALS PER TEAM
Buffalo Phantoms – 3
Hamilton Firestorm – 2
Boston Giants – 2
Deer Park Chiefs – 2
Toronto Red Devils – 2
Lakehead Thunderwolves – 1
North Bay Warriors – 1
Goldsboro Rebels – 1
ALL-TIME TROPHY TOTALS PER TEAM
Pittsburgh Heroes – 8
Buffalo Phantoms – 7
North Bay Warriors – 6
Deer Park Chiefs – 6
Hamilton Firestorm – 5
Washington Power – 4
Toronto Red Devils – 3
Goldsboro Rebels – 3
London Mustangs – 2
Lakehead Thunderwolves – 2
Boston Giants – 2
Montreal Xtreme – 1
Victoria Vipers – 1
Manhattan Supermen – 1
Detroit Icemen – 1