Washington Power win the 2011 AFHL Stanley Cup!
 Washington Power (2) vs. (5) Vancouver Heroes 
April 3rd, 2011
Teemu Selanne zig-zagged through the crowd, long after the trophy presentation, his eyes turning every which way. Still on skates and in full gear — minus his gloves, helmet and stick — Selanne was trying his best to see through all the screens like Roberto Luongo did all week.
"There it is," he said, pointing diagonally to his right as he looked behind him.
Yes, there it was, the Washington Power's Stanley Cup, won with a 9-1 victory over the Vancouver Heroes on Sunday night.
Selanne fixated on the glistening silver as he weaved through a crowd of media and family members who were walking over the the ice. Mike Richards, who was having his own private moment with his family and the Cup, handed it to Selanne.
He lifted it over his head, pasted a big smile on his face and told his family to follow him while the Cup — all 35 pounds and 36 inches of it — was being held so high that everybody, including the few thousand Heroes fans left in the building, could see it.
Thanks to Selanne's six point performance this week, Roberto Luongo's resiliency, and an overall group effort to outplay the surging Heroes, all of the Power players got to lift the Stanley Cup over their heads and celebrate with their families.
This is the Washington Power's first AFHL Stanley Cup in franchise history. The team has planned a championship celebration Wednesday in Washington, though it wasn't immediately clear whether it would include a parade or rally.
It was a first for Teemu Selanne and quite possibly the last as he is expected to retire in the offseason.
"I looked up at the clock and there were six seconds left and I couldn't believe it was actually going to happen," said a tearful 40-year-old Selanne, who joined the Power at the trade deadline and picked up his first AFHL Cup. "We'll have a great core for the next couple of years and I can see great things for this team in the future, but right now, I'm going to enjoy this."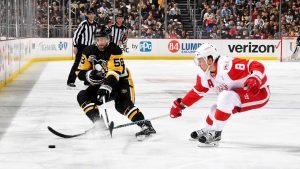 Teemu Selanne scored six pts. in the Stanley Cup Finals.
Roberto Luongo, who finished the playoffs with four wins, a 1.75 GAA, and 130 saves, was awarded with the Conn Smythe Trophy as the MVP of the Playoffs.
"It's an honor but winning the AFHL Stanley Cup means much more to me," said Luongo. "We've come a long way with a good core group but credit should go to our Coach/GM Ray Irwin. He did a fantastic job of acquiring some great players. It was a matter of putting it all together and that's what he did, and that's what makes this so special."
Luongo handed the Cup to Irwin, who is a leading candidate for this year's Jack Adams Trophy. Irwin's military press with the Cup was two years in the making — it started with a blueprint at the AFHL inaugural draft when he drafted a team comprised of mostly rookies and prospects. No one thought for a second that he would win a Cup in just two years. Around that time, two GMs went on record in actually calling him an idiot.
Irwin said when he had the trophy over his head, he thought about his family and how hard his road to this moment has been.
"I've been in this game for a very long time and I'm really happy and proud right now," Irwin said. "I'm so glad… I won it… I won the Stanley Cup! What a feeling… wow… this is unbelievable."
For every championship team that sprays champagne, chews victory cigars, and rants and screams all night, there's a corresponding losing club forced to deal with the crushing disappointment of it all.
At the other side of the hockey rink, the Vancouver Heroes came to grips with reality. All of their players looked stunned as they sat at the bench for several minutes after the final buzzer on Sunday night to watch the Power go wild and 21,940 fans pop their cork. Eventually some of the Heroes headed up the runway to the locker room, where Coach/GM Kyle Kebert thanked them for a job well-done and told them how proud he was of their effort and poise under pressure.
"Obviously, you want to win the Stanley Cup when you get to this particular juncture, but for us to get here for a second year straight is just unthinkable," Kebert said. "I know from my perspective, we have what it takes to get to the Finals again. That was part of my message to the players. We're going to keep growing. We're going to learn from this loss."
With that, the Heroes showered, dressed, paid their locker room dues, and boarded a bus to a charter flight that carried them home to some warm memories and a bright future. They failed in the pursuit of their ultimate goal, yet were secure in the knowledge that they can return to the Finals… again