April 25th, 2013
An estimated 120,000 fans turned out Thursday to cheer for the Lakehead Ice Holes, holding a boisterous parade and rally to honor the Amazing Fantasy Hockey League champions who beat the Manhattan Supermen 7-2 in the Stanley Cup Finals.
"I've had to wipe away a few tears," Lakehead forward Andrew Ladd said. "This is why I play in Lakehead."
Four days after the Ice Holes raised the hallowed trophy, spectators jammed the streets of downtown Lakehead to join the party.
"I didn't expect this many people to show up for the parade," said Ladd. "Incredible!!"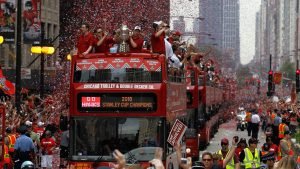 The Ice Holes rode double-decker buses and flatbed trucks in a parade through downtown Lakehead, past thousands of roaring fans. Eric Staal and Antti Niemi then raised the Cup outside Lakehead's home ice arena, where the Ice Holes completed their three week rampage through the postseason on Sunday night.
"It was more than you could ever expect," forward P.A. Parenteau said. "It's one of those moments you want to live over and over again. It's amazing to hear all the support, and to put faces to the cheers we've heard all year."
The Ice Holes gathered inside the arena for a packed rally, with fans waving towels and giving repeated standing ovations to every speaker. GM/Coach Jason Briggs even pumped up the fans with a series of joyously out-of-character fist pumps, and forward Henrik Sedin riled them up even more.
"What's up Lakehead? Anyone want Jarome Iginla's cell phone number?" Sedin playfully called out to the fans. "This is too much fun not to win it again next year!!"
"Just to see the looks on their faces after they won it is something I'll remember for the rest of my life," said Jason Briggs. "It's just amazing, amazing, amazing."
The Ice Holes will have all summer to absorb what they accomplished this spring. The Stanley Cup has already made an extensive tour of Lakehead, starting at a local pub just a few hours after the Ice Holes claimed it. The Cup was in Kris Letang's backyard Tuesday morning, where one of his nephews drank milk and ate cereal out of the bowl while wearing his Iron Man pajamas.
After appearances on two talk shows on Tuesday, the Cup was seen at a popular stage show in a historic Ontario hotel, where Will Ferrell and Brock Lesnar joined in the celebration.
"It feels great," said Letang. "You want to have parades every year. It's going to be tough, but we think we have the team to do it."
The Ice Holes are uniformly excited they've got a strong chance of defending their title next season with much the same roster. GM Briggs, who lost his voice in the post-Cup celebrations and couldn't speak to the rally crowd, already has already promised most of Lakehead's key contributors for at least one more year.
"I'd say my chances are pretty good," veteran forward Jarome Iginla said of his chances of returning to Lakehead. "I want to be back. They've got a good thing going here, and I love it."